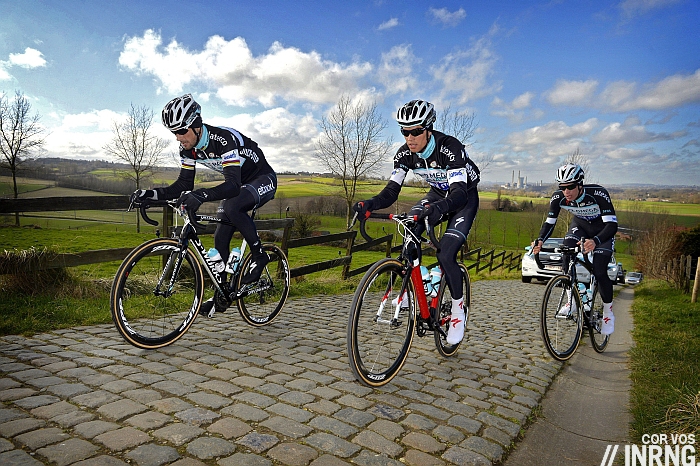 A Problem Many Teams Would Like to Have
With the classics season coming up Omega Pharma-Quick Step look like the team with all the right cards to play with aces like Tom Boonen, Niki Terpstra, Mark Cavendish and Zdeněk Štybar and pack of able support riders.
But there's a problem here as the team has so many top riders it can be hard to manage them all. Do you race the big names regularly or rest them from time to time? Who gets to be team leader? With all this in mind guest writer Whit Yost, a former directeur sportif, takes a look at the options for OPQS.
After spending a year as a directeur sportif with Mercury-Viatel, I enjoy thinking about how teams might handle the often complicated task of sorting out race programs when there is an overabundance of experienced and in-form riders eager to win a given event. While problematic, having more options is certainly better than having none, but it takes a bit of work to accomplish the delicate task of balancing fitness, experience, egos, and of course, the expectations of riders, fans, and perhaps most importantly, sponsors.
For example, heading into this year's spring Classics, it appears as if Belgians Wilfred Peeters and Patrick Lefevere will have their hands full managing the start lists of Omega Pharma-Quick-Step at just about every spring race from the Omloop Het Nieuwsblad through Paris-Roubaix. The team is stacked with talented riders led of course by Tom Boonen, a rider hoping to break the record for most wins in the Ronde van Vlaanderen and Paris-Roubaix later this spring.
But there's also Niki Terpstra from the Netherlands, a former winner of Dwars door Vlaanderen and the recent winner of the Tour of Qatar. Terpstra's been on the verge of major win for quite some time now, and the off-season departure of Sylvain Chavanel leaves the door open for the 29-year-old Dutchman to assume the Frenchman's more protected role within the team.
Then there's three-time world cyclocross champion Zdeněk Štybar, a rider who proved last season that he's able to justify the hype that often (undeservedly) accompanies any cyclocross star when he switches from the mud to the road. Riding in only his second season on the road last year, Štybar won his first major stage race, completed and won a stage in his first grand tour, and might have won Paris-Roubaix had he not caught his pedal on the edge of the pavé at the Carrefour de l'Arbre.
But what about hard-working veteran Stijn Van den Bergh, one of the biggest surprises of last year's cobbled Classics? Or young up-and-comers like Matteo Trentin, Guillaume Van Keirsbulck, and Andrew Fenn; when will they get their chances to show what they can do? And how can we forget Mark Cavendish? There are races for him to win too aren't there?
Well, you can thank me later Wilfred and Patrick, because I'm going to do the work for you. Here we go:
Omloop Het Nieuwsblad (Saturday, March 1)
Captain: Niki Terpstra
Lieutenant: Zdeněk Štybar
Wild Card: Tom Boonen
4. Andrew Fenn
5. Iljo Keisse
6. Matteo Trentin
7. Guillaume Van Keirsbulck
8. Stijn Vandenbergh
Okay, this is a cheating a bit as the preliminary start lists for the Omloop has been published for a few weeks now. But with team directors having until the pre-race meeting to shuffle riders around (starting riders listed as reserves or vice versa) there's still at least a little of prognostication at play here.
Despite their general level of success in the cobbled classics, the Omloop is a race in which Quick-Step often comes up short (Nick Nuyens was the last rider to win the Omloop for Quick-Step, back in 2005). It's also a race that generally favors riders who will serve as lieutenants later in the spring or who won't become full-fledged captains in their own right until later in their careers. In other words, it's an ideal situation for Niki Terpstra. Fresh from his win in Qatar, Terpstra would make an ideal captain for OPQS in the Omloop, with Zdeněk Štybar as his lieutenant.
As for Tom Boonen, he's actually never won the Omloop, and he's not likely to as long as he uses it to test his fitness for the cobbled Monuments to come. So expect Boonen to try and shatter the field on the Taaienberg (his textbook move), but don't expect him to go for the win unless the race essentially falls into his lap. Lastly, don't overlook Vandenbergh, Van Keirsbulck, and Trentin. Vandenbergh was OPQS's strongest rider during last year's cobbled campaign, and Van Keirsbulck has been showing his talent for a few seasons now (and he's still only 23). Trentin crashed in last year's Omloop, breaking his scaphoid and ending the spring for a rider many think will also become a Classics contender later in his career.
Lastly, don't be surprised to see Andrew Fenn take the final roster away from a rider like Keisse or Steegmans. His talent has never been questioned—especially in cobbled races—and the team needs to see more of what he can do.
Kuurne-Brussels-Kuurne (Sunday, March 2)
Captain: Tom Boonen
Lieutenant: Zdenek Stybar
Wild Card: Matteo Trentin
4. Andrew Fenn
5. Nikolas Maes
6. Niki Terpstra
7. Stijn Vandenbergh
8. Martin Velits
Last year's cancellation makes Cavendish the defending champion of a race that generally favors sprinters. But since Cavendish isn't listed as starting, something that could change following his win on the final day of the Volta ao Algarve in Portugal Sunday.
But even without Cav, the team's current roster is certainly filled with options, led first and foremost by Boonen. But after Saturday's Omloop, a race much more akin to Flanders than KBK, some might wonder why Boonen would start in Kuurne. After all, why take a risk after racing the more important of the two events on Saturday?
Well, this is Belgium after all, and the start money the team will receive for starting its biggest homegrown star makes his presence worthwhile. It's also a race he's won twice—and could win again should a large but select group make it back to Kuurne. Terpstra and Štybar are interesting options, as is Trentin, a rider who can certainly handle himself in a small group sprint.
Strade Bianche (March 8), Paris-Nice (March 9-16), and Tirreno Adriatico (March 12-18)
After the opening weekend in Belgium, the team will fan-out to Strade Bianche, Paris-Nice, and Tirreno Adriatico. I would send Boonen and Terpstra to France, Štybar and Kwiatkowski to Italy (where Kwiatkowski should challenge for the win in both Strade Bianche and Tirreno Adriatico).
From there, it's on to Milan-San Remo, a race for which every team's program will likely be decided based upon the inclusion of the Pompeiana in the finale. If the climb is included, look for Kwiatkowski to lead the way for the squad in what will become a race much more suited to explosive breakaway specialists. If it isn't, Boonen, Tersptra, or even Štybar would be the team's best bets for a small group sprint in San Remo.
As for Cavendish, he says he's not riding, but if the Pompeiana is indeed scrapped due to issues about the road's safety in bad weather, then the Manxman just might find his back into the team's line-up.
Milan-San Remo (March 23) – without Pompeiana
Captain: Tom Boonen
Lieutenant: Michał Kwiatkowski
Wild Card: Gianni Meersman
4. Zdeněk Štybar
5. Niki Terpstra
6. Matteo Trentin
7. Guillaume Van Keirsbulck
8. Stijn Vandenbergh
Milan-San Remo (March 23) – with Pompeiana
Captain: Michał Kwiatkowski
Lieutenant: Zdeněk Štybar
Wild Card: Gianni Meersman
4. Tom Boonen
5. Niki Terpstra
6. Matteo Trentin
7. Guillaume Van Keirsbulck
8. Stijn Vandenbergh
You'll notice Gianni Meersman makes the list in both cases. Last season, the Belgian missed Milan-San Remo for the Volta a Catalunya, and won two stages. This year, especially with Cavendish on the fence, he could play a role no matter how the course pans-out.
After La Primavera, it's back to Belgium for the final build-up to the cobbled Monuments, the most important two-and-a-half week period of OPQS's season. First, there's Wednesday's appetizer, Dwars door Vlaanderen.
Dwars door Vlaanderen (March 26)
Captain: Stijn Vandenbergh
Lieutenant: Guillaume Van Keirsbulck
Wild Card: Zdeněk Štybar
4. Andrew Fenn
5. Iljo Keisse
6. Nikolas Maes
7. Matteo Trentin
8. Julien Vermote
After racing almost 300 kilometers a few days earlier, a lot of riders choose to sit-out this 200-km semi-Classic, making it a perfect opportunity for a dark horse or less-heralded victor (Tom Boonen was the last true superstar to win the race, in 2007). Thus, the list of Dwars champions is filled with support riders (Kevin Van Impe) and journeymen (Niko Eeckhout). And when talking about the best riders yet to have won a major cobbled Monument, the list usually includes several men who won Dwars door Vlaanderen earlier in their careers—riders like Sylvain Chavanel, Matti Breschel, and Niki Terpstra.
As for OPQS, if I'm Wilfred Peeters the night before the race I'm telling the team that we're racing for Stijn Vandenbergh. He deserves it after the way he rode last year, and he's done nothing so far this year to indicate that he's not up to leading the team. Peeters, a career domestique himself, can appreciate the importance of a rider like Vandenbergh, and knows how important it is to find moments when he can ride for himself. Dwars is an ideal race for that sort of opportunity.
Depending on how things have gone for Štybar by this point in the spring, Dwars might also be a race for him. And with Boonen and Terpstra resting (as Boonen and Chavanel did last year), Štybar's start will bring a bit of prestige to the line-up. Van Keirsbulck might also have some freedom to see what he can do (in a role similar to Van Impe's in 2009). Yes, he's a dark horse, but Dwars is that kind of race—especially with the E3 Prijs now just two days later.
E3 Harelbeke (March 28)
Captain: Tom Boonen
Lieutenant: Niki Terpstra
Wild Card: Zdeněk Štybar
4. Iljo Keisse
5. Nikolas Maes
6. Matteo Trentin
7. Guillaume Van Keirsbulck
8. Stijn Vandenbergh
After taking Wednesday off, Boonen and Terpstra will be back for Friday's E3 Harelbeke (named for a highway built in the sixties that has since been renamed the E17/A14). By now we should see the team's squads for Flanders and Roubaix starting to take shape. Boonen's the clear leader here (he holds the record with five victories in the event), and Terpstra's the likely lieutenant—unless he or Štybar has done something to warrant a switch in roles.
Then it's on to Sunday's Ghent-Wevelgem, a race that used to be held on the Wednesday between Flanders and Roubaix, but was moved—and lengthened—in 2010.
Ghent-Wevelgem (March 30)
Captain: Tom Boonen
Lieutenant: Matteo Trentin
Wild Card: Mark Cavendish
4. Iljo Keisse
5. Nikolas Maes
6. Geert Steegmans
7. Guillaume Van Keirsbulck
8. Stijn Vandenbergh
While it's known as more of a sprinter's Classic, Ghent-Wevelgem is just as likely to be won from a breakaway, making it an ideal event for a rider who can follow attacks but still win a sprint (like Peter Sagan). OPQS would like nothing more than to see Cavendish win this race, but the Manxman hasn't done enough in the past few editions to warrant a roster built solely to support him. Therefore he's more of a wild card: a rider the team will certainly ride for a should a field sprint materialize, but not someone they'll build their plans around—especially not with Boonen riding at or near his peak.
Tersptra gets another day off—a la Chavanel the past two seasons—and Stybar might too. The rider to watch might just prove to be Matteo Trentin. Assuming Boonen is looking ahead to Flanders (not a given, but a strong possibility) and Cavendish fails to make important mid-race splits, the 24-year-old Italian might find himself in position to earn his biggest result since winning Stage 14 of last year's Tour de France.
Two days later brings the Driedaagse van DePanne, the last chance for riders to cram in some racing before Sunday's Monument.
Driedaagse van DePanne (April 1-3)
Captain: Niki Terpstra
Lieutenant: Zdeněk Štybar
Wild Card: Mark Cavendish
4. Andrew Fenn
5. Iljo Keisse
6. Nikolas Maes
7. Geert Steegmans
8. Julien Vermote
When you're the lieutenant on a cobbled "super team," the Driedaagse van DePanne is often the bone you're thrown to ensure your loyalty at the Tour of Flanders three days later. It's also an important race for any Belgian team, one that guarantees three days of publicity during the biggest week of Belgium's sporting year.
So as Chavanel did last year, expect Terpstra to lead the way for Quick-Step at this midweek stage race. Terpstra finished third last year behind his now former teammate, and he should be a good bet to take his second stage race victory of the season. Cavendish will ride as well, seeking stage wins. Vermote gets the nod over Van Keirsbulck, who's logged a lot of race days already and will need some rest before Flanders and Roubaix.
But while sending Tom Boonen might be tempting to his sponsors, it's not worth risking a crash or an injury. Besides, his form will likely be right where it needs to be heading into Flanders, and he won't—like last year—need to make a last-ditch effort to get some racing in his legs before Sunday's big showdown.
Tour of Flanders (April 6)
Captain: Tom Boonen
Lieutenant: Niki Terpstra
Wild Card: Zdeněk Štybar
4. Andrew Fenn
5. Geert Steegmans
6. Matteo Trentin
7. Guillaume Van Keirsbulck
8. Stijn Vandenbergh
Aside from filling out the rest of the roster, there's little to discuss at this point. Assuming all goes as planned, Boonen will lead the way in search of a record-breaking fourth victory, with Terpstra trying to atone for his no-show performance last year. Štybar will be an interesting rider to watch, especially if other teams mark Boonen and Terpstra too closely. As for the rest of the squad, they'll be expected to do as they're told. Only Terpstra or Štybar will be given a green light if the right situation arises. And only an incredibly negative or unpredictable race would see one of the team's other riders in a position to win the race for himself. But with a new, harder course, the chances of that happening are slim to none.
Scheldeprijs (April 9)
Captain: Mark Cavendish
Lieutenant: Mark Renshaw
Wild Card: Matteo Trentin
4. Tom Boonen
5. Andrew Fenn
6. Iljo Keisse
7. Nikolas Maes
8. Geert Steegmans
Taking the Wednesday slot vacated by Ghent-Wevelgem in 2010, the Scheldeprijs fills the week-long void between Flanders and Roubaix. Cavendish has won this race three times and would love to take a fourth (especially if he can defeat Marcel Kittel in the process). Petacchi could garner a start, but Trentin's younger, stronger, and much more capable of handling himself should a full-on field sprint not materialize. Boonen rode this race in 2012 in between his victories in Flanders and Roubaix. If he rides, expect him to treat the race as training, perhaps taking some long pulls at the front of the peloton then drifting off the back before things really get dicey—especially if the weather's bad. After all, he has bigger things on his mind.
Paris-Roubaix (April 13)
Captain: Tom Boonen
Lieutenant: Niki Terpstra
Wild Card: Zdeněk Štybar
4. Nikolas Maes
5. Geert Steegmans
6. Matteo Trentin
7. Guillaume Van Keirsbulck
8. Stijn Vandenbergh
At Roubaix—like at Flanders—the team will again do everything it can to help Boonen break the record for most wins in the Hell of the North. When Boonen won in 2012, Terpstra played a major role, breaking away with the Belgian on the Auchy-lez-Orchies sector of pave and sharing the pace before Boonen rode away from him for good. But again, depending on how things play out in the previous two weeks, Štybar and Terpstra could conceivably switch roles, especially when one considers Stybar's impressive Roubaix performance last year. And don't forget Vandenbergh; he was in last year's winning move as well, but crashed just after the entrance to the Carrefour de l'Arbre—minutes before Štybar. Had the two survived, the race might have had a different winner, and a much more surprising one at that.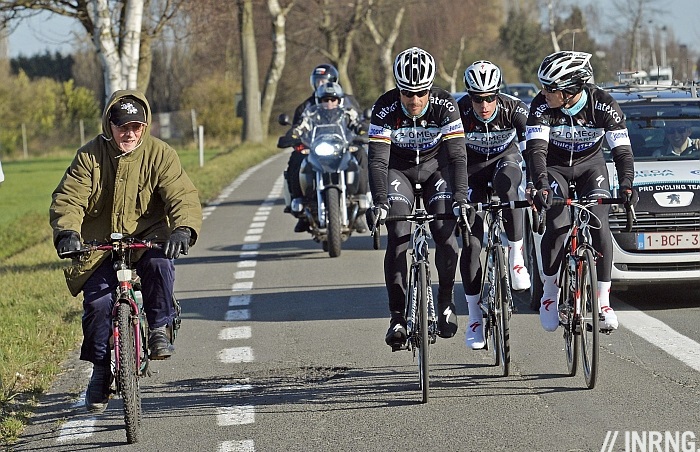 Conclusion
While this exercise has made the best attempt to keep everyone happy, there's always a wrench to be thrown into the best-laid plans of any team as illness, crashes, and other misfortunes can quickly render moot the time spent preparing one's program. And of course, the races themselves don't always play-out as expected either. Choosing the best riders and assigning the most appropriate roles for each race isn't even half the battle.
In the end, a director's ability to be flexible and a willingness to improvise during a race's critical moments make the biggest difference. Just ask Jonathan Vaughters. In 2011, had he and Peter Van Petegem not been willing to let Johan Van Summeren ride for himself in the latter phases of Paris-Roubaix—despite a chase group containing the team's captain, Thor Hushovd, Garmin-Sharp might not have taken its biggest win in team history and Van Summeren might now be riding for Wanty-Groupe Gobert.
Follow Whit on Twitter via @whityost and read more from him at Bicycling.com.