Here's a video documentary from last night's Informe Robinson show in Spain about Luis Ocaña, the 1973 Tour de France winner. It's a Spanish production but with a lot of French audio thanks to interviews with Eddy Merckx, Johny Schleck and Ocaña's French widow. Without subtitles it's obviously not for everyone but if you're patient you'll find rich archive of video, photo and more in a slick package.
It's also the chance for a book giveaway, with a free copy of Daniel Friebe's excellent Eddy Merckx, The Cannibal book.
Loyal readers might remember the excellent David Millar documentary from the same show. Now it's time to go further back and the story of Luis Ocaña. A rival to Eddy Merckx, Ocaña was arguably the only rider capable of challenging The Cannibal but for all his raw power and panache there was a weakness Merckx could exploit – Ocaña's impulsive mind.
Their rivalry reached feverish levels in the 1971 Tour de France with the back-to-back stages to the ski station of Orcières Merlette and then to Marseille. It marked Ocaña so much that he later named his home Orcières Merlette. His tale is special and the well-produced documentary explains plenty and is well-produced too.
"to speak of Merckx without mentioning of Ocaña is like talking about the sun without a word about the shadow it casts"
Born to Climb – L'Equipe.fr (English article)
The documentary is worth watching and there's a new biography on Ocaña, Reckless by Alasdair Fotheringham out in May. For now as a bonus the film a good excuse to give away a great read. Along with the review copy of "At Speed" by Mark Cavendish came "Eddy Merckx, The Cannibal" by Daniel Friebe … but it's been read, enjoyed and reviewed already so here's pristine paperback to give away.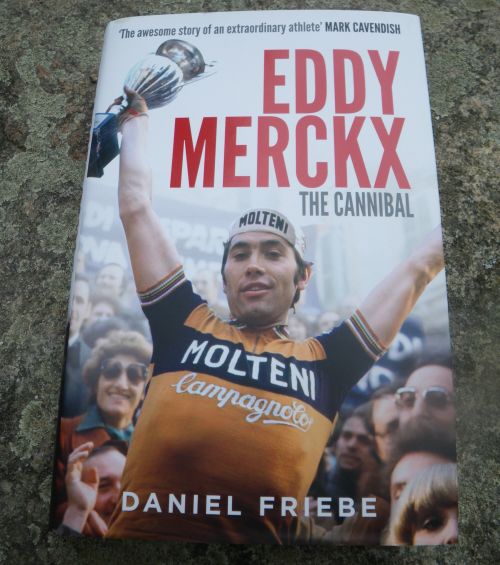 Quiz: What was Ocaña's first name?
Rules: post your answer in the comments section, please don't email or tweet. In the possible event of a tie the names will get posted into a spreadsheet and a random function used to pick the winner.
Feel free to use a pseudonym and you don't have to leave your email in the field before leaving the answer. I'll send the book airmail to anywhere on the planet. I'll pick the winner on Friday at midday.
Note the documentary code can be copied and pasted so if you want to share it, save it and more, make use of it.