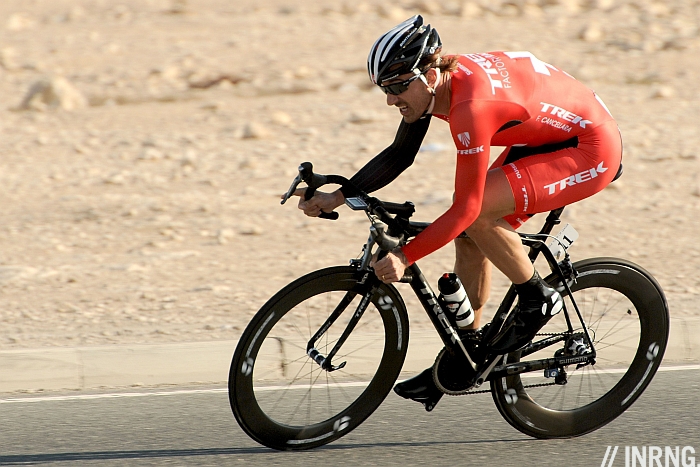 A quick physics lesson. Feel free to skip this one but with the news today that Fabian Cancellara could attack the Hour Record in August at the Aguascalientes Bicentennial Velodrome in Mexico, here's a quick look at the effect of altitude and temperature on performance.
Within hours of the story appearing in La Gazzetta Dello Sport Cancellara's Trek team denied the plans saying the focus is on the classics. But if the record attempt is still uncertain the physics is fixed: riding at altitude in Mexico could be just what is needed to break the hour record. It's not just for elite records either, air temperature can have a big effect on daily riding and Strava conquests alike.
First the basics. As you'll know aerodynamics are crucial to cycling performance. You can improve your position on the bike, you can improve your clothing and you can improve the bike itself. All three are interrelated. For example change your position on the bike and the airflow is altered and consequently you might want to change, say, your helmet or at least its angle on your head. But once you've nailed the position and made your bike as slippery as possible as well as working on other variables like tire choice and even the bearings then it's time to think about travel and temperature.
Why? Because if you've done all you can to improve your fitness and power and you've got the best position possible then there are still parts of the equation left to play with, notably air density.
Altitude
Air density decreases with altitude but so do other factors which affect density like humidity and temperature. But for the sake of argument, at sea level the standard air density is 1.225kg/m3. Go to 1,870 metres above sea level, the height of the Aguascalientes velodrome and everything else being equal this number drops to 0.975kg/m3. This helps bring about significant reduction in the air resistance.
Temperature
Air density reduces with temperature but normally the higher you go, the colder it gets. But Aguascalientes enjoys a tropical latitude and better still the Bicentennial Velodrome is a modern covered track. This means the temperature can be adjusted: turn the heating up. The standard air density is based on a set temperature but turn up the heating to a summery 28°C (82°F) and at 1,870m the air density drops further to 0.932kg/m3.
Humidity
The relative humidity is a another factory. If you've not thought of it before you might imagine that humid air is thicker, it can feel uncomfortable. In English they say it's sticky, the French say "il fait lourd", it's heavy weather. But actually humid air is lighter because water as a gas is two hydrogen atoms and one oxygen compared to the heavier combo of paired nitrogen and oxygen atoms so the more H2O per m3 the less other heavier molecules.
Go to Aguascalientes Velodrome and install a humidifier to crank the air up to a steamy 90% relative humidity and the air density drops to 0.917kg/m3.
As you can see altitude is a prime determinant, then temperature followed by humidity. If you want more on the maths, see here.
Aero gains vs Aerobic performance losses
So far so good, just to to altitude, find a covered velodrome and turn up the heating, right? Only altitude brings other other problems. The very gains in aerodynamics from the reduced air density mean a reduction in the partial pressure of oxygen and consequently your VO2 Max or aerobic performance declines. There's a clear trade off here. Scanning the web studies suggesting a performance drop-off at 1,870m of between 5-10%. So for all the gains in aerodynamics there are reductions in physiological performance.
Normal level
All these calculations don't just apply to elite athletes and their world record attempts. Note back at sea level the difference in air density between a summer's day and a winter's day is about 10%. This alone can account for that slow feeling in winter, especially when dressed in bulky gear. In competition it's hard to get a benefit given others share the same conditions but worth noting if you like to compare times or speed on a training loop and you need to remember the temperature and weather when comparing times. You can use the science for Strava high scores, just venture out on warm humid day for a natural advantage.


Wind adjustment
A quick mention of the wind. Last week's piece on the aerodynamics of skiing brought an email from a reader asking whether time trial times should be adjusted for varying wind conditions. Watching the Winter Olympics you might see the ski jump and how wind conditions are included in the calculation of the total points. If you saw the recent Tour of Dubai you might remember Tony Martin's frustration at being the last ride to start and reports say the wind had got up, slowing his ride. By contrast BMC Racing and Taylor Phinney opted for an early start, a factor behind his win.
For me no adjustment should be made. For starters the calculation would be a theoretical nightmare and a practical impossibility to measure windspeed around the course. In the ski jump alone they take five measurements, a 10km TT course might need five or maybe 50 measurements. But it's a philosophical difference, cycling embraces the natural environment and the wind is to be exploited. Tony Martin might resent being seeded first in a time trial but it's the burden of being a world champion.
Note the weather all year long will affect performance. Wet roads in a time trial can be slippery but the increased humidity could make for a faster ride… so long as the downpour doesn't bring down the air temperature too much. Amateur meteorology can help picking winners for a time trial.
Conclusion
Will he, won't he? It makes sense for Cancellara to keep the plans confidential for now because even injury this year could mean he "loses" in his bid for the record but there are many variables to address, notably the UCI's review of the rules that could let him use a modern track bike, the kind allowed in a pursuit race.
If you did want to go for the record then the Aguascalientes velodrome, built in 2009, is a good pick offering reduced air density and the controlled conditions of an indoor arena but not being so high to diminish aerobic performance too much. Just ask François Pervis who smashed the kilometre record by two seconds there in December.
I didn't wan to turn this into an algebra attack, Google air density and you'll plenty from the raw physics to aviation data and even some cycling-specific pages; plenty for a good school project. As much as the romantics might like to escape it, cycling is underpinned by physics and air density is a big factor so bear this in mind whether it's the hour record or that feeling of speed on a warmer spring day.