André Greipel was second on the opening stage of the Tour Down Under. Getting beaten by Simon Gerrans was an upset but Greipel's presence in the front group was a surprise. Or was it? He's often able to get over a short climb that others cannot. You might remember Greipel's win in Le Cap d'Agde in the 2012 Tour de France when the bunch went over a steep climb in the port town of Sète and there are other examples. In fact "The Gorilla" has some mountain heritage, it's a little known fact but a junior Greipel was German hill climb champion. It was in 2000 in the ski resort of Garmisch-Partenkirchen, high in the Bavarian Alps. He remains a specialist sprinter but don't confuse his hulk with bulk.
Tom Boonen going nowhere
Now a tale of someone going nowhere. Tom Boonen got stuck in a lift with team mate Stijn Vandenbergh and OPQS team PR Alessandro Tegner. Vandenbergh tried some DIY while Boonen "was quiet at the back" according to Sportwereld.be, the sports website of Het Nieuwsblad. This might sound trivial but this illustrates how Boonen being stuck in a lift makes the news in Belgium, his every move and even the times when he's immobile are documented. No other country offers such extensive coverage of our sport.
Berhane wins two stage races in same week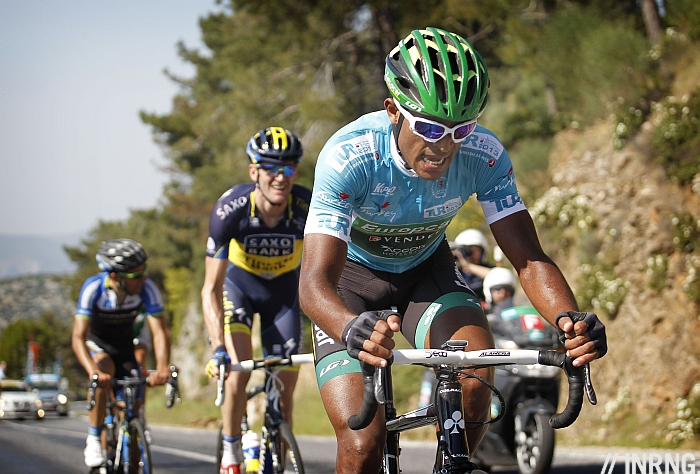 He can climb, he can sprint, he's young and wears green. Peter Sagan, right? No meet Natnael Berhane, the Eritrean rider on Europcar who's won the Tropicale Amissa Bongo. Caja Rural's new signing Luis-Leon Sanchez took the overall lead but could only watch as Berhane powered to take time bonuses in intermediate sprints and stage finishes and managed to claim the overall lead on the final stage. This was in part thanks to help from his friends in the Eritrean national team who, despite having no tactical interest, took part in the intermediate sprints to swamp Sanchez. Berhane's not well known but it seems everyone has a good word to say about Berhane whether for his talents or his manners. His contract's up at the end of the year and we'll see what else he can deliver during the year. As a bonus it seems he's now officially the winner of the 2012 Tour of Turkey after Turkish cycling finally condemned Mustafa Sayar. As ever it's a poor way to win a race, no celebrations or joy but he does bag some points.
Tour de Phil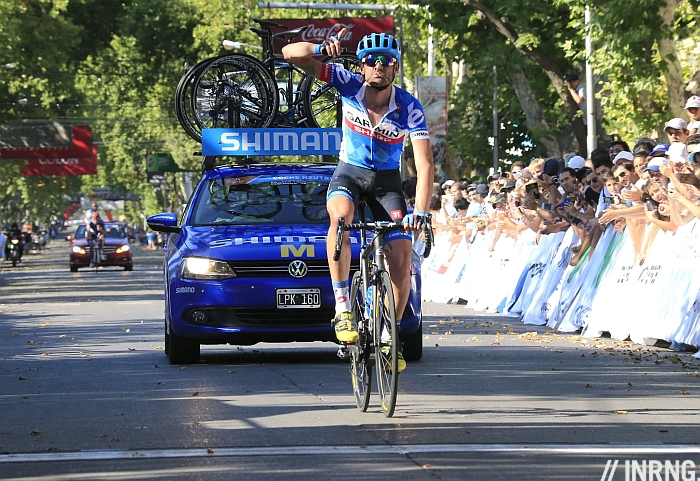 One rider who got to experience the full joy of winning was Phil Gaimon. His wins his first race with Garmin-Sharp. Strictly-speaking he's not a neo pro as he's 26 and he's done plenty of big races before. But he's stepped up from the UCI Continental ranks to the fully professional ranks. We have to back to 2011 when Andrea Guardini's win in the Tour de Langkawi and FDJ's Geoffrey Soupe's win in the Tropicale Amissa Bongo for a neo-pro winning their first pro race, these two cases just days apart. This step up has often been problematic for riders raised on a diet of US races with their relative short distances and wide roads. But you can prepare for the distance and in an article for Velonews, Gaimon detailed his training:
The assignment was to ride 4-6 hours a day for three weeks, with as much time around 350 watts as I could handle
Short of working as a bike messenger in Manhattan you can't prepare too much for the Euro experience of finding yourself in a peloton of 200 riders heading for a farm track and the fight involved for place.
Open for business

Forest fires had threatened the TDU Stage 1 but the race was an opportunity to show the Barossa Valley is open and ready to welcome people. The Tour Down Under is only the latest example of this, see the Tour de France last summer which visited flood-damaged parts of the Pyrenees and arguably many races exist to promote a region. Simon Gerrans is obviously delighted the roads behind Adelaide were open but he spends most of the year in Monaco where several nearby roads are closed after flashfloods provoked landslides and the Col de la Madone is one road amongst others that has been closed.
Built-in brakes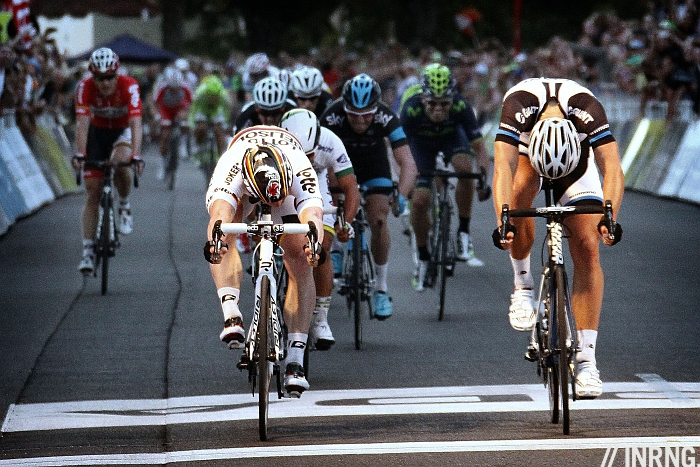 André Greipel rides a Ridley with Campagnolo and Marcel Kittel has a Giant with Shimano. Greipel looks to be using the narrow 38cm bars again. But what have these bikes got in common? No prizes to the reader who says "wheels" but instead each bike uses internal braking systems.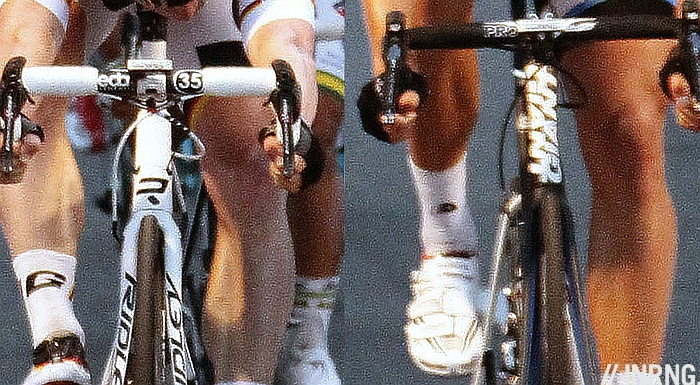 For a better close-up, scroll to the end of cyclingtip's excellent review of all the 2014 team bikes and click on the Giant photos. Rather than the Campagnolo or Shimano model bolted on to the frame or fork, the brake is partially built-in and more so with the Ridley model. I don't know what the performance is like but this is surely the way of the future. It allows improved aerodynamics and some might like the looks but the best advantage is how the calliper can be built into the frame with the possibility of a stronger structural support meaning even better braking or a lighter unit. It's one example of a component becoming integrated and we'll surely get more in time, for example both Kittel and Greipel have electronic gears but for now the CPU device is fixed with to the frame with zip ties when it could easily be stored inside the bars or stem.