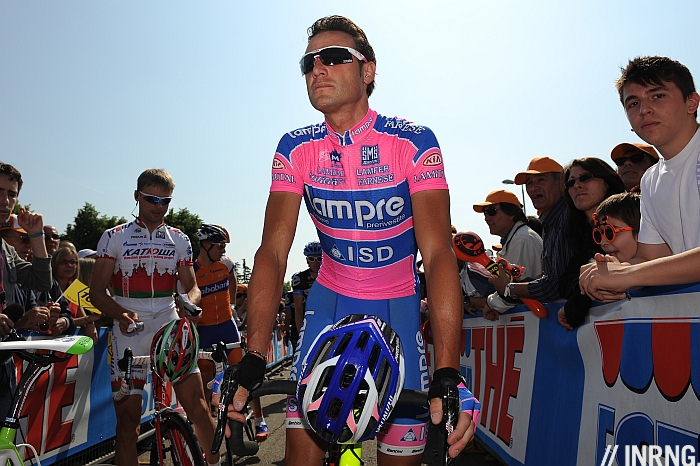 Some sprinters are feared for their switching but Alessandro Petacchi tried a different kind of move this year when he announced his retirement only to switch to OPQS. The UCI shut the door on this and a blocked Petacchi had to wait until August to move teams.
But the attempt showed a loophole in the rules and this has now been closed for good. Not every change to the UCI rulebook is worth a mention but Petacchi's mid-season switch was a strange story with implications for teams and recruitment so here's a quick look.
What happened?
The Italian started the season with Lampre-Merida but announced his retirement in April. It's unusual to see a rider quit mid-season especially as Petacchi was on a good contract. Why not ride out the season? Well within days of quitting he was linked to OmegaPharma-Quick Step. Mark Cavendish had joined the team but they'd been struggling to get a sprint train and Petacchi was even whispered as a possibility for the Giro.
At the start of the year the rulebook said a rider could not switch teams but there was a loophole: if they were out of contract then they could sign for a new team. It certainly looked like Petacchi "retired" so he could assume an out of contract status the briefest of periods thus allowing him to switch to OPQS. We'll never know for sure if this was the plan or just happy coincidence, a rider retiring and another team wanting to hire him.
Tampering
But the Petacchi case highlighted a loophole. Imagine another team that's having problems with its roster, maybe a star rider is out for the season with an injury or even a doping ban. They're at a loss but could start whispering in the ear of a rider who's suddenly become hot property. And so we get the resign and re-sign trick. In no time rich teams could start compensating their failings with this chequebook predation.
What does the new rule mean?
The UCI saw the danger and promised to close the door. In the end Petacchi wasn't allowed to join OPQS until 1 August. Here's the old rule and the new one:
Old: 2.15.121a Only a rider with no contractual links to a team may start negotiations or be recruited outside the transfer periods.
New: 2.15.121a During the season, no rider already registered with a UCI ProTeam for the current season may join another UCI ProTeam or a UCI professional continental team outside the transfer periods.
Two points to note are that the door is locked on team moves to a far greater extent than any normal employer/employee situation. Imagine a Pro Conti team with unpaid wages and angry riders, now they cannot move even if their contracts are dissolved, or at least they must wait until August. Second the UCI is meant to be exploring a transfer market but this is clearly not coming in 2014.
2016 Horizon
One other element to note from the UCI is that it is only giving out team licences until 2016. In the past a team could apply for a four year licence. This has always been subject to annual checks but as long as the sporting, admin, financial and ethical conditions were met the licence was renewed. Now with more fundamental reforms planned for 2015 and beyond the UCI will not grant licences for too long.