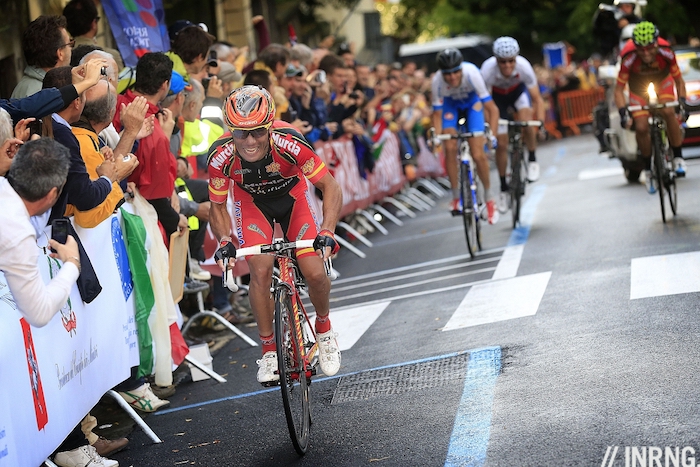 Four ride into Florence. Joaquim Rodriguez attacks on the final bump of the day and Vincenzo Nibali chases with Alejandro Valverde and Rui Costa following. Soon they will round the final bend and Costa will take off and to close in on Rodriguez. The acceleration is enough to isolate Valverde and close the gap to Rodriguez leaving a two man sprint. This was the moment the race was won.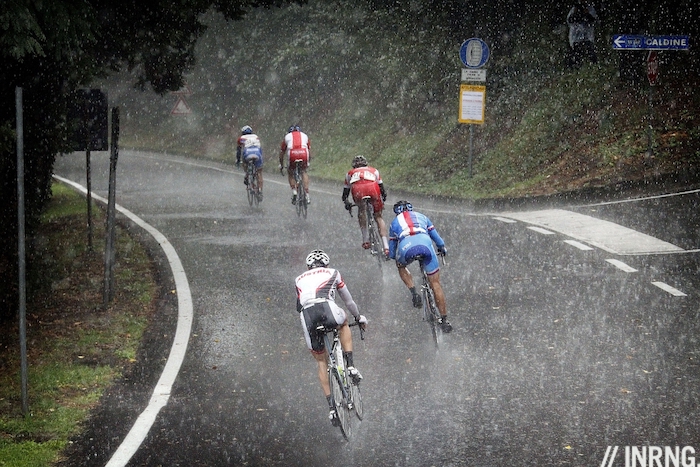 The race started under heavy rain as umbrella sellers took an early lead. Then a break went which looked like the usual early move but it was to prove surprisingly enduring. The race crossed to Firenze led by the British team, in particular Mark Cavendish riding past his Italian home. It looked like they were riding to a plan but with Chris Froome out of form, as results in Canada showed, it was hard to know what it was. The Humans Invent podcast (search your podcast catcher, no direct link to episode) says it was a plan for Rio 2016, a way to test the team. Maybe but in time the entire squad would quit the race.
Forza Italia
Others had more immediate plans. Whilst the sky stayed grey the bunch turned blue as the Italians moved to the front of the bunch and accelerated. It was remarkable to see a squad trying to pressure the race at just the halfway point.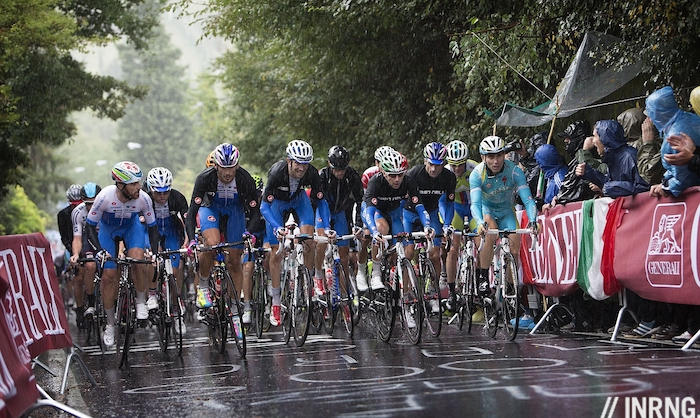 Suddenly the bunch was blown into six groups and several riders were temporarily caught out, including Peter Sagan who'd changed his bike. Suddenly the peloton was like a sinking ship with riders abandoning for dry land. The Italians kept the pace high over the next three laps with around 75 riders left with 100km remaining.
Up ahead the break was reduced to Bartosz Husarksi and Jan Barta, a Pole and a Czech but team mates on NetApp-Endura. They kept riding. Behind Marcus Burghardt made the first real attack from the bunch, it fizzled out but was enough to drop two Italian workers.
With 50km to go there were still 50 riders left. Huzarski was now alone in pole position and chased by quartet of Wilco Kelderman, George Preidler, Voeckler-copycat Cyril Gautier and Giovanni Visconti. Visconti went on, caught Huzarski and started to tow the Pole around Florence and up over the climb to Fiesole, still senza sole.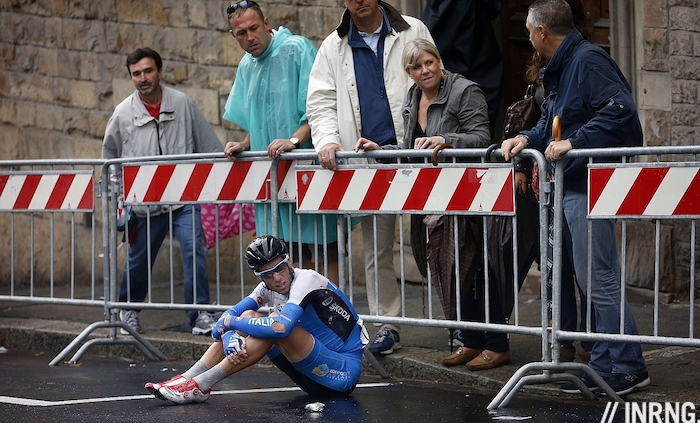 Nibali then crashed on the descent, a corner that had taken out others. A left-hander with white paint, he slid out but got up. He was chasing but it looked forlorn until he started getting motorpaced back to the lead and suddenly required a "sticky spanner" from the mechanic. Call it home advantage.
Round they went but without many attacks, a move by Romain Bardet was shut down. Too many riders were waiting, knowing any early moves would just waste energy; except Jan Polanc who tried, got caught and proved everyone else right. With a lap to go the bunch contained many fast riders like John Degenkolb, Peter Sagan, Edvald Boasson Hagen and Greg Van Avermaet amongst others. So it was up to the climbers to use the Fiesole climb to their advantage. Michele Scarponi was the first and he set of a chain reaction that split the group into small packets from which Joaquim Rodriguez and Vincenzo Nibali led over the top with Rigoberto Uran, Rui Costa and Joaquim Rodriguez in chase. Everyone else was out of sight.
On the descent Nibali was dropped by Rodriguez. Fear or a mechanical issue from the crash? Uran wiped out too, an ally less for Nibali in the chase to come. Either way it was a surprise but he made up for it on the climb of Via Salviati. Rodriguez led like a pirate with a knife between his teeth but Nibali was closing most the gap to Rodriguez with Valverde and Rui Costa on his wheel. Nibali kept working but what else could he do? Valverde would not work because a Spaniard was up the road and hand signals to Rui Costa proved useless too.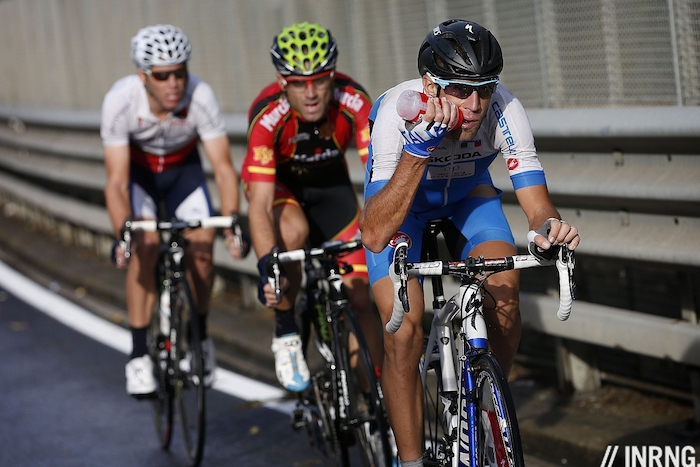 So the Italian kept chasing, towing the others up to Rodriguez with only a short pull from Costa. Once the junction happened Rodriguez jumped again with 2km to go.
Nibali had to give chase again, a repeat scenario until this time Rui Costa took off on the final straight and bore down on Rodriguez. The Spaniard tried to have words, as if to delay the inevitable execution by sprint but Costa took off in a big gear and leg-pressed his way to the line.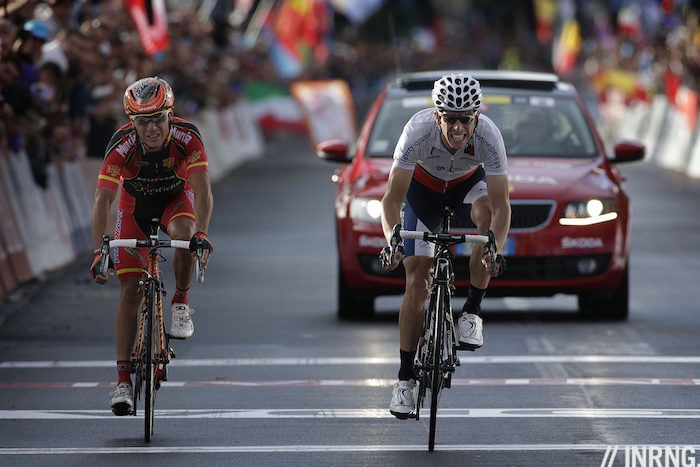 Did Valverde lose the race?
In marking Nibali he let Rui Costa go. But how hard did the Spaniard want to chase given Costa's been his team mate at Movistar for several years? Knowing a fellow Spaniard was up the road and he'd likely land bronze medal, Valverde made a safe call. Perhaps he'd do things differently again but he's not winning the sprints he'd take before. And besides try playing poker after a seven hour ride in the rain.
Puritodor
Meanwhile Joaquim Rodriguez finishes second. Again. He deserves praise for the attacking riding yet must feel like he's lost yet another race, he's finished second or third in more often in big races than he's won. There's a Poulidor-esque habit of losing the race right at the end, see the 2012 Giro or the 2012 Vuelta and this time he was in tears on the podium.
Nibali Show
Vincenzo Nibali is a great rider who's palmarès doesn't match the excitement he brings to a race, his bold moves often fail but everyone watching gets to see a show. The whole Italian team put a plan into action and it almost worked, without the crash and effort spent chasing the result could have been quite different.
The Verdict
It was was the longest race in a lifetime, at 7.25.44 we have to go back to the 1980 World Championships when Bernard Hinault won in a time of 7.32.16. Only this time the winner was not obvious until Rui Costa punched the air in celebration after the line.
A very hard race with a worthy winner but the last two laps saw a tactical ceasefire: nobody wanted to attack because they knew they could not get away, a self-perpetuating tactical shut-down. In the end the climb did its job and we got a selection, but we never saw Sagan and Cancellara. Yet if anything a mistake of the TV cameras who seemed to have limited means to film the race, we could not see how things were playing out behind.
Tactically the Italians did all they could but the Spanish had numerical superiority in the end, only to lose to a cleverer rider. Rui Costa is a fine winner, he's won the Tour de Suisse, struck twice in the Tour de France and did everything right today. You might say he's not the world's best rider but he's one of the best and certainly no accidental winner. He beat everyone on the day, including the weather.
What's Next?
The old Giro di Lombardia, remained Il Lombardia is next Sunday and offers a revenge match on Italian soil with steeper and longer climbs to force a more obvious selection from further out. Before that there's Milano-Torino on Wednesday with its revitalised uphill finish to the Superga basilica. We should see Rui Costa in his rainbow jersey here before he moves to Lampre-Merida for 2014.