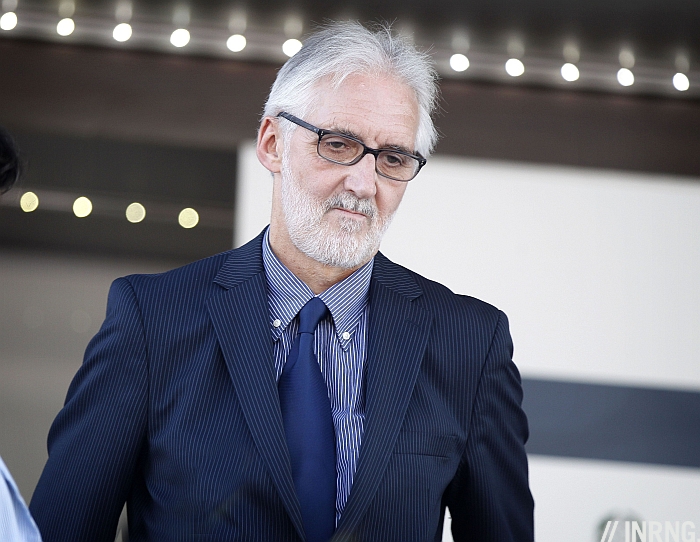 The UCI's Congress met today in Florence's Palazzo Vecchio to pick a President. It chose Brian Cookson by 24 votes to 18.
If attendees wanted a clue to the direction of events, they needed only to check their tourist guides as the palace was once the workplace of Niccolò Machiavelli, author of The Prince and probably the world's greatest political schemer. However the procedure lacked finesse and with the world watching the meeting turned into a farce.
The Congress had its bizarre moments with debates on whether to vote on a vote and other tautological curiosities. Much of the tragedy came from attendees being unprepared. Everyone knew there were problems with Pat McQuaid's nomination, whether the debate over his Thai and Moroccan nominations or the shenanigans of Swiss Cycling. But only the UCI was ready with a lawyer flown in from Geneva to advise that McQuaid's nomination was valid. This was a clever ambush by the McQuaid camp but Cookson and every single one of the voting delegates walked into it. These people should have sought clarity on the matter long before they boarded their business class seat to Italy and it provides yet another example of the dire governance of the UCI. The most important administrative meeting of the year needed more planning.
As debate raged over the validity of McQuaid's nomination it was Brian Cookson who moved. He stood up and declared "We've had enough of this. I propose that we go straight to the vote between the two candidates". It was bold and said to the Congress that he'd trust the delegates. But also an explicit acceptance of McQuaid's candidacy and for a man hoping to uphold the rules of the UCI, Cookson showed he can drop the ball. Plus the UCI's ethics committee might be busy tomorrow:
Reports that Greece was offered €25,000 to back Cookson in UCI presidential race. We've seen proof that it was indeed the case.

— Orla Chennaoui (@SkyOrla) September 27, 2013
Machiavelli once wrote a leader should either be loved or feared and McQuaid seemed to prefer the latter. This blog's long pointed out McQuaid's mistakes to the point of ignoring some because it felt repetitive but also because also pseudonymity requires restraint from personal attacks. But others more involved in the sport have been reluctant to go public with criticism for fear of retribution in case McQuaid won again and he'd get four years to extract cool revenge upon them.
But if fear was McQuaid's choice, it didn't reach everyone and sadly for the UCI as a corporate body the President had become a distraction, no more so that the desperate attempts to fight USADA and WADA over jurisdiction for the Armstrong/US Postal case. It's these things that undo any of the good work achieved. Yes there was anti-doping improvement but some of that was prompted by WADA and ASO: it followed a pattern of being bounced into tightening the net after scandals threatened to stop the Tour de France. But there was improvement in other areas, see the UCI publishing its financial accounts for small example or, best of all, the World Cycling Centre which helps develop talent from around the world.
McQuaid will leave the UCI but remain within the IOC where hopefully his skills can be put to better use, he's effective at marshalling others – part pitbull, part shepherd dog – but executive leadership and collegiate management have not been for him.
The Campaigns
McQuaid's campaign was questionable at best. A gaff-prone media performer over the years, his entourage were sending ever-more bizarre press releases that rather than informing recipients or framing the debate just left journalists and others wondering what was going on in the minds of whoever pressed the send button although the UCI has sent several of these too under McQuaid. If McQuaid has a media image for stumbling into fights, his campaign strategy confirmed this and even showed the world a dirty side to the fight. It was an odd choice when McQuaid could have played "old safe hands" by looking Presidential and rallying federations in support and making Cookson look like the risky outsider.
Odd to note the presence of @UCI_Overlord at the #ucicongress

— Laura Weislo (@Laura_Weislo) September 27, 2013
Apparently "UCI Overlord" Aaron Brown had been advising McQuaid during the campaign and he showed up in Florence. Having someone suspected for fraud on your team is never that useful.
Cookson's campaign was slick but odd at times too. He seemed to be popping up regularly in the British press. Sure there were other interviews for foreign newspapers but the British media were relaying most of his campaign. Only most of the European delegates probably don't read The Guardian or The Telegraph, yet alone South American, African or Asian cycling officials he needed to reach. It felt like Cookson was talking with his own countrymen rather than the electorate. Presumably the communications agency hired by Cookson was adept at planting press releases with with local media but not beyond; Cookson also led a decent web campaign but neither you nor I vote so it was an odd strategy. Still it worked and knocking an incumbent President is a big deal given all the advantages at McQuaid's call.
Whilst the campaign got personal at times, it never got very political. Can you name three McQuaid pledges or three Cookson promises from memory?
Now the hard work begins
Can you feel the fresh air? Maybe but note we've swapped one sixty-something man from an island in the north-east Atlantic with another sixty-something man from an island in the north-east Atlantic. As we've seen over time the UCI is about much more than one President so what happens over the coming weeks and months is crucial. It might be that Cookson starts opening some cupboards in Aigle and skeletons fall out; hopefully the sport can try shape the future rather than wade through the past.
Today's vote shows that change is possible. After a divisive campaign the 18 McQuaid voters need to be brought onside, as do other supports to put the union back into the UCI. Over to you Brian.