Stage 8. The race heads to its first summit finish at the ski station of Ax-3 Domaines. Nairo Quintana lead over the previous climb but with 5km to go the Colombian is caught. Porte gets out of the saddle and accelerates with Chris Froome on his wheel, leaving Alberto Contador, Roman Kreuziger and Alejandro Valverde behind. Froome turns this into an attack and rides solo, as pictured above, to win the stage and take the yellow jersey. This was the moment the race was won.
Of course picking one moment during a three week race is reductive, the equivalent of standing so close to a painting in a gallery that you don't see the whole picture. Indeed the Tour de France is so vital and definitive to the season that the three weeks alone can't be seen in isolation. But Froome took the yellow jersey here and never looked back.
The race opened in Corsica to show off the island's beauty and disprove Antoine Blondin's rule that "The race is sufficient in itself, it finds greatness in its own means. It ennobles the scenery more than it borrows from it." But paradise is never perfect, and a stuck team bus combined with the inevitable pressure and prestige of an opening win meant beaucoup crashes as Marcel Kittel won the day.
Orica-Greenedge left Corsica triumphant with stage win for Simon Gerrans but went even better when the race reached the mainland with a win in the team time trial with a margin of victory of just 0.76 seconds and then yellow for Darryl Impey. Several sprint finishes saw André Greipel and Mark Cavendish take stage wins but rivalry diluted their points score leaving Peter Sagan to score points. Cannondale did a great job on the roads to Albi to eliminate the other sprints and the Slovakrobat took the stage. Sagan had a good race but "only" one stage win, many saw him winning more.
The Pyrenees arrived and we got the familiar image of Team Sky setting the tempo but it wasn't the same as last year with several of their riders dropping off the pace. Back in 2010 when Team Sky was launched they announced the goal of winning the Tour de France in the future; people smiled, it was the kind of claim all major teams have to say. Peter Kennaugh was touted as the contender and he proved valuable this year but Richie Porte was instrumental.
If the race started with a stuck coach then Stage 8 saw many get stuck on the subject of coaching. Froome's time up the final climb was reportedly the third fastest ever, a more powerful performances than likes of Lance Armstrong and Jan Ullrich. Many made a logical deduction that riding faster than arch dopers mean doping. My view? Well I wrote a piece in April to answer the regular question received by email, "is such-and-such doping" because how am I supposed to know? If I knew then I'd either have the scoop of the year or I'd be dialling WADA. Instead we face an uncertain prospect. As I wrote in my column for 2rHD, data is democratic these days, anyone can use watts either via strain gauges on their bikes or get estimations from websites like Strava. Power analysis is here to stay and the race became an unwitting advert for SRM because if some doubted the rider, they trusted the data generated by the product.
Apart from one Alpine shower the race enjoyed three weeks of glorious sunshine but a cloud remained over Chris Froome. Suspicion wasn't just from internet forums, La Gazzetta Dello Sport ran a front page header and the images above show more. In cycling the pendulum has swung from pro-Armstrong cognitive dissonance to heightened scepticism. It's understandable but bizarre at times to see suspicion get more column inches than actual positives with star figures in athletics. Sky's managers often say they focus on "process not outcome" by which they mean if they do the right thing then things will turn out right, you don't worry about others. So successful in sport, it felt like this was their PR strategy too, only with the media what others say about you is half the point of communication. Something went wrong and for a team so picky about optimising conditions for its riders it didn't learn many lesson from last year where suspicion and accusation made Bradley Wiggins boil over. Management swung into action during the final week, giving SRM data to L'Equipe, briefing journalists in private sessions and even inviting French TV to tour the team bus; small gestures but it helped calm the storm.
But it's not clumsy PR unique to one team. Trust and credibility are fundamental problems for pro cycling. The sport is stumbling and few institutions are trusted. When Sky talked about sharing power data, it was with WADA, not the UCI. It seems the only way now to get credibility is to import it, whether via independent commissions, Deloitte, WADA or asking the coach of a rival team to review your power data. As long as this institutional crisis continues then trust is scarce.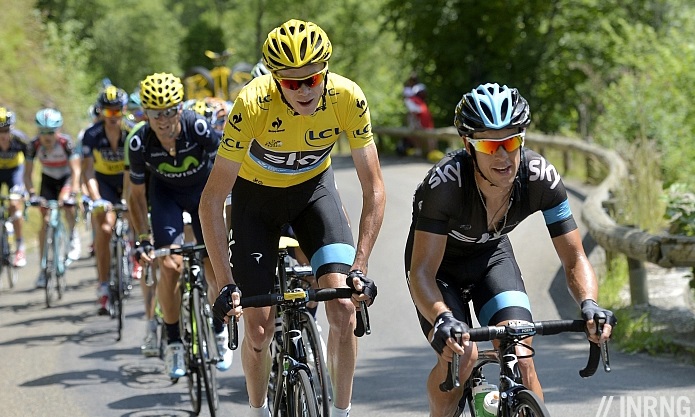 But back to the racing. Stage 9 was long, stressful and tiring… and that was just for viewers watching the stage live at home. A fast start from the beginning saw repeated moves by Garmin-Sharp but the drama came in seeing Froome isolated, he was forced to close down moves by Contador and Valverde. The image above might look like it was taken on the last climb but it's from the first climb of the day. The longer the stage went on the more riders were tired so the isolated Froome could track his rivals. Quintana tried but the matches had been used up and Dan Martin struck to win the day.
Tony Martin had two close scrapes in the race. The first in a crash on the opening day where he was lost a lot of skin. The second came in the Mont-St Michel time trial where the world time trial champion held of Froome by just 12 seconds. Thomas De Gendt was third, an enigma who can be so strong, yet invisible the next day.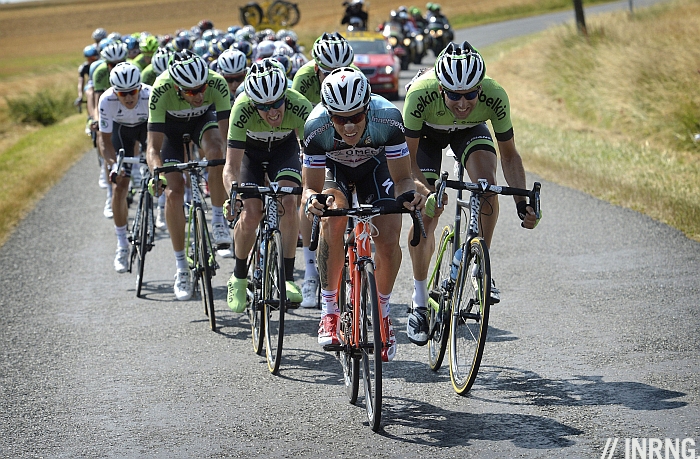 Stage 13 was another highlight. Scan the results and Mark Cavendish won in St Amand Montrond, you'd think sprint finish but instead we got a thrilling one-day classic where the race split up in crosswinds. It wasn't even that windy but just enough for OPQS and Belkin to shake things up. Valverde was the loser, losing 9.54; with hindsight and cold arithmetic this cost him a few places overall but probably not the podium. Valverde's loss would be Rui Costa's gain and perhaps Movistar even benefited? Writer Ed Pickering was right when he said waiting for Valverde was the best thing for Costa because once he was no threat on GC he got into breaks and was able to take two copycat stage wins. Movistar brought plenty to the race beyond Costa, Valverde and Quintana. Their tactics and audacity put Sky and Froome under pressure and provided a challenge we didn't see last year. A mention too for Bauke Mollema who finished in sixth place, a good ride backed up by Laurens Ten Dam and Robert Gesink and the rest, the Dutch team had a good race although their success was through steady riding rather than relentless attacking.
The stage to Lyon was another thriller with Julien Simon going solo with 15km to win. Huge crowds roared him on and millions of French viewers screamed him on. Alas, he was caught with one kilometre to go. Matteo Trentin won, the moment to look at the theme of monopoly. OPQS and Argos-Shimano won 4 stages, Sky and Movistar took three to leave most squads empty-handed.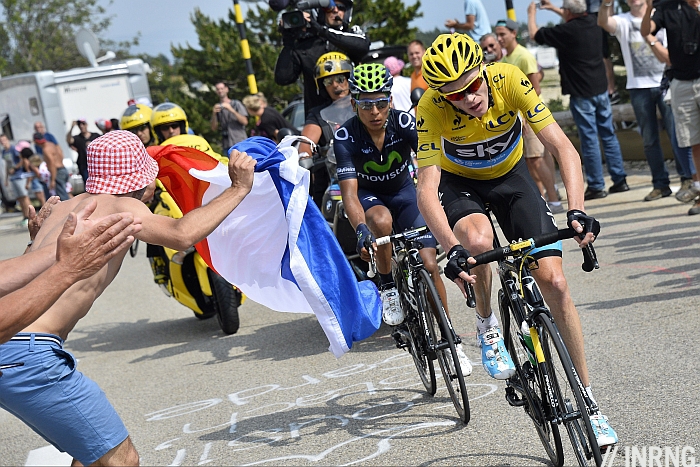 Mont Ventoux saw another Chris Froome win, his high cadence attacks took some by surprise but it's not new, go back and see the 2011 Vuelta; he wasn't allowed to attack last year. He's obviously efficient but stylistically he looks like someone pushing a supermarket trolley whilst talking into a phone wedged on their shoulder. Meanwhile Quintana perhaps got some tactical improvements to make. His early attack was great to watch but perhaps a more economical late attack could have got him the stage win; let's hope he doesn't become too clinical as his presence made the mountains compelling.
Froome had his elbows tucked in to win the Stage 17 time trial, taking time on the final descent to beat Contador by just nine seconds. Talking of arms, the next day saw Christophe Riblon wave with joy to win the Alpe d'Huez stage as he got the better of Tejay van Garderen on the final climb of Alpe d'Huez. Lower down the mountain and Chris Froome ran out of energy. With the crowds roaring riders struggled to use their race radios and Froome was raising his hand as if calling for the serveur in a café. Richie Porte duly brought an energy gel which came with a giant bill. The illegal feed generated a polemic but the substantial point is that this was as bad as things got for Froome, he saw off isolation on Stage 9 but here was some physical weakness and he lost time.
It all led to the Semnoz, a mountain above Annecy. In the past Christian Prudhomme and Jean-François Pescheux have appeared too romantic, promising attacks and suspense when in reality stage racing is a gradual process and we can't have action every day. But come the final climb and seven out of the ten places in the top-10 changed, tension that few could dare imagine when the route was launched and fitting send off for Pescheux, who retires as race director.
Quintana won the day, taking the stage and the mountains competition. He's being tipped for big things of course but remember this was the most mountainous time trial in years, the first time trial was short and the second had two Alpine climbs. In other words he's a contender for the podium but it's not guaranteed. Meanwhile the slope was too much for Contador who slipped to fourth place overall. He deserves praise for trying but let's leave the steak jokes behind and say it out loud: he's not the same rider without the USDA-endicted Jose "Pepe" Martí. Whatever has been happening this year he remains a grand tour contender and he says he won't rider the Vuelta so we'll see what 2014 brings. As for Froome, he's surely already the favourite for 2014 but note he's the only rider from the top-10 in 2012 to make the top-10 again this year. Nothing's certain.
Paris hosted the traditional final but with a twist, a sunset finish on the Champs Elysées with the route extended to include the Arc de Triomphe. Kittel won again, breaking Cavendish's Elysian run and and making six stage wins for Germany. Behind, Chris Froome sat up with his team mates and rolled in across the line in celebration.
Snap Awards
Revelation: Michał Kwiatkowski (Quintana was a more confirmation)
Best team mate: Richie Porte
Best team: Movistar
Invisibility cloak: Lampre-Merida
Missing in Action: Jurgen Van Den Broeck
As ever all finishers get a medal and they deserve it. One of the joys of the Tour is the extra coverage the race attracts, with more interviews, photos, podcasts, radio and more and it brings us tales of every rider. Chapeau to Svein Tuft (Orica-Greenedge) who is the lanterne rouge.
The Verdict
A vintage edition. Sure, Froome started as the favourite and once in yellow his lead was never threatened. But the first week saw the yellow jersey jump from rider to rider and the race for the other places was so full of surprises and it took the final mountain to decide most of the top-10 places.
Doping suspicion was part of the process but for once it was just that, there were no rest-day raids and no positive tests during the race. Instead the flat stages brought surprise with a variety of sprint winners, although the green jersey contest was fixed early. Both the Alps and the Pyrenees brought suspense too with teams willing to task risks. The centennial edition proved more than a round number, no more so than the spectacular finish in Paris which took an already glamourous venue and turned it into something magic. 348 days to go until the start in Leeds. Vive le Tour!