We're halfway. The race is maturing and the profile for Stage 4 has more red dots than a teenager with acne.
But the race is far from decided. If Andrew Talansky is the new leader, his advantage on the others is slim and his Garmin-Sharp team will have to work hard to keep him in yellow. A long stage with plenty of climbing awaits and if you get déjà vu later, don't worry, as the explanation is below.
km 11.5 – Côte de Lachaud, 4.8km at 5.6% – Cat 2
km 27.5 – Côte de Condat, 6.9km at 4.4% – Cat 2
km 87.5 – Côte de la Chomasse, 3.4km at 5.1% – Cat 3
km 105.5 – Côte de Laprat, 2.1km at 3.8% – Cat 3
km 136.0 – Col du Rouvey, 2.8km at 5.6% – Cat 3
km 176.5 – Côte de Talencieux, 2.9km at 8.1% – Cat 2
km 191.0 – Côte de la Sizeranne, 2.9km at 6.6% – Cat 2
The Route: uphill straight away means a fast start and today looks like breakaway day but it's all about the composition of a move and who will be let go. By now many teams will want to send a rider up the road so if they miss out they might chase or send riders across. This could keep up across the high plateau and the first intermediate sprint at La Chaise-Dieu (trivia: it translates as "The Seat of God" but actually Chaise comes from casa or house, after an abbey). Overall if it's up and down and with plenty of mountains points available, note the average gradients, there is nothing too serious here and only the Côte de Talencieux gives the climbers an advantage.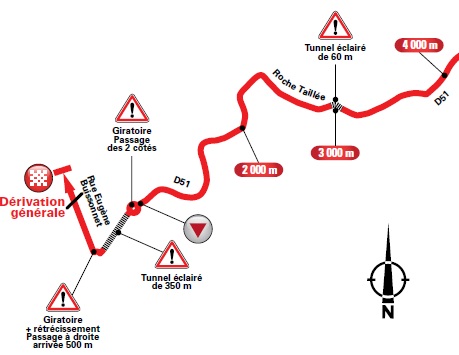 The Finish: if you have pachydermal powers of recall then you'll remember Saint Vallier and the Côte de la Sizeranne featured in the finale of last summer's Dauphiné on Stage 1 when first Andy Schleck was dropped on the climb and later, just after the descent finished, Jérôme Coppel attacked and was quickly followed by Cadel Evans and Andrey Kashechkin. The trio stayed away and with the Australian won the stage (video clip).
Once again the route is the same and as mentioned in the stage preview last June the stats supplied don't match the reality of the climb: it's listed as 6.6% for 2.9km but steeper than the average suggests, kicking up at 7-8% for the first kilometre, then a tiny dip, before rising up again at more than 7%.
The descent is tricky – again in the Dauphiné several riders messed up the corners – and the finish comes up quickly. The final straight is 500m long and flat.
The Scenario: the overall classification – listed at the bottom of this page – has 28 riders within 26 seconds of Talansky meaning it's going to be hard for his team to control things, especially with the time bonuses at the finish. Many will want to be in the early breakaway but who will make it? It looks like some riders who have lost time might get an exit visa from the peloton, think of Thomas de Gendt and Bjorn Leukemans (Vacansoleil-DCM), Jérémy Roy and Alex Geniez (FDJ), Martin Elmiger (IAM) as examples of riders who could slip away.
But if it comes back to a sprint note the final climb can dump some riders but Tony Gallopin (Radioshack), J-J Rojas (Movistar) and Jonathan Hivert (Sojasun) are riding well. Also it'll be interesting to see what Philippe Gilbert does, it's a day for him but he's been playing loyal domestique for Tejay van Garderen.
Talansky talks to press; euros are asking "who is this guy?" twitter.com/EuroHoody/stat…

— Andrew Hood (@EuroHoody) March 6, 2013
Andrew who? Apparently some journos were asking who's Andrew Talansky but remember he won the mountainous Tour de l'Ain last August before finishing seventh in the Vuelta after some consistent riding every day. He was also second in the Tour de Romandie, 12 seconds behind Bradley Wiggins. The 24 year old could be familiar to readers here as he's on my list of 12 riders to watch this year.
Talansky made the move with Romain Bardet, the local rider. They're no strangers as back in 2010 they were fighting in the franco-Italian Tour des Pays de Savoie with Talansky winning a stage ahead of Bardet and also Bart de Clerq, a rider 13th overall in Paris-Nice.
Weather: rain clearing and a top temperature of 13°C (55°F) but much cooler at altitude over the Col du Rouvey. In addition the southerly wind is back, it will pick up during the stage to blow at 20km/h from the south-east by the finish in the often windier Rhone valley.
TV: Live video from 2.55 – 4.10pm Euro time on French TV and Eurosport and, rum at the ready, cyclingfans.com or steephill.tv have the online co-ordinates for buried pirate video.
Also on a technical point note the weather was so bad yesterday that the helicopters could not fly. But no problem with the images because the production company used a plane flying in circles high above the race as a relay station for the moto cameras. The broadcast also survived a strike on Tuesday but French TV staff decided to cover Paris-Nice for the "continuity of sport". Merci to the pilots and others who bring us these images.
Eat: the race passes near Le Puy en Velay which is famous – in culinary circles – for its black lentils which grow in the dark volcanic soils. Supposedly they taste better but they're also iron rich and a good addition to the cyclist's diet.