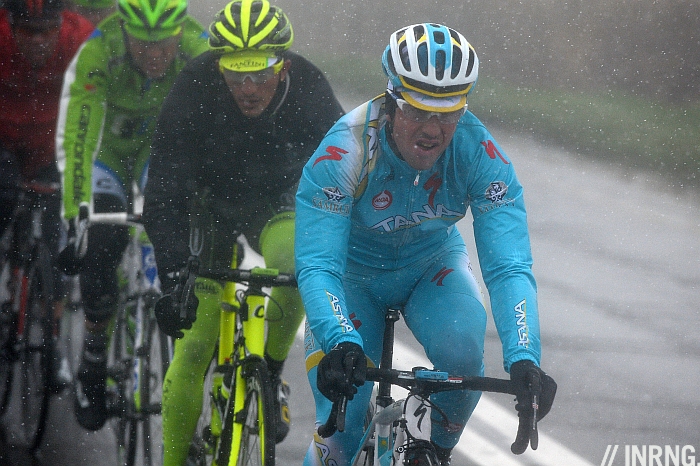 Was Gerald Ciolek the best dressed man in Sanremo? This isn't about fashion but workwear because when it's snowing and there's a race on, your clothing can make all the difference. Some riders suffered wardrobe malfunctions and abandoned whilst others rode on thanks to a range of kit that went from improvised helmet covers to mysterious non-team issue black jackets. Of course the race results weren't down to clothing alone but the right kit helps.
One thing that stands out is the way riders start a race with all sorts of aerodynamic advantages only for it to rain and they don a jacket that billows, flaps and creases to make them look like the Michelin man.
Milan-Sanremo was exceptional with cold temperatures and wet snow. The peloton went into survival mode with riders dressed in everything they could find to combat villainous wet snow. But wet and cold weather is not the stuff of legend, every year the pro peloton crosses the more extreme parts of Europe and races at altitudes where snow lingers all year.
The Incredible Bulk
Our sport is rightly obsessed by weight and aerodynamics. There's a big focus on product design, especially frames and wheels. Clothing plays a significant too and there have been gains in recent years with the adoption of Lycra-based jerseys to hug the figure.
But all the R&D spend, hours in the windtunnel and marketing promises seem water-soluble because when it rains the riders reach for their rain jacket. Even when riders pick a size to fit tight on the chest the sleeves are often cut so generously Ian Stannard could fit a leg inside. As a result riders might have their aero bikes and special wheels but their upper body resembles the Michelin man and all those aero advantages are lost thanks to a billowing jacket.
Rain is hardly a freak event. Whether you are a pro racing around Europe or a commuter obliged to ride to work from Monday to Friday it's certain that you'll get soaked several times a year. Given this it's remarkable that all the aerodynamic advantages from bike tech get wiped out by a $100 plastic jacket that seems to have changed little from the 1980s. In fact you can find jackets for $10 but let's run with $100 for the team edition versions as they have more breathable fabrics and other valued-added features.
It's no criticism of the riders. When it's cold and wet you grab what's available. A flapping jacket? Who cares because it's that or hypothermia.
Gabba Dabba Do
One solution to the wet and cold is the Gabba jacket by Italian company Castelli, so popular that teams sponsored by rival clothing companies were using the black jackets by Castelli, albeit without the trademark scorpion logos. Other teams like OPQS seem to have their own copycat version. Here's David Millar:
Yesterday the peloton succumbed to sartorial seduction regards the Castelli Gabba WS Jersey. Mes hommages: @castellicycling + @gabrielrasch

— David Millar (@millarmind) March 18, 2013
The jacket's name comes from Norways's Gabriel Rasch, today a rider with Team Sky but in the past a member of the Cervélo Test Team which was sponsored by Castelli. The team's riders sat down with the clothing manufacturer in 2009 and "Gabba" Rasch proved necessity is the mother of invention when he suggested the idea of a waterproof racing jersey. Easier said than done and it took time to find the right materials which would stretch over the body, offer protection against the rain yet let sweat steam out to avoid the "boil in the bag" feel of simply wearing a tight-fitting plastic wrap.
The Gabba does seem to be one of the first solutions here but before this turns into an advertorial for Castelli, it's imperfect. It's a jersey so it won't roll up that tight to fit in a backpocket and even the most confident rider will think twice before riding along whilst putting the top on as the sleeves are tight. So, unlike our cheap jacket, once the Gabba is on it tends to stay on. There are other choices, for example Mavic offer a rain jacket that includes stretchable panels so that it fits closer to the body whilst Rapha use cuffs and collars to stop the wind blowing inside.
The Rules



All these black jackets are illegal. No, you won't get stopped by the cops but the UCI has two rules here, first the numbers have to be visible and second all these black jackets and jerseys we see are not allowed, they have be transparent or in the same style as jersey.
The Free Market?
Glance at ads for clothing and they're often promoting a dreamy summer ride. Unlike the pros, many consumers of bike clothing don't have to ride when the weather is foul. We can safely expect nearly every cicloamatore near Ovada stayed indoors yesterday whilst the pro peloton road past before the race was stopped. Does this mean there's just a reduced market for this kind of clothing? And that consumers who will ride in icy temperatures when it's also very damp aren't after speed so there's no point in producing special performance gear?
There are some companies with wet weather gear though. The main problem might not be the gap between pro and amateur but the limited choice of materials. Making a rain jacket that can be pulled on and off whilst riding in the middle of a peloton is one thing but making it lightweight, tight-fitting, waterproof and breathable all at the same time? We're not there yet although you can now get three out of four options.
Conclusion
It seems Ciolek didn't get any special clothing. The MTN-Qhubeka team rode in rain jackets that flapped in the wind like everyone else and the German won thanks to endurance and smart tactics.
The 2013 Milan-Sanremo was exceptional for its wintry conditions but riders face rain and cold all year round. Sunday won't be the last time we see the snow. Whilst we wow at special products like Cervélo RCA, all the cutting-edge technology involved in saving every watt and gram is undermined when you're wearing a flapping jacket and your clothes are soaked with water. Of course you have to keep warm and the windchill effect of cycling means hypothermia is not far away if you don't dress right for a long race, it's better to ride on warm that fade with the cold.
There are some solutions and Castelli's Gabba gets bought by teams who aren't sponsored by the Italian brand, the ultimate product endorsement. But there are still gains to be had here – imagine clothes that don't take on water – and there's a competitive advantage for the teams with the warmest, driest and most aero kit. It could even make some riders look forward to the rain.