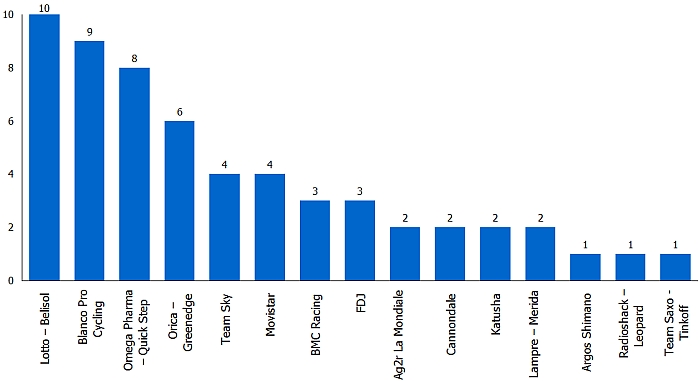 It's early in the season but as you'll see below, not as early as you might think. Here is the state of play so far with the win count for the 18 World Tour teams.
Lotto-Belisol top the table with 10 wins. The team might look dependent on André Greipel but he has "only" four wins and the team has won with several other riders. Meanwhile rival Belgian squad OPQS can thank Mark Cavendish for six of their eight wins. Blanco are having a great start to the season with a range of riders winning sprints and uphill finishes alike.
At the other end of the chart note Radioshack-Leopard have one win. This was the New Zealand national road race championships were they got a 1-2. Hayden Roulston's win counts but it wasn't in the same format as all the other wins.
There are four teams without a win: Astana, Euskaltel-Euskadi, Garmin-Sharp and Vacansoleil-DCM. It is early and Andrea Guardini is getting close in Malaysia for Astana, Garmin-Sharp have seen Farrar finish twice and have plenty more options whilst Vacansoleil-DCM will win somewhere soon either in a sprint or from a trademark breakaway. Things might be more complicated for the Spanish squad, they've been the last to win in 2010 and 2011. They're hired some more sprinters and fast finishers like Jure Kocjan but the Basque team seem solar-powered and will perform once spring arrives.
Outside the World Tour Europcar have five wins whilst Vini Fantini and Sojasun have three each with Cofidis on two, and each team will enjoy this as it brings more chance of wildcards.
Perspective
It almost goes without saying that the win count now is premature… but sometimes on the internet you have to spell these things out. Teams without a win should be patient but that said those with a high score will already feel satisfied and looking forward to the upcoming races. Plus these wins are a helpful marketing tool for the likes of Blanco and Orica-Greenedge who continue their hunt for sponsors.
There's quantity vs quality to remember too. A win in Paris-Nice or Milan-Sanremo next month is worth more than any rankings on the chart above for many but the World Tour's promotion and relegation system doesn't reflect this as it rewards consistency ahead of trophy collection.
That Said…
We've only had one race on the World Tour calendar, the Tour Down Under. Paris-Nice is the next event. But if this sounds light, note we've had over 80 days of racing this year or put another way 15% of the total race days for 2013. Surprisingly by the end of the March a quarter of the year's race days will be completed so whilst we might look forward to the Monuments of April, the grand tours and other big races in the summer and autumn, getting wins and points in March is crucial to a team's win count and ranking.