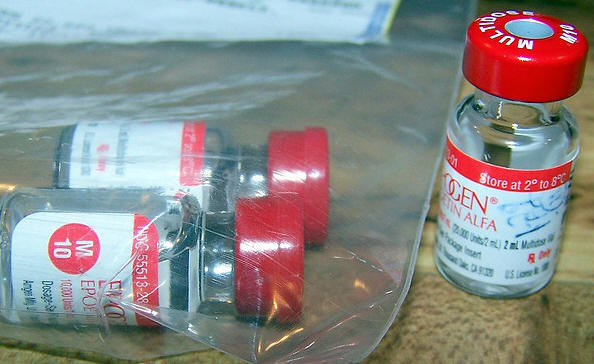 Every now and then I get an email from a reader asking whether all the anti-doping hand-wringing is necessary. Why go through so much trouble to hunt down picograms of banned molecules in the Contador "steak" case when the quantities involved don't alter the racing? Some see a bigger picture where dopers are more than just a step ahead of the testers. Why not just let adults decide what to do? It's not just a question for curious newcomers. Julian Savulescu is a professor of ethics at the University of Oxford and he says prohibition is only helping organised crime and that doping should be allowed for the good of sport. This is an argument worth exploring. I think the basic premise is so wrong it needs shooting down with a hail of bullet points. Professor Savulescu's thoughts are interesting and stimulate debate but away from theory, cycling's own past suggests it can't work.
The general argument of legalising performance enhancing drugs (PEDs) tends to say that because it is difficult to stop determined cheats that it's not worth imposing the cost and even the pretence of testing. Like other forms of prohibition, banned PEDs just sends athletes into clandestine channels and this tends to profit the suppliers, whether crooked doctors or outright criminals. Far better to make doping legal so that athletes turn to regular doctors and safe advice. It sounds seductive but for me it doesn't work. Here's why:
first this is not like prohibition of alcohol or narcotics. Many drinkers might want a bottle of beer or a glass of wine but in doping the point is to get the edge on a rival, to consume more than others. To borrow the drinking language, if someone has a tipple of EPO, someone else will binge-inject. Indeed if some athletes were to take substances under correct medical supervision then others will not. They will seek out doctors willing to give them megadoses or harmful medicine in order to get an edge. There's no moderation here, you go from top-up to health risk in no time.
second most banned substances are banned for a reason. Take growth hormone, consume enough to alter performance and you are consuming enough to cause medical concerns, such as the raising the risk of cancer or heart disease
there's also a practical consideration as drugs like the blood-boosting EPO just aren't available for sports use. A doctor can't prescribe them unless a patient is sick and even if sport allowed the use of these substances, wider society still regulates pharmaceuticals more than almost any other product
Also would you like to turn pro if taking pharmaceuticals was part of being a professional? Would this not encourage amateurs to imitate? Again it does not seem a very encouraging prospect
Mythologies: There are other reasons too. Cycling's suffered from doping because fans did not know what they were watching was real. But imagine if we took this further, you could quickly dehumanise the sport. The Tour de France and most other races trade on a reputation for toughness, of being longer and harder than any other mainstream sports contest. To this day the public wonders how riders cope with the rain, the heat and the distance. But if they believe the answer is found inside a syringe then there's a good chance they wouldn't bother to watch. A race at 43km/h is not necessarily any more interesting than one at 39km/h but the amazement vanishes if the riders become computer games characters with infinite lives and endless energy re-ups.
The Academic case As you'd hoe from a professor of ethics at Oxford University, Professor Savulescu's argument is more sophisticated. He's saying that elite sports have become genetic sampling events where the winners represent a genetic elite and sometimes a financial elite too. This contest devalues sporting notions of determination, commitment, tactics and training. Given this we should allow some moderate use of PEDs to rebalance things, just as athletes can spend time and resources on nutrition, training or equipment. Professor Savulescu is also pointing out that chasing down every last molecule of banned substances is excessive, that the money spent on the "war on doping" should be more pragmatically spent on protecting athlete health. Given doping is a fact in many sports, why not accept this and try to manage it? For example if some are going to cheat why not let others use certain substances under appropriate supervision so they can close the gap with the cheats? This way an "innocent" athlete does not lose out so much and the "cheat" who goes to excessive lengths does not gain such an advantage. In short we change the dynamics of the cost-benefit so that the cheats don't get so far ahead. It's this managed aspect that seems to differentiate the professor's argument from the "just do it" concept. Savulescu says EPO should be allowed so cyclists can top up their red blood cell count, the haematocrit. After all athletes can go to altitude or use a tent so using EPO is fair too and a course of EPO is cheaper than spending weeks at altitude. If the result is the same then we should test for the health of athletes, for example checking that their blood is not too thick.
"One molecule of a growth hormone could not harm you, neither could two molecules. Finding and administering the safe dose is precisely what would be done in an open doping market." Der Spiegel, July 2012
It's here that Savulescu's argument starts to crumble under the weight of pragmatism. First growth hormones are regulated medicines that come with health warnings, even normal dosages for standard use are normally reserved for those with a clinical need. So whilst a molecule of growth hormone might be ok, a vial probably is not. Savulescu seems to believe in noble athletes where "everything would take place under the supervision of physicians and only the use of substances that are considered safe would be allowed" but it's hard to imagine this lasting in practice. Athletes break the rules to get that edge today only tomorrow we won't be able to tell the ones taking supersize doses of EPO from the regulated ones because they cheats can say they took it under supervision. We've seen this already in cycling with the abuse of cortisone. Riders were allowed to use it under medical supervision to treat, say, a saddlesore or a skin rash but in fact use this therapeutic cover is exploited to use large doses on sore muscles. So even small doses of substances for reasonable health reasons will be used as cover by cheats. On another point the professor rightly points that sport is dangerous, riding downhill at speed is risky so why do we accept these risks but not the health risks via pharmaceuticals? For me it's simple, negotiating the course is always part of the sport and an accepted skill to master. The same with an altitude training camp or even a hypoxia tent, they are legitimate as they are exogenous factors that make the body respond rather than injected molecules. More profoundly it's culturally acceptable to practice descending than it is to spend time trying different drugs.
Geography and budget: It's normally illegal to purchase it without a prescription so there's the practical argument about how athletes can get hold of it; we could see cases where athletes from one country are able to buy a substance that is rejected by another nation's pharmaceutical regulators. Therefore sports might be a question of location and access to pharmacology. Similarly just allowing  the supervised use of some medicines and practices is not so simple, it can be a question of money where being able to buy the best medical advice and products distorts the game, remember the USADA report showed that the US Postal/Discovery was outspending most other teams.
EPO, A Case Study: EPO is a useful study because if it's not been legal in cycling, its use was widespread. Savulescu's call to monitor the haematocrit count of athletes instead of test for EPO, to check for overall health rather than the toxicological approach of hunting banned molecules, is exactly what we saw in cycling. In the 1990s the UCI was faced with rampant use of EPO but there was no test. So an arbitrary limit was set on a rider's haematocrit of 50%, meaning half of the blood volume was composed of red blood cells and going any higher could make the blood too thick and bring health problems. This is pretty much what Savulescu is interested in.
Only it never worked. Riders risked their health and went to enormous lengths and expense to game the system. Take 1997 when about one in fifty blood tests saw riders stopped and "rested" after suspicious blood values. The chart above shows the distribution of samples collected in this year. Only we now know the numbers were off and these health checks were inadequate and could be fooled. 1996 Tour winner Bjarne Riis was called "Mr 60%" and although he denies this measurement the point is many were riding with dangerously high haematocrit counts yet resorted to tricks to pass the 50% test: they gamed the health rules. For example when the testers appeared riders would infuse liquids to temporarily dilute the blood and thus score 49.9% in time for the blood test. In other words the 50% limit was never the upper ceiling for health, it was merely a synthetic target for some riders to manipulate their levels down in order to pass the test. In the meantime riders were taking prodigious quantities of EPO with unknown effects on their health. It's like a speed limit on a stretch of road, once set as the upper limit it quickly becomes the de facto cruising speed and drivers speed and only slow down when they spot a police car or speed camera. In fact the arrival of EPO distorted sport as a genetic and physiological test, arguably it exaggerated this contest. Take two people, one with a natural haematocrit of 37% and another with higher count of 45% and a health limit set at 50%. One can use EPO or blood banking to dope their blood much more so the genetic differences in blood chemistry are not being narrowed, in fact they can be exaggerated.
Summary: Should Performance-Enhancing Drugs be Legalised? No. But the world is more complicated than a one word answer and hopefully I can send fresh email enquiries to this piece. Legalising PEDs is a recurring argument and one that goes from the sports café to Oxford University. It's right that we question the status quo and constantly evaluate the rules of sport.
Let someone take a vial of this or syringe of that and someone else will take double and in no time you're back to health risks only you've surrendered the testing regime that enables you to detect this. I might disagree with Professor Savulescu's ideas but they're thought-provoking and for this alone valuable. Savulescu's ideas cleverly shift the balance to help those wanting to catch up with the cheats. But as pro cycling showed in the 1990s the idea of managing doping for health reasons probably won't work. Health measures to contain EPO with a haematocrit ceiling quickly established the 50% limit as the competitive minimum rather that the upper ceiling. And once you allow EPO then you can't test for it. Whilst there's talk of a "war on doping" what if we saw the existing regime under the WADA Code and cycling's bio-passport as a net that can't catch everyone but it does filter out some of the bad stuff? Let's not pretend it stops doping but can help limit excesses. Out of competition testing and the ability to detect tiny quantities limits the margin to cheat. This protects health and also containing the scandals that undermine the business of sport. Instead of allowing doping perhaps we need more tests more often on more riders as a way to protect the peloton?
This piece was first published in February 2013 but the zombie argument refuses to die and stalks the land again in the wake of the IAAF / RUSADA scandal.