TV commentary is one of those jobs that everyone thinks is easy… until they try it. The next you watch a race try pressing mute and replacing the audio with your own commentary and see how you get on.
David Harmon is one of Eurosport's commentators. If you watch cycling this year you're bound to hear him at work, hopefully via full HD and clear audio but maybe via a pirate audio feed.
Here he talks about the job, how it's changed, what it's like to talk for six hours non-stop and more.

– Let's start with some background. Do you ride your bike much?
Nowhere near as much as I would like, especially in the last 18 months. Since the moment Mark Cavendish crossed the line in Copenhagen it's been a mad roller coaster of interest in cycling here in the U.K. For years Sean Kelly and myself have ridden together most mornings during the Giro and the Vuelta but even that had to take a back seat in 2012.
Alongside the commentary I run Spokesmen Ltd, a cycling focused Media and PR Agency with my colleague Lara Thornton. We have been lucky enough to have helped shape the bid for the 2014 Tour de France Grand Depart in the English county of Yorkshire which we are very proud of but it's meant that work has had to be the priority over riding this last year and the extra 12 kilos can illustrate it!
– You'd been covering other motorsports on Eurosport before moving to cycling?
I actually began commentary work at the Le Mans 24 Hour race a few years before I joined Eurosport. I was rather pitched into it by accident but have never looked back. I sometimes miss the motor racing but cycling was always my first love as a sport and I am incredibly grateful that I have been allowed to establish a career in the sport I love.
– How long have you been covering cycling with Eurosport?
This will be my eleventh full season.
– Has the job changed over the years?
Yes, I'd say that many of the races, most notably the Tour have grown into larger and larger business operations and the volume of media coverage is now immense. It means that you have to try and mark yourself out as 'a brand' I've always tried to make commentary have something of a radio show appeal, something informative and entertain but familiar and comfortable which has to continue to evolve.
The willingness of the media to speak out against fraud and duplicity too has gained strength and I think that many from the old school of reporting have found that hard to adapt to or admit their part in it. There has been a lot of wringing of hands amongst some in the media who have had plenty of opportunities to speak out in the past but haven't and some who have now find themselves at the vanguard of change.
The biggest change though is the over arching presence of the internet. It's so easy for anyone to gain information now, as the event unfolds live, that it makes the job of commentator far more subtle that just the calling of a race. It's a magnificent and challenging thing.
– What's it like to talk non-stop for hours? And do you do any vocal exercises like opera singers or politicians?
Honestly, I've never had a problem. I've never lost my voice or dried up on air. I've never had to do any special exercises I just turn up and talk. Having said that I spent my childhood as a boy soprano at Westminster Abbey in London and sang in a number of bands in my 20's and I think that helped greatly in developing a flexible and resilient voice.
– I think the job can be harder than it sounds. People at home with big screen TVs, comfortable sofas and quiet rooms might not know you're sometimes in a tiny box office looking into a small screen whilst there's noise outside and you have a producer giving you instructions in one ear. Are there any moments that stand out as a challenge?
Technically I've not usually had a problem, I did rant once on air at a producer but I think all commentators are entitled to the odd rant. It's a job that requires passion for the subject matter and that can sometimes bubble over. In truth the greatest challenge is from having to deal with performances unfolding in front of you that are just so astounding and abnormal that you know precisely what's happening but you just can't say it straight out. The list is endless; Rasmussen, Armstrong and the Postals, Sella, Ricco, Mazzoleni… and on. I now confine myself to saying "that was an unbelievable performance" and I think everyone who follows my commentary knows exactly what I mean.
– Let's look ahead to the season. How much will Eurosport be covering?
Eurosport are going all out this year, there will be up to 30 days extra coverage in 2013. All the classics as usual and the Grand Tours but a lot of the semi classics and week long Spanish races are being looked into as well.
– Who will be joining you, is Sean Kelly back for another season?
Sean will indeed be back with me for another season. I think the two of us are improving all the time but others such as Magnus Backstedt, Brian Smith and Dan Lloyd will be with me as well through the year. I can't imagine a season without Sean, I see more of him than my family!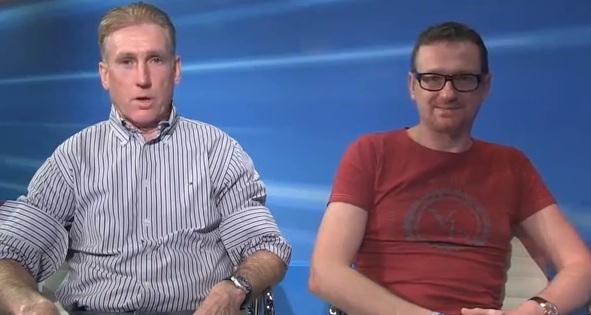 – Have you seen any footage from the early season? What do you think of the jerseys, easy to identify?
Yes they all look pretty easy to pick out, I especially like the Blanco kit
– Do you have a preferred race?
If you had asked me two years ago I would have said the Tour of Flanders without a doubt but I'm not convinced that the new finishing loops make for the best TV coverage. Of course it's much easier for the spectators and they are immense in Flanders but somehow for me it just felt a bit flat last year. I do have a secret passion for the Vuelta. Possibly because it was the first major race I covered with Sean but it's more than that, it seems to have this eternal air of melancholy about it, all those endless dusty plains and one horse towns as well as spectacular castles and mountains.
– What about riders? Do you try to stay neutral or are there some riders you want to see winning?
I like big strong workhorses, riders whose glory is built up over many years of loyal service not in the quest for personal glory, the real gregarios. Being partisan is OK as long as you say you are just going to lapse into it a bit and then you snap back out of it. I commentate for an international audience and by and large I am impartial, although I doubt the Aussies would agree…
– Finally is there any rivalry between the different channels are are commentators all united in the same job?
In truth a bit of both. We all help each other out but it's limited market out there and we all want to be the best.