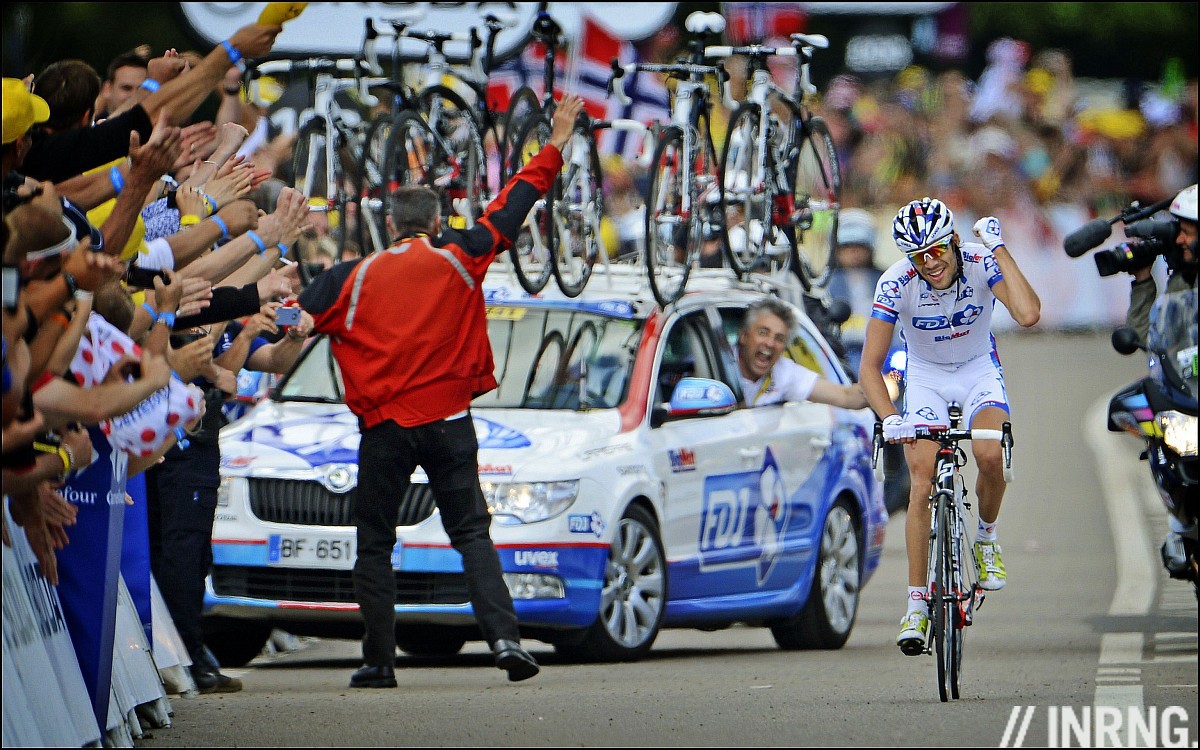 I'm going to pick five moments from 2012. They are a personal choice. With any list you often omit more than you include but I'll explain each moment. They're presented in no particular order.
First up the scenes of joy as Thibaut Pinot won a stage of the Tour de France and behind team manager Marc Madiot goes beserk with joy and pride. But all is not quite as it seemed or was reported at the time…

I'd been tipping Pinot for a while as a rider to watch but 2012 wasn't quite working out for him as he was off the pace in races that could have suited him thanks to illness and fatigue. There were some good signs, for example he was eighth in the Tour de Romandie's final stage, a mountain time trial. And then again in Switzerland he got fifth and sixth in two mountain stages before falling ill and quitting the race. A start in the Tour was not likely and the talk was he'd be better suited to the Vuelta with its mountains.
But fate ruled otherwise. Team mate Arnold Jeannesson was supposed to be FDJ's overall hope in the Tour de France but got an injury. It wasn't just luck as Pinot was lobbying hard to ride the Tour, especially since the race went through his home town Mélisey where Papa Pinot is the town's mayor.
Madiot relented and Pinot started the Tour but when the homecoming stage happened things didn't go to plan and he only finished 15th. Now 15th for a neo-pro on the first climbing test should impress. As he climbed up to the Planche des Belles Filles, "his" training climb Pinot found Madiot shouting encouragement from the team car. Pinot didn't want this and turned round and yelled "shut up" which put Madiot in his place. Try doing that with your boss. This was a sign of authority from Pinot, the youngest rider in the race. He said he had a bad day and the legs were not there.
The next day saw everything change. A very hilly route into Switzerland saw a fast start as a breakaway struggled to go clear as Team Sky filtered who was allowed to get away from the bunch. After an hour the race had done 50km and finally a large group of 20 went away. The lead kept changing until Astana's Kessiakoff led for the final two climbs but behind Pinot and another promising Frenchman Tony Gallopin were closing in. Pinot timed it perfectly and deposed Kessiakoff on the final climb to pull out a small lead on the descent. Behind the overall candidates started fighting and Wiggins, Froome, Evans, Menchov, Nibali, Zubeldia, Schleck, van den Broeck and Horner were chasing Pinot who had his work cut out as the course had changed direction and an awkward headwind made it hard. It wasn't just Madiot who was nervous, back in the Pinot household both his parents gave up watching on TV with 12km to go, his mother was the first to go out to the garden and pick beans from the vegetable patch before Régis Pinot joined here too. Back in the race and Madiot was shaking in the team car as he roared "you're going to win, kid" and sure enough Pinot had his moment of triumph. Only with the headwind, vehicles, helicopters and crowds Pinot could hardly hear the vocal eruptions in the team car behind.
You wonder if Madiot had any voice left after July because Pinot went on to finish second at La Touissuire and fourth in Peyragudes before settling for tenth overall. Whether deciding to make amends for a bad day in his homecoming, telling his boss to shut up or climbing with the best during the rest of the race Pinot's ability wasn't just a joy to watch, it gives millions of Frenchmen something to cheer about.
A highlight? Well the stage was exciting to the end and it was satisfying to see a promising rider deliver, especially recovering from the bad day on his home roads. And the team car theatrics show the emotion the sport can bring.