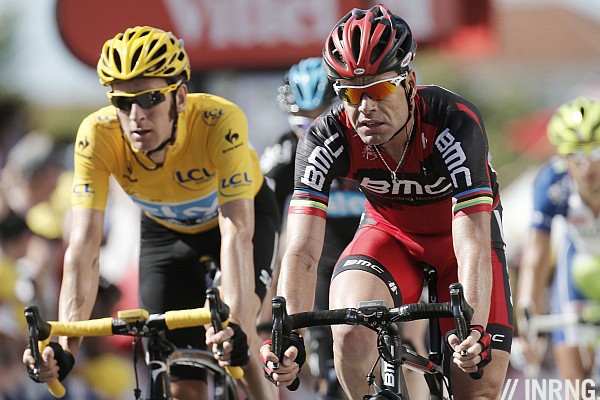 Today's rest day brings to mind Antonin Magne, winner of the Tour in 1931 and 1934 who said "the Tour is won by sleeping". He didn't mean he snoozed on his bike, instead that recovery was so important. Many riders today will have been working hard on their rest day, going for the right ride, eating correctly, stretching hard and getting a strong massage.
They'll need it given the two giant stages in the Pyrenees. Playwright Antoine Blondin said the great cols of the Pyrenees "separate once and for all the racers from those who use a bicycle to go to the market" and more than the Alps these climbs can be traps with irregular gradients and twisty descents.
I've enjoyed the Tour de France but, so far, I think the highlights DVD won't be a blockbuster because Wiggins and his team have controlled the race. For me a good race sees the yellow jersey flutter from shoulder to shoulder like a butterfly on a summer breeze. But this year Cancellara netted the yellow butterfly in the prologue. A week later Wiggins and Sky team have caught it and look to set to mount it in a glass case for display in a London museum.
The racing has been fierce but the strength of Team Sky has seen the race under control. As mental exercise, imagine if the British team was not in the race. This would have given rise to race where teams struggled to control the pace and where Cadel Evans, Vincenzo Nibali and Jurgen van Den Broeck were be locked in combat whilst others tried to surprise.
Back to reality and instead the past week has seen phoney wars:
Wiggins and his team might have world class support but for a while their public relations looked amateur – odd for a team sponsored by a media company. They were forced to play catch up over the tales of doping. In the end they unleashed Wiggins who can be forceful and articulate. If it was just words and PR, his larynx was in the big ring and his word per minute rate on the keyboard was as high as his pedalling cadence.
A few tweets from riders' girlfriends and wives get amplified as a proxy contest between Wiggins and Froome because we can't see the two duel in the mountains. I wasn't too bothered by the tweets, it was more that this briefly hit the newspapers because the two riders cannot be split apart.
Cadel Evans attack midway during Stage 11 on the slopes of the Glandon was exciting but quickly became painful to watch because if he went clear, he struggled to get any advantage. It was like watching a wounded beast leap clear of a predator, you saluted the courage but knew he'd get eaten alive by Team Sky. His team came equipped with some big hulks to protect him on the flat roads yet he's relatively isolated in the mountains… but this was the case last year and he won. Still, you can't help noticing BMC's Steve Morabito and Yannick Eijssen had a very strong ride in the mountains during the Tour of Austria.
We'll have to see what the Pyrenees bring. There's a risk the race for yellow falls flat. Blondin described a stage of the 1972 Tour where the "Aubisque and Tourmalet had become boulevards" and we could Wiggins taking his Froome-dog for a stroll.
Things could change, the old "anything can happen" cliché still stands. For starters there's talk of a heatwave. Tactically we could hope caution thrown to the wind and a flurry of attacks from Nibali, Van den Broeck and Evans… and even Froome. I don't think we've seen the last of Nibali and Evans.
But if "anything can happen", the old "everything to play for" phrase doesn't work, we're now at the point where there's everything to lose. As I've pointed out before an attack can cost more than it benefits, ask Cadel Evans who fell off the podium on the road to La Toussuire. Right now several riders are determined to camp on their positions in the top-20, riders like Nicolas Roche pass almost unnoticed compared to Luis Leon Sanchez but make it to Paris in 13th place overall and you win more UCI points than if you win a stage and your salary is a function of your points haul.
But there are other contests. There is all to play for with the mountains jersey. So far in the race a total of 699 points have been awarded for the mountains classification but the next two days see a total of 520 points up for grabs, 296 on Stage 16 and 224 on Stage 17.
Stage 16 has two HC climbs early in the Aubisque and Tourmalet with 25 points for the leader over each one, meaning a breakaway rider could be rewarded, indeed this seems to be the plan given the Aubisque is usually a first category climb. But Stage 17 reverses things somewhat with some lesser climbs until the big HC Port de Balès and then the summit finish in Peyragudes where points are doubled. So it looks like a battle between Froome who could score big on Thursday against the riders like Kessiakoff, Voeckler and Rolland who will hope to get in the the breakaway tomorrow.
Conclusion
There's less than 1,000km to go now and Bradley Wiggins is in a commanding position. If leading overall and with a team mate second isn't enough, he knows there's a long time trial coming up on Saturday too. Will he put under pressure? Yes, but with a strong team I can't see him suffering unreasonably. The other contenders might be happy to sit tight although Cadel Evans has nothing to lose… except time.
None of this means the race is over. The next two stages promise superb scenery and a fine battle for the stage wins, all with the mountains jersey in play as well. Maybe the highlights DVD won't sell big outside of Britain and Slovakia but the next two stages are unmissable.