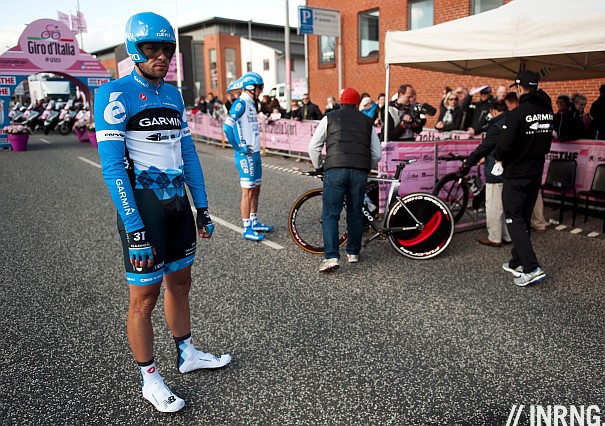 Regular readers will know I've been following the case of Danish rider Alex Rasmussen closely since last September when news emerged that he'd committed three anti-doping "whereabouts" faults. Normally this constitutes an anti-doping violation under the rules, meaning a ban was likely. He got fired by his team, HTC-Columbia but when the case was heard by the Danmarks Cykle Union he was cleared. Only the case went to appeal and yesterday he lost.
The case is bigger than one rider as it covers the systemic issue of out-of-competition testing, the logging of an athlete's "whereabouts" and also exposes discrepancies in the UCI rules which have to be fixed.
As spotted by this blog it turned out administrative blunders meant the Dane wasn't properly notified of one of the missed tests implying it was dropped and instead of "three strikes and out" he was sitting on two warnings. However the UCI appealed the Danish verdict and yesterday the Court of Abitration for Sport ruled that Rasmussen should be banned, albeit for a reduced length.
Let's quickly recap the rules; if you know them skip this paragraph. Many riders form part of the UCI's Registered Testing Pool. The pool contains most of the top riders and all riders with a Bio Passport are included, plus other criteria for inclusion include rankings, results and past disciplinary hearings. Normally these riders are tested more frequently than others and above all they must take part in the UCI's Whereabouts scheme. This means that four times a year a rider must say where they will be for every day of the next three months so that anti-doping officers can track them down for out-of-competition tests. Riders specify a one hour slot for every day. In a sport like cycling where people are on the move it's common to block book a slot at home at 7.00am and then log back into the system, called ADAMS, to update it with new info once a rider knows which races they will be on. But if a rider doesn't log in in time to state where they will be for the next quarter then this constitutes a whereabouts failure. The same happens if anti-doping officials appear at the specified time and address to conduct an out-of-competition doping control but the athlete is not present, the "no show" counts as another whereabouts failure. Get three whereabouts failures in 18 months and this constitutes an anti-doping violation and the athlete faces a two year ban.
Here are Rasmussen's three whereabouts failures:
On 1February 2010 officers of the Danish National Anti-Doping Organisation (ADD) unsuccessfully tried to locate Rasmussen for an out-of-competition doping control at the place he had indicated on ADAMS for that day: instead of being in Denmark, he was in Germany competing in the Berlin Six Day race.
On 4 October 2010 ADD notified Rasmussen of a potential failure to file his whereabouts information for the fourth quarter of 2011 by the deadline of 30 September 2010. Following said notification, Rasmussen filed the missing information on 5  October 2010.
On 28 April 2011, officers of the UCI unsuccessfully tried to locate Rasmussen for an out-of-competition doping control at the place in Spain he had indicated in ADAMS for that day: the UCI officers could only get in touch with Rasmussen on the phone, to discover that he was in Denmark, for his sister's confirmation.
It's here things get complicated. Under the WADA Code an athlete should be notified of any Whereabouts failures within 14 days. But the UCI rules are not so clear. Here is UCI anti-doping rule 105:
105. UCI shall give notice to the Rider of any apparent Whereabouts Failure inviting a response within 14 (fourteen) days of receipt of the notice.
It turns out the UCI waited until July to inform Rasmussen and then August to record his third whereabouts failure. So instead of being told within 14 days, the formal communication of the April no-show was months later. Under WADA rules this would not count, the athlete must be notified within 14 days and then if proceedings begin, these must start within 30 days, meaning a total window of 44 days whilst the UCI took several months.
Indeed there were the grounds that acquitted Rasmussen when the Danish hearing took place. Here's part of their judgement (my emphasis):
It emerges from ITS art. 11.6.3.b [inrng: WADA's International Testing Standards] that the athlete must be informed and be consulted concerning any violation of the whereabouts rules no later than 14 days after the violation in question occurred. This was not done in time after UCI's attempt to perform an anti-doping test on 28 April 2011, with notification and consultation only being given on 14 July 2011. Because UCI did not meet the deadline in ITS art. 11.6.3.b, the third violation of the whereabouts rules on 28 April 2011 cannot result in sanctions in the form of a ban or disqualification
But the CAS rejected the Danish version saying that whilst the paperwork was late Rasmussen still missed a test and, rightly in my view, this counts.
Hypothetical example
The UCI's ability to issue notifications so late is not a good thing. Imagine the case of a determined doper who deliberately takes a banned substance and when the controllers knock on the door he hides to avoid being tested. It's not far-fetched, the Balco case showed Victor Conte was advising this to his athletes. If this happens three times under the WADA rules the athlete would be suspended within a few days of the third no-show. But in cycling the rider could have carried on for months, perhaps winning big races, before they are stopped, suspended and eventually banned. This cannot be right, especially since there's no reason to wait months to notify a rider of a no-show, there's little to debate if testers record a no-show.
And if this sounds bad enough, imagine if the rider in question was a big name? Even if the genuine reason was sloppy admin any delay in sending the paperwork could be painted as the UCI protecting a big name, allowing him to win a few more races before regrettably swinging into action.
The Lessons
Whilst the debate fell on whether the third mistake and the timing of notifications, all this could have been avoided if Rasmussen had logged on to update his quarterly address. Pour encourager les autres is French for "to encourage the others" and a line from Voltaire's Candide. After the naval battle of Minorca between France and Britain in 1756, Voltaire describes the British practice of shooting naval officers if they fail in battle, not so much to punish them for mistakes but to send a signal to the others not to let down His Majesty. A curious form of motivation but Rasmussen's case has to send a signal to every rider that updating ADAMS is part of the job. Many riders find filling in their whereabouts one of the most frustrating parts of the job. Some Belgian athletes are even locked in a legal dispute claiming it violates their privacy rights. But for me it's part of the job, just as most workers have to show up for work or get fired. It's no different from punching a card at the factory gate or filling in a timesheet in the office.
But on the other hand if riders are expected to account for their movement every day then they have a right to expect matching rigour from the authorities who run this demanding system. When riders risk suspension and big career damage if they mess up the admin then seeing the UCI sit around for months without giving notice is bound to frustrate. The good news here is that WADA has told the UCI to quickly amend its anti-doping rules to ensure they match the international standards and we can expect a new version in due course.
Conclusion
Alex Rasmussen made three whereabouts failures and duly gets a ban. He is sacked from Garmin-Sharp and his hopes of riding the Olympics look bleak, no matter what 11th hour appeals his lawyer can try. It's a high price to pay for what appears to be serial disorganisation rather than anything more sinister.
The UCI will now harmonise its rules with WADA's standards but even under its current system legitimate questions can be asked why it took so long to stop Rasmussen. For its own good this has to be cleared up and hopefully the UCI can review its procedures hear to ensure prompt action is always taken.
There are wider issues. Other sports need to check the rules to make sure they comply properly. The verdict strengthens the anti-doping movement but it will leave many innocent athletes – not just cyclists – frustrated and worried that there governing body holds rightly applies the rules to them but doesn't have to act with the same rigour when it comes to its own official paperwork.