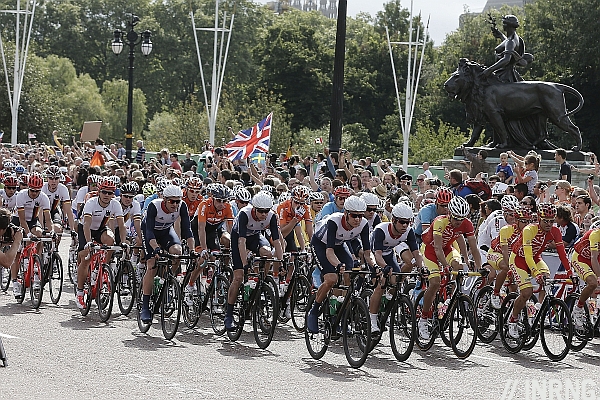 There's a pause in the Olympic cycling program with the time trial not until Wednesday and then activities start in the velodrome on Thursday. Remember you can download an iCal file for your electronic diary for the dates and timing of all events.
The Olympics are very different from everything else we are used to. A rider who makes a mess of the Tour of Flanders can hope to make amends in Paris-Roubaix. Have a jours sans in the Tour de France and you can hope it's someone else's turn the following day. Even if things go wrong in the world's there's always next year. But the Olympic road race? It's not until 2016 and the Rio race promises to be very hilly.

British Hot Pants
There seems to be no end to the amount of money the Great Britain cycling squad has to spend and the latest gadget is "battery-powered hot pants" according to an article by the Sydney Morning Herald. You almost want to check the date to make sure it's not April Fool's Day but there is logic to it.
Just as motor racing teams use electronic blankets to keep rubber warm, these help keep muscle tissue warm. But a "warm up" is also about improving blood flow and I wonder how a heated suit really keeps the muscles warm. But other squads might have an anxious look when the British riders sit in their special suits and they're sat on rollers with a plain towel hanging on their neck. If it chills the ambitions of the others, it's already worked.
No more Vino
Alexandr Vinokourov will retire after winning his medal. We'd got used to Samuel Sanchez with his golden shoes and helmet but "Vino" is set to vanish. He wasn't even going to be in the race, he was set to retire last year but the Astana team quickly realised they didn't have enough points to guarantee their status in the World Tour and so Vinokourov made a comeback to lend his points. He kept racing but until the Tour de France he finished no higher than 17th during the season but came good with a fourth place on the Stage to Bagnères-de-Luchon, the day of Voeckler's second stage win. It's not unique, cycling has seen several world champions retire, taking the rainbow jersey out of the peloton for a year.
Czech Mate?
Roman Kreuziger is having to defend himself against allegations from the Czech media that he helped block for Vinokourov. Both ride for the Astana team, indeed Vinokourov gave Kreuziger his job.
It's hard to know what to make of these allegations. Not Kreuziger, it happens all the time, see Bernhard Eisel doing his usual job for Cavendish. It's probably because many cycling fans might understand what is going on but outsiders get easily outraged.
Big crowds, small race
There were huge crowds out to see the Olympic road races. Many riders complained about the proximity of fans despite 68km of barriers along the route. Britain is Europe's third largest economy and a considerable draw for team sponsors. But it's biggest race is the Tour of Britain every September which is slowly growing in stature, duration and organisational ability but that's about it on the UCI calendar.
There's talk of the Tour de France starting in Yorkshire for 2016 but what about a sustainable race instead of hosting irregular one-off events? The calendar of races in Europe is already overloaded so I don't know if more racing could be added but perhaps the British race can be moved up to 2.HC status and attract a deeper field. But it's all Catch-22, you can't have a big race without TV coverage but you won't get TV coverage unless it's a big race.
Sports Scientist Podcasts


Ross Tucker, one of the authors on The Science of Sport blog, has done two interviews with with the British Journal of Sports Medicine podcast. The first episode covers some ideas about what it takes to be a champion, exploring genetic inheritance versus training across different sports and the second looks at training and racing techniques including an explainer of Team Sky's pacing strategy in the Tour de France.
Overall the BJSM podcast covers a range of topics well beyond cycling but it's interesting in the light of the Olympics and this time they've invited Tucker who dips into cycling too.
I'd also recommend the Science of Sport blog too for general analysis of the games. Whilst much of the media is dedicated to the "wow" factor and hyping home heroes here you will find analysis of technique and bio-mechanics.