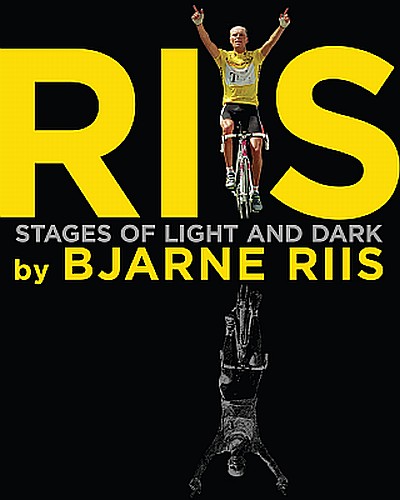 Riis Stages of Light and Dark by Bjarne Riis
Bjarne Riis won the 1996 Tour de France and later confessed to doping. This alone makes his autobiography of interest because few have won the race, admitted they cheated and then wrote a book about the experience. But there's more since as Riis has since become an influential team owner and the book covers a lot of his time in management.
A page-turning book that covers big moments in the sport and features an intriguing man with many news ideas for the sport… this is also a frustrating read.
The book is the work of a Danish journalist Lars Steen Pedersen who collaborated with Riis in 2010 to write the book. Since then it has been translated into English by British journalist Ellis Bacon and an epilogue has been added to cover recent events with the Saxo Bank team, notably the recruitment and suspension of Alberto Contador.
We get the usual narrative arc. The childhood days, the successful junior, the battles to turn pro. All this is formulaic for a cycling biography but Riis grew up in a very different environment to most. An older brother died, his parents divorced, his mother moves into a commune and Riis rarely sees her. Riis follows his father who jumps from girlfriend to girlfriend. The book tells how one Christmas morning he is woken by his father, not with good wishes but instructions to sneak out of the house as they're on the move again.
There are some surprising personal insights. I won't ruin the story but Riis believes he was poisoned by his own team during a stage race to make him quit. After winning the 1996 Tour Riis was slow to start training over the winter. Like many a weekend warrior he decided to use an indoor bike for training in the winter and puts on a Tour de France video for motivation. Only the footage is of him winning.
Riis is an innovator. Adept to new training methods, he takes a real interest in his bikes. He's designing new things and even likes to set up the gears himself. When he won the 1996 Tour his bold attack on the climb to Hautacam was the defining moment. He attacked in the big chainring to intimidate his rivals. But it turns out he was using an early form of compact chainset and the big ring was a bluff, a psychological tactic. Similar methods get used in management, he takes a business-like approach to cycling with the aim of changing the way teams are run, adopting modern management techniques and strong public relations. In no time he turned Team Memory Card – Jack and Jones into Team CSC, the superteam of the day.
The latter part of the book has a good focus on running a team, it was this that I found the most rewarding. There are many rider biographies but Riis as a manager is a more interesting man. Instead of following the rules he begins to define them. As a pro he endured old-school management techniques where a team was run by a "dictator" (Riis's words) and everyone followed; such techniques continue today. On retirement Riis studied for a business degree and seems to return to the sport like a fresh-faced MBA graduate. It's simple when you think about it but Riis was one of the first to look outside of cycling for help, whether a special forces soldier to teach leadership or media experts for public relations guidance. And if you want to know what it's like to manage the Schleck Brothers Riis gives some clues.
Bog
Bog is Danish for book and whilst you turn the pages, the book flows. But put it down and I found it feels like you're stuck in a bog, sinking into a marsh of selective disclosure and a swamp of libel law as you start to reflect and question what is written.
If you wanted to document events in pro cycling during the past 25 years you could refer to this book but it remains a selective account, a story rather than a history. Riis can pour out the personal details but is very careful not to implicate others. He admits to using EPO and at times details his consumption of other banned substances in precise detail. When he's on teams with apparently organised doping programmes none of this is mentioned; even though he tells how riders strolled into hotels with personal ice boxes to keep their stash of EPO cool when travelling. With one or two exceptions he is very careful not to name others involved in the traffic. This could be loyalty, it could be fear of litigation but it is frustrating because it is selective. Everyone is doing it but Riis acts alone.
Early in his phase as a team manager the test for banned substance EPO is validated and one of Riis's riders, Bo Hamburger, has the shame of being the first athlete in history to be caught. Riis declares:
"Every rider knows they will be fired if they get caught doping"
It could be a linguistic slip by Riis, by Lars Steen Pedersen or translator Ellis Bacon. But the "get caught" point hints at how things were.
Summary
You can turn the pages of this book with ease. It goes beyond many rider biographies, covering time spent as a team owner and manager. Interviews with Riis often feature adjectives like "enigmatic" or mention his inscrutable gaze. After reading the book it still seems hard to understand Riis's conception of pro cycling even if you can sense his steely ambition.
The D-word, doping, is an integral part butthe title "Stages of Light and Dark" might as well refer another D-word: disclosure. One minute Riis puts the spotlight on something but the next it feels like there's obfuscation, we're not able to see everything. An autobiography is meant to be a personal account but you feel there are personal omissions too, that you don't get the whole story. One minute he's detailing the personal pain of divorce but the next he skims over institutionalised doping in pro cycling during the 1990s. Apply some relativism and this book is ahead of others published by his peers, some of which belong in the fiction section given they refuse to confront the subject of doping.
Disclosure: this copy was sent for review.
A list of all previous book reviews can be found here.