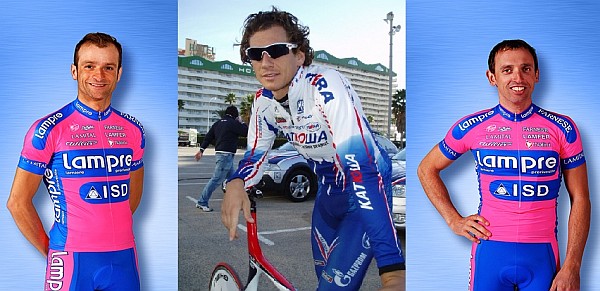 Several riders are being sucked into a sporting and judicial vortex after police investigations claim links them the infamous Doctor Ferrari. In his defence Filippo Pozzato claimed he did work with Ferrari from 2005 to 2009 but it was an innocent deal where he just paid for training plans. La Repubblica says he paid €40,000-€50,000 a year for the service.
If possible, try to stop the laughs and give Pozzato the benefit of the doubt. Let's actually imagine he and others have been paying €50,000 for training plans because this still involves big risks.
First the concept of several riders using the same coach has to be the most stupid idea possible for a cyclist looking to get the edge on their rivals. Now it's a lucrative business for Michele Ferrari having so many athletes on his books but how can he avoid a conflict of interest? Riders are paying for coaching services with the aim to be in peak form so they can beat others in a big race. Yet here one coach could be in possession of their intimate training data as well as the data of their arch-rival. Right now I suspect rival teams would secretly love to have access to Tim Kerrison's laptop and the folder with all of Bradley Wiggins's SRM training files that log power, distance, speed and other training data. Imagine if a coach could have all of this, plus extra information on lactate testing and other inside information and even the thoughts on the mental state of the rider ? Well that is exactly what Michele Ferrari has, and his clients don't just volunteer this, they pay him.
Now shared coaching happens in other sports, for example in athletics Usain Bolt and and Yohan Blake, Olympic and world champions in the 100m share the same coach in Glen Mills. It's a choice for Bolt and Blake but I'd argue there are two differences:
Bolt and Blake presumably know who else their coach is working with. But in cycling there is only gossip. Rumours have linked certain riders to Ferrari, you won't find his client list on Wikipedia.
In the 100m your rivals don't matter so much as you are really racing against the clock. But in cycling there is a much greater degree of tactical sophistication. Lance Armstrong famously got the team car to call Ferrari mid-way through an Alpine stage of the Tour de France for advice. Indeed it is possible two clients call Ferrari midway through a stage race for advice on how to beat each other, could Ferrari offer equal services to two clients?
But it happens in other sports, helpful readers via Twitter have said it happens in horse racing, speedskating, golf, triathlon and more. I'm still not sure it's a good idea but in cycling in particular with its tactical sophistication it's a worry.
If that's not questionable enough, how about €50,000 for a training plan? Expertise never comes cheap but when you look at the point above, you realise you're just one client amongst many. Worse, you're sending all your training data and season's goals over to one coach. It's a lot of money to be just one rider amongst many.
There are more specific risks with Michele Ferrari. Italian riders working with him could face an automatic suspension, a point made by journalist Daniel Friebe:
Would you pay 40,000 euros a year for training plans from a 'coach' if it carried risk of a six-month ban? Just asking.

β€" Daniel Friebe (@friebos) June 20, 2012
However paperwork issues mean this ban might not be valid, although the Italian authorities do have a list of banned staff, Ferrari is not on it. But legalities aside the mere mention of working with Ferrari invites question marks the size and weight of boat anchors. Even if you were only paying for legitimate training plans you risk being labelled as something worse.
Finally this is a damming story that makes the teams look stupid too. Their star riders are being coached by a stranger. Squads are supposed to offer support to their riders but seeing them leave elsewhere for third party coaching makes you wonder what is going on. Think for a minute if a players from the New York Giants or Chelsea Football club were getting their primary coaching from a third party coach outside the team. But this is what happens in pro cycling. For example see the Astana team website, it is blank under the Team Trainer listing. It's not just them, several pro teams have big budgets but do not employ a full-time trainer. When you google their coach, all you get is the team bus.
Conclusion
Working with Michele Ferrari is controversial. Even if we buy the claims he offers totally innocent training schedules and even if these are the best in the world there are still big risks for his clients.
If you're a top pro then hiring a coach who is already working to deliver your rival to peak form seems an unnecessary complication, in fact it seems plain stupid. This is particularly true in a sport like cycling where a weakness in one area, for example climbing, could be known by a coach who is advising another rider. Worse, paying such large sums of money is odd if all you get is training advice back in return but at the risk of being banned and tarred with the brush of associating with an apparent high priest of il doping. It seems the winner is the coach, not the client.
And doesn't this make some teams look amateur too, as if they're outfits who offer bikes, jerseys and a salary but not much else, leaving their riders to their own devices? Indeed if several riders are paying for the same coach it would be cheaper for the team to hire the same coach directly.
Finally a note to say I'm not trying to point fingers at the three riders pictured above, rather their names are in the news right now so they illustrate the story. We'd do well to remember this is a systematic problem within the sport where many other riders do the same and some teams don't offer proper coaching services. Indeed if three names are leaked, I'm frustrated to see some called to hearings whilst others who have hired Ferrari carry on ahead of the Tour de France.