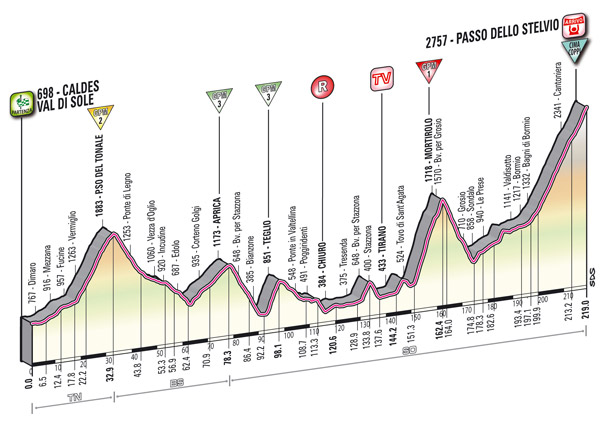 We've all seen the cross-section stage profiles used to depict the route of a race. For example here's the graphic for the Stage 20 of the Giro from Caldes to the finish on the Stelvio, one of the most mountainous days of the season.
These graphics image slices across the countryside to produce a representation of the landscape, to show where the climbs come. But they're not to scale. If you look at the image above it shows a stage that is 219km long in the horizontal scale but the vertical scale peaks at 2.75km. The Mortirolo looks like a cliff rather than a one-in-ten road. If a stage profile was drawn to scale what would it look like?
Yes, that is the scale reset to display the 219km length against the actual height of 2.7km. It's a lot less dramatic but note the Stelvio rising towards the end, it still marks a substantial gain in elevation.
I'm not trying to uncover anything new here. Using different scales for the x and y axes of stage profiles is obvious and useful. These graphics are so universal in cycling that they tell a much better story than the data displayed on to scale. Rather I was just curious to see what the actual profile looked like and the result can be seen above.
Of course the more a stage profile looks impressive, the better the story. The more the stage's cross section resembles a sawblade, an alligator's teeth or some other violent or dangerous simile then the more drama for readers to imagine. Data are often be manipulated with graphics to tell a story, to place emphasis. These diagrams emphasise the vertical climbing over the distance travelled.
It can pay to check the actual gradients of the climbs rather than rely on the graphics. This is particularly useful for races away from the major mountains where organisers might want to hype up the climbing involved. But when names like the Mortirolo and Stelvio appear you don't need graphics as the very names should conjure up images of steep ramps, year round snow and compact chainsets.