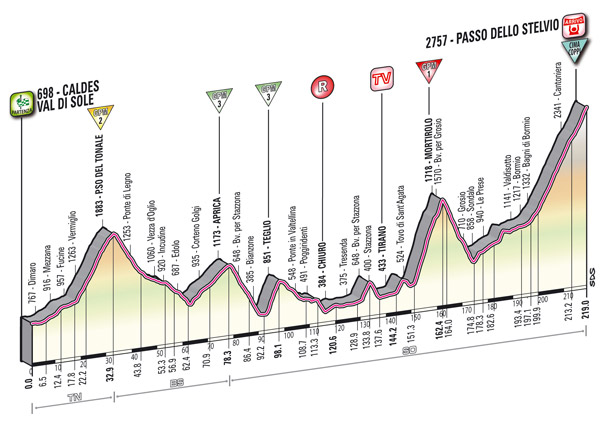 The final mountain stage of the Giro, today is the literally the high point of the European pro cycling season with the finish at 2757 metres above sea level since no other race will reach as high this year.
Joaquim Rodriguez starts with a slender lead on Ryder Hesjedal whilst locals Ivan Basso and Michele Scarponi might still want to have their say on the race. Each time I think Hesejedal might crack… he attacks. Today is the ultimate test of climbing in the 2012 Giro with the Mortirolo and Stelvio on a stage some 219km long.
Here are the mountain passes by their numbers:
Passo Tonale: 10.1km long, 6.1k% average gradient, 8% max
Aprica: 15.9km, 3.1% average, 9% max
Teglio: 5.9km, 8% average, 15% max
Mortirolo: 11.4km, 10.5% average, 22% max
Passo Stelvio: 22.4km, 6.9%, 12% max
The extra number is 2757 metres and the high altitude finish. The higher you go the lower the partial pressure of oxygen. In practical terms you find yourself breathing hard for air and even slight accelerations can tip you into the red when you'd hardly noticed the extra effort two kilometres lower down.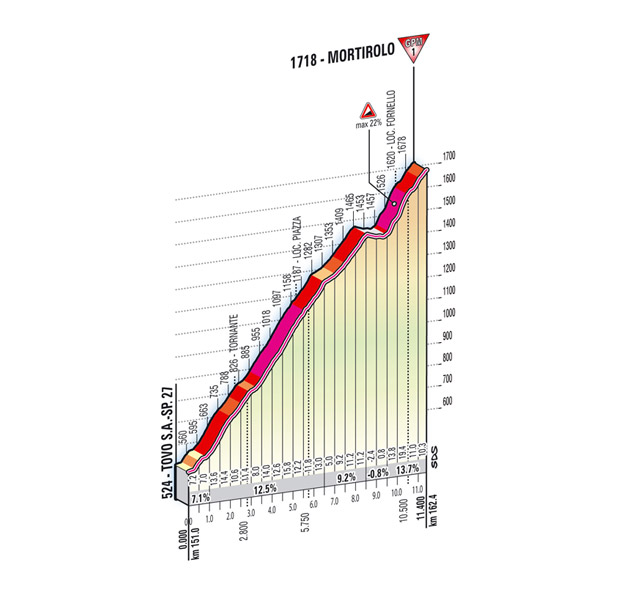 The Mortirolo uses a new route today for the first time. Even steeper, even more narrow.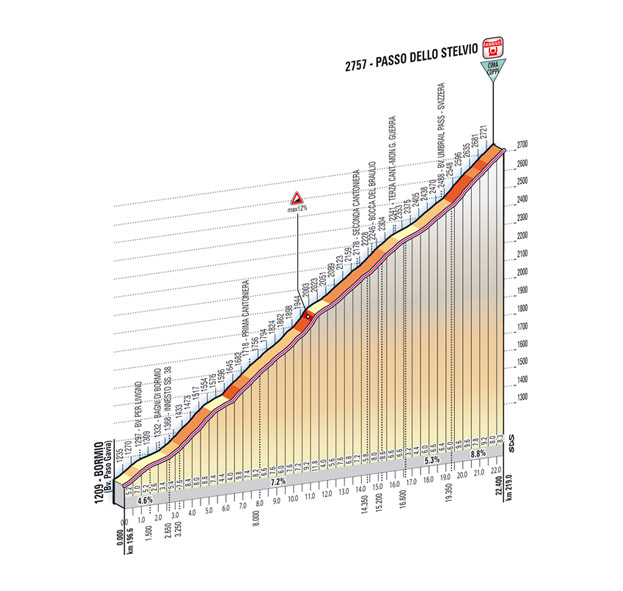 The Stelvio is climbed from its less famous side, we won't get the infamous Trafoi hairpins. But let's not think it's easy, the road contains too many hairpin bends to count, has several tunnels and it is worth nothing that it gets noticeable steeper once above 2,000m. The last four kilometres are 8.8% but with an alternation of 6.5% and 10% ramps.
Tactics: yesterday's stage only came alive towards the end but it changed plenty. Race leader Joaquim Rodriguez surrendered some time to Hesjedal and Ivan Basso gave up even more. So today could see riders trying to protect their positions rather than launch last gasp attacks to grab time. Hesjedal is in the perfect position right now, he can overhaul his 17 second deficit to Rodriguez in the final time trial. He has 1.22 on Michele Scarponi and won't fear him in the time trial and 1.28 on Basso too.
Will Rodriguez want to attack and take time? Yes he would like to but Hesjedal seems to be stronger than him. The Spaniard has been defending his lead well but rarely had to pull on the front. So he might be content to ride with Hesjedal with the aim of distancing Basso.
Hesjedal doesn't need to do a lot except stay with the best riders in the race up two giant mountain passes. As strong as he has been there's still a chance the wheels come off. But each time I think Hesjedal might crack instead he attacks. The Mortirolo is horrible but he might be at home and he holds the record up the Haleakala volcano in Hawaii and that tops 3,000 metres.
Scarponi might still want the stage win. We could see Cunego going up the road too for Lampre. If Scarponi wants the podium spot he'll have to distance Ivan Basso who is normally the stronger in a final time trial. He might think about a fiece pace on the Mortirolo to destablise Basso and his Liquigas train.
Basso had a bad day yesterday. The strongest on Wednesday's Passo Giau, he lost time yesterday. He might find the Mortirolo uncomfortable but the question today is whether he starts the Stelvio with any teammates. Szmyd is suffering from fatigue and has been unable to help. Basso will want someone to set the tempo to start with before he moves to the front and slowly ratchets up the speed. There's no swinging of the cutlass or rapier attacks, Basso is not a swashbuckling pirate but the pace last Wednesday was still something to behold even if it was televisually less appealing.
Others: those in the top-10 overall might try to leapfrog eachother but it seems impossible for Uran, Pozzovivo or Gadret to take back much time. Even if they took a flyer on the Mortirolo they'd be exposed for a long time solo on the lower, flatter slopes of the Stelvio. Uran especially might be at home in high altitude but he's been in Europe for some time now and so will already have lost some of the advantage. For those further down the overall there's a good chance a breakaway stays away whilst the favourites watch each other. As I suggested in yesterday's preview Roman Kreuziger was able to get his revenge win and he could even do the same today. But many others will want to try too.
History: the past is inescapable in cycling and today's stage brings back memories of two of Italy's best cyclists. First is Fausto Coppi who has some claims to rival Eddy Merckx for the sport's all time best cyclist. This isn't the time to evaluate these claims but Coppi was a campionissimo. Yet if he was at ease in the mountains he said he thought he was "going to die" when tackling the Stelvio. Even with fine weather the upper slopes are barren and lifeless with thin vegetation clinging to the cruel rocks and shale. Coppi lives on in many ways in Italy and the Giro awards a special prize for the rider first to cross the highest point of the race and the Stevlio marks the Cima Coppi prize today.
Another rider in Italian history is Marco Pantani who made the Mortirolo climb his own. A less obvious figure of veneration he excited millions of Italians before his sorry decline from doping to drug abuse to suicide began and there is a memorial to him on this climb.
TV: the finish is expected between 4.50 and 5.30 pm but the start of the Mortirolo is expected from about 3.00pm onwards so tune in then.
Weather: it's always cold at altitude but today should be dry and calm with little wind. In short, little to influence the race. You can follow the weather, or at least the skies, live via a webcam near the finish line.
Food: say "Stelvio" to many Italians and they might reply "Dop" which is short for Denominazione di Origine Protetta. Literally translated "Protected Designation of Origin", this label applies to various cheeses, meats, breads and pastas from throughout the various regions of Italy and is a move to protect and entrench local foods and the ways they are made. For many the Stelvio is not a fearsome mountain pass that evokes memories… but a type of cheese readily available behind the cheesecounter in many supermarkets. An easier way to do the Stelvio.