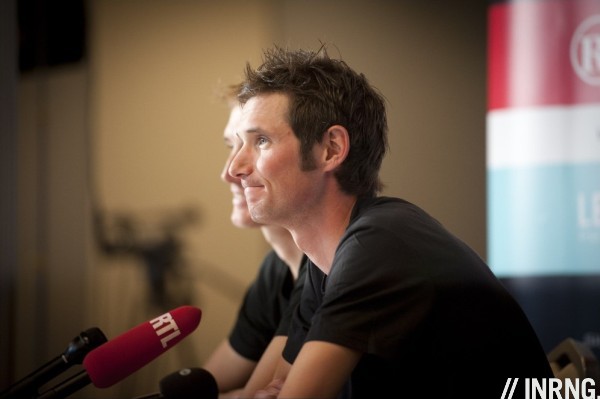 What is going on inside Radioshack-Nissan? There's been some bizarre debate in public between riders and management over who gets to be the directeur sportif during the Tour de France. But this seems to be about more than just picking a manager for one month.
Let's go back to 2010 when the Schleck brothers were riding for Team Saxo Bank under Bjarne Riis. During the course of the season there were rumours the brothers were working on a project for a new team. These were denied but in time Leopard-Trek was created. Fränk Schleck in particular was one of the driving forces behind this.
A variety of reasons encouraged Fränk Schleck to get more involved in team management, whether tactical choices or the ready funding from fellow Luxembourger Flavio Becca. The genesis of the Leopard venture is a whole story in itself, but for now take away the idea that the Schlecks wanted a team in their image and things fell into place to make this happen.
Leopard-Trek didn't work out. The owner Flavio Becca seems to have grown impatient, as early as March 2011 he was trying to get riders pulled from races because he didn't like the way they were riding. Just six months later the team announced it would "merge" with Radioshack but this wasn't your average merger where 1+1=2, it was more two squads coming together in order to shore themselves up. The Schlecks started the year with their own team and ended the year with something quite different.
There was plenty of talk about new management styles from Johan Bruyneel designed to split the brothers up, toughen the up and improve their time trialling skills. One minute you've got your own team, the next you're reading about plans to change everything you'd gotten used to.
The Bruyneel strategy sounds obvious. At times the Schleck brothers seem to worry more about helping each other rather than asphyxiating their rivals. There were "threats" to send Fränk Schleck to the Giro d'Italia, a clear attempt to prise the brothers apart. They also have obvious weaknesses like time trialling and descending.
But if it these gains appear obvious, we've not seen them yet. As of today Andy Schleck's highest finish in a race this year is 22nd; Fränk has been stronger. Both still sit as upright as Peter Fonda in Easy Rider suggesting future time trial gains will be elusive.
The pair get flak from many on the internet. The causes of the mockery are obvious but I'm more sympathetic. They're so good in the mountains that we tend to view them as grand tour contenders but surely they are not all round stage racers but mountain specialists instead? When Andy Schleck lost time in the stage to Gap last July many criticised him. Yet the sport is littered with excellent climbers who were dire downhill. Today we venerate Federico Bahamontes, the "Eagle of Toledo" but legend says he once stopped at the top of a mountain to wait for others, licking an ice cream to pass the time until he could descend with others because he was scared to go first. Luxembourg's best ever rider was Charly Gaul, a man who cared little for one day races but excelled in the high mountains.
That said if their physiology is not suited to descending or riding against the clock, I can see psychological gains. Even if they have a relatively high centre of gravity which can't be fixed, descending skills can be improved with practice and coaching. They might not be fast against the watch but all the more reason to visit and memorise the time trial course so the time losses are reduced; it turned out they'd never visited the Grenoble time trial course last year prior to the race whilst Cadel Evans had ridden the route four times in advance. And what if the fraternal alliance was seen as an advantage rather than a burden? When Andy Schleck took off on the Col d'Izoard last July, the plan was that he'd be chased down and Fränk Schleck could counter. There are not many teams able to deliver this kind of one-two, it is an advantage.
All the questions have collided with a new team manager seeking to refine their performances. The Schleck brothers seem to have pushed back against this, the public bickering over who is the team manager in July suggests things aren't well. But is this focus on the failings fair? If Fabian Cancellara hadn't crashed perhaps many would hailing the team's successful classics campaign? And besides the classics didn't work out for others either, take Alejandro Valverde or whole teams like Rabobank and Sky.
I'm still left with questions. Can the Schlecks be moulded into stage race automatons able to grind out every second of advantage by new management or do we celebrate them as quirky climbers able to stand on the podium of the Tour de France?
Conclusion
The Schlecks have frustrated fans and now it seems they've managed to provoke Johan Bruyneel as well, resulting in a strange public spat. There was pressure from team owner Becca last year, he's probably more stressed given Cancellara's accident.
Keep this in perspective, it looks like a small matter. But but let's remember the Schlecks were almost in charge of their team a year ago; now the are being told what to do. If they're not feeling happy then they won't ride as well come July. Beyond this they might look for a new team too.
There are improvements to make and errors to correct and I can see why the brothers frustrate many, perhaps even their own team. But whether change is achieved by the carrot or the stick remains to be seen. And if this doesn't happen, instead of seeing them as grand tour contenders should we just celebrate their climbing ability and accept the weaknesses elsewhere? Or can the Leopards change their spots?