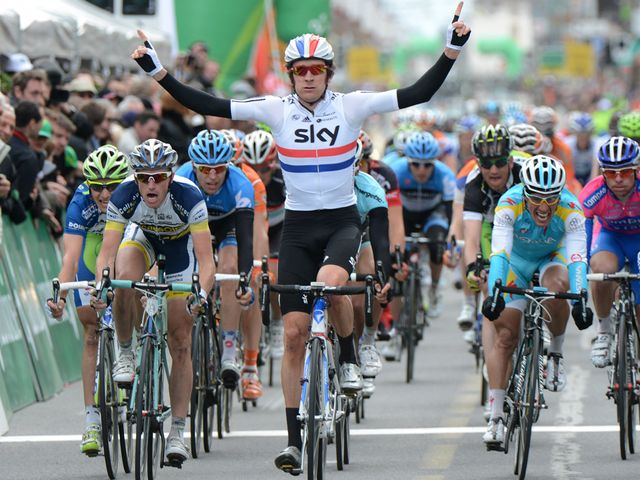 Bradley Wiggins sprints to win Stage 1 of the Tour de Romandie. There's rarely a single winning moment in a stage race, instead a series of consistent performances. In plain arithmetic third place in the prologue and victory in the final mountain time trial delivered the result. But so did the sprint victory with the 10 second time bonus and above all the sign of confidence.
As well as watching Wiggins we also saw Luis Léon Sanchez in action and Andrew Talansky confirmed his talent too, more of which below.
Many were surprised with Wiggins's sprint finish. It's not every day you see a victory salute from the Briton, his last road race win was the British national championships in 2011. But let's remember there were few specialist sprinters to trouble him, they'd been ejected by a climb 20km from the finish. Perhaps the more remarkable aspect was the way he started from 300m and kept going and nobody could come round him. Then again he's a rouleur, able to turn on big power in an aero position. If anything it would have been more remarkable if he'd burst out of the pack with a sharp acceleration. In short the result was a surprise on the day but less so with some hindsight.
A quick note on the time trial. Wiggins dropped his chain. It happened in 2009 during the World Championships in the time trial. He uses O Symetric chainrings and their oval shape makes shifting complicated. But this time a quick fix and he was off again. I thought he lost about 12-15 seconds but the effort to reach cruising speed again can cost. In the end it didn't matter as Wiggins won the stage by by 0.7 seconds
It was a solid overall win by Bradley Wiggins but this kind of result is no longer a surprise. By the time you read this he's probably got his thoughts on the next race. Given the race has finished in Switzerland I wouldn't be surprised if he's packing his bags for a reconnaissance trip to check Stages 8, 9 and 10 of the Tour de France. We don't need to compare the results but perhaps I'd rate the Paris-Nice win as a superior result as the terrain was at at times tougher. If anything the surprise is that Wiggins winning a stage race is no longer a surprise.
The Romandie organisers don't have it easy. First the slot on the calendar means the stunning Swiss mountains can instead offer snow and ice so they can't pick the highest routes. Second the Giro is looming which means if they picked a gruelling route then many top names heading for the Italian race would not come for fear of burning (or freezing) themselves out of contention. This year's race saw some climbing but no summit finishes, the main mountain stage on Saturday had a decent climb but then a descent and 10km of valley road to the finish. This was a testing route but one that rewarded consistency rather than daring attacks.
Inevitably we look for clues from the past week for July and this is another confidence booster but I didn't discover too much more about Wiggins although if we knew he was strong in the mountains and the time trials he's also bold enough to sprint for stage wins. We saw Cadel Evans still playing catch-up and behind a host of talented riders coming through from Rui Costa to Talansky. I wonder how Teejay Van Garderen would have done if he hadn't crashed on Saturday?
Spanish banker
Rabobank aren't having the best of season this year but they have three wins in World Tour races and all thanks to Luis Léon Sanchez who took two stages this week plus one stage win in Paris-Nice.
Talented Talansky
I'd first spotted Talansky in 2010 when he was making a name for himself in amateur stage races in France and Italy. A regular on the podium in the Ronde de l'Isard, the Giro della Valle d'Aosta and the Tour de l'Avenir. Sometimes it's better to repeatedly make the podium, a sign of consistency and talent. Just ask Romain Sicard and Teejay Van Garderen since the Frenchman won the Tour de l'Avenir in 2009 but has made a name for himself thanks to injury and drunken antics whilst L'Avenir runner-up Van Garderen has achieved more.
Talansky turned pro for 2011 and early on finished four place on Mont Faron in the Tour Méditerranéen. Later he was ninth overall in Romandie last year and won the best young rider competition. In fact he seemed so hesitant on the podium this time last year I wrote it looked like he'd never kissed a girl before.
Saur-Sojasun
A quick mention of this French team since they won a stage with Jonathan Hivert. FDJ-BigMat and Ag2r La Mondiale might have World Tour licences but they're not winning much this year, indeed Ag2r still have not won a race this year. But Saur-Sojasun have had a better run.
Giro next
The Tour of Italy starts next Saturday… in Denmark. Scanning the results from Romandie Ivan Basso lost two minutes in the mountain time trial. Perhaps he was taking it easy but he's not looking very strong right now. There's time to ride himself into form but less than two weeks until some serious climbing awaits. If anything Sylwester Szmyd looks stronger and Eros Capecchi, who wasn't in Romandie, is strong at the moment too. Astana's Roman Kreuziger is looking strong but still not 100%. His team mate Paolo Tiralongo had a consistent week, placing well on several uphill finishes and if you play the fantasy leagues might be a good buy… if he's cheap.