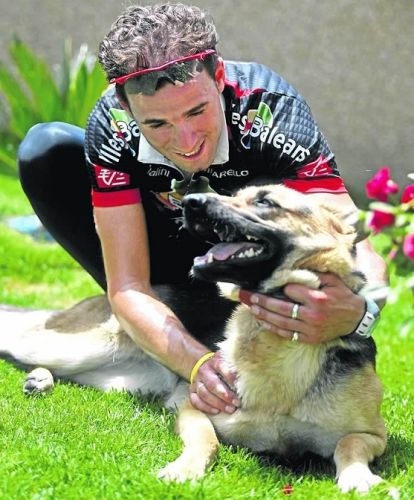 I wish I didn't have to write this. Alejandro Valverde has yet to race in 2012 but is already pedalling some bold claims. The outrageous display of denial by at a Movistar team presentation yesterday can't go unmentioned. He told the press:
"I haven't done anything wrong. I've always respected the law, my conscience is clean"
For the record, remember he was banned by the Italian Olympic authority CONI in 2009 and then tried to appeal this with the Court of Arbitration for Sport and lost. Then both the UCI and WADA successfully got the ban extended worldwide for 2010 and 2011 via the CAS.
CONI, CAS, UCI + WADA, CAS – enough acronyms to fill a bowl of alphabet soup – all said he was storing blood with the infamous Dr Fuentes under the codename "Piti", the name of his German shepherd dog. Valverde called this an injustice and tried a further appeal to the Swiss courts but this was promptly rejected. Fortunately he stopped before going to the European Court of Human Rights.
Cynically he could "manage" this story today and without making an apology or admission of guilt, try the "let's not look back" approach. However making statements like "not doing anything wrong" is provocation after all the evidence and hearings. It risks sending a message that he thinks premeditated blood doping isn't wrong.
Summary
He's back and we'll see how he performs in 2012, he's a contender for a wide variety of races, from classics to grand tours. Then again, after time out many returning riders need time to get back in to the racing, see fellow Puertisto Ivan Basso.
But his media performances don't look too strong. He risks being a laughing stock and press conferences could become bear-pit style baiting exercises. The bold denials of wrongdoing just reheat this stale story to boiling point when he should try and put a lid on this.