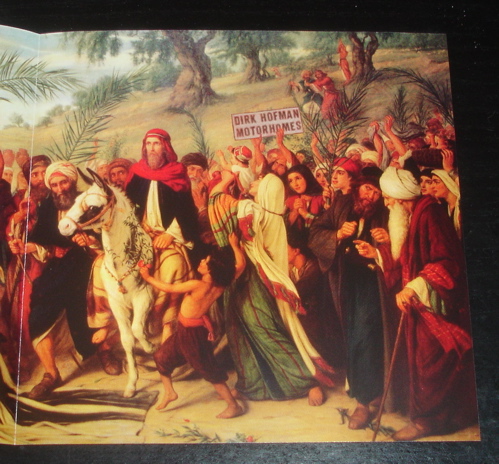 Sent in by a reader and posted to twitter, the photo above is from the album sleeve of "90 Bisodol (Crimond)" by British band Half Man Half Biscuit. Dirk Hofman enters pop culture. Bonus points if you can name the biblical art and the artist.

Paris-Tours had plenty of suspense in the finale. Several sprinters were caught out midway in the race, leaving a reduced bunch to try and contain riders with attacking ambitions. Many had a go but it was Greg Van Avermaet who won ahead of Marco Marcato. BMC will be delighted but team management will be busy studying management handbooks, sports psychology and perhaps watching films about pressure cookers, mutiny and other tales of pressure and competing ambitions over the winter. Marcato's an attacking ride and the Tour de Vendée last weekend, a more modest event but he's another to watch for Lombardy this weekend.
The Tour of Beijing's done. Yes it was boring but that's often the case when a new race appears, in the words of Zhou Enlai "it's too soon to say" if the race can be improved. I like cycling, you like cycling and if the Chinese get an extra race, that's good. The race could work but it'll need big improvements to make it more of a spectacle, especially sharing the event with the locals.
Pat McQuaid told Velonews:
"I've given up reading bloggers, they don't influence what we do. It is frustrating to see people attacking an event and to see people attacking the UCI for putting it on the WorldTour when they don't really understand the full picture."
I've not attacked the race but am critical of the way the UCI created a conflict of interest and allowed the story to get out of hand. If a neutral operator was running the race no teams would have mentioned the boycott. Indeed in the same interview McQuaid said he had to "fight fire with fire" but shouldn't a governing body should try to keep cool instead of resorting to arson?
The Giro Dell'Emilia is a great race and Saturday's edition was no different. A tough course and a hard finish make it just one of many Italian races that are unmissable thanks to the selective route, great scenery and wild tactics. Here's the video:
A shame that these races don't always get the TV production they deserve but it's a great taster for next weekend's Giro di Lombardia, one of the finest one day races on the calendar. I won't name the winner in case you want to watch the clip in full but he's a name to watch.
Finally, talking of shorts, Mark Cavendish wore black shorts for Paris-Tours. Debate can get heated about white shorts and I happen to think FDJ's bright kit is nice but note they train in the winter with blue shorts and leggings.
As ever, get involved via the comments, email me or try Twitter. I'll read every comment and reply to every email.