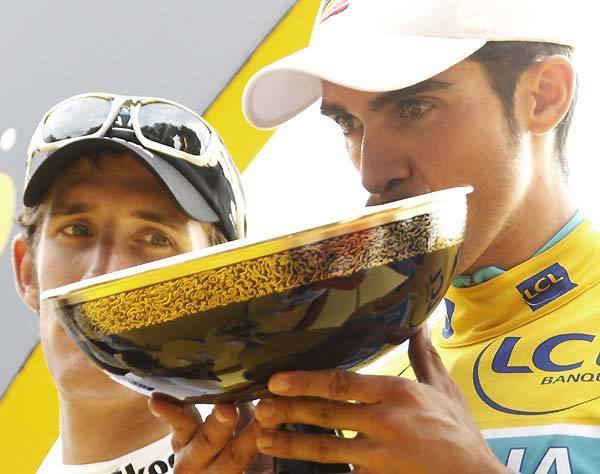 Win the Tour de France and you get the porcelain bowl made in Sèvres by the state-owned  pottery company Manufacture Nationale de Sèvres. It's a unique trophy and has no official title, except it is awarded "in the name of the Presidency of the French republic". It's elegant and you probably wouldn't use it as a fruit bowl. But it's not that valuable in crude money terms.
Instead, there are plenty of cash prizes up for grabs. The Euro might be in crisis thanks to worries in Greece and other countries but when the Tour de France starts, riders and teams stand to share a cash pot totalling €3,412,546. Over the three weeks there's money up for grabs every day, from stage wins to team prizes, sprints to climbs but also prizes big and small for those who reach Paris.
Two things stand out. First the overall pot might look big but it's not that significant compared to other sports events. For starters the headline number I've quoted includes about a million Euros in admin payments, expenses paid to the teams to cover their costs during the race. Subtract this and the prize pot is just one third of that awarded for the men's singles in the Wimbledon tennis tournament. Second, if the pot isn't that big, it's also full of micro-payments. You can win €200 here and there, a relatively small amount for a pro but added together over three weeks it helps.
Note teams split the money. Each team has a different formula but when a rider wins some money, it's put into a pot and shared amongst the team. Team mates get a share but the money is also given to mechanics, soigneurs and the bus driver.
Anyway, here is how the money is paid out during the race.
Each day on a normal stage there's €8,000 for the winner, €4000 for second place and a decreasing scale down to a modest €200 for 20th place.
For the final overall classification in Paris, first place brings in €450,000, then it's €200,000 for second and €100,000 for third.
The full breakdown is €450,000, €200,000, €100, 000, €70,000, 50,000, €23,000, €11,500, €7,600, €4,500, €3,800, €3,000, €2,700, €2,500, €2,100, €2,000, €1,500, €1,300, €1,200, €1,000, €950, €900, €850, €750, €700 and €650 for 25th place.
Then 26th to 30th place collects €600
31st to 40th place gets €550
41st to 50th place gets €500
51st to 90th place gets €450
every other finisher collects €400
There are other pots of money available in the race:
€350 a day to whoever wears the yellow jersey, €300 for the other jersey holders
€25,000 for the final winner of the green and polka dot jerseys
€20,000 for the final winner of the white jersey
There's also money for the first three in the intermediate sprint and for getting mountain points too
The highest point in the Pyrenees and the Alps each sees a prize. On Stage 12 the Prix Jacques Goddet will be awarded to the first rider to the top of the Col du Tourmalet iand is worth €5,000. On Stage 18 the Henri Desgrange prize is awarded at the top of the Galibier and is again worth €5,000
The "most combative" prize is awarded and worth €2,000 each day, the "Super combative" prize is awarded in Paris and the winner collects €20,000.
There's also a team prize with €2,800 awarded each day to the leading team on the overall, as calculated by the best three riders overall.
In addition, every team that starts gets paid a touch over €50,000 to cover expenses. And should a squad make it to Paris with seven or more riders they stand to collect an additional €1,600 bonus for each rider the have left.
In summary that's €2,021,200 in prizes, €1,127,346 in expenses and €264,000 in bonus payments for near-complete teams: a total payout of €3,412,546.
Nobody races the Tour for money but you might spot riders jumping for an intermediate sprint or hill points even if they're way out of contention because a short sprint can literally pay off. Even the big prize on offer is really a secondary consideration. This is still a sport where victory itself is the greatest prize, not the cash pay out. Although this is partly because a rider's salary will soar if they win.
At the time of writing: €1 = US$1.44 / £0.89 /AU$1.35