History is written by the victors
– Winston Churchill
When a rider wins a race or a general is victorious in battle, it is often easy to ascribe physical supremacy and tactical brilliance. We align a series of facts from the day into a story, the narrative of victory becomes self-evident. Only what of luck?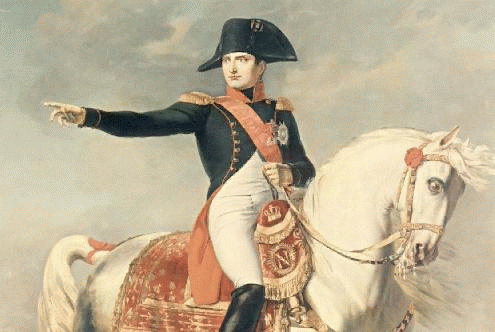 It makes you wonder about the tales and statues of war heroes, just how brilliant and superior were they? Or was an unmentionable stroke of luck involved too? This isn't necessarily cynicism on my part, the last man to durably conquer Europe was Napoleon Bonaparte. When asked whether he preferred courageous generals or brilliant generals he replied "neither, give me lucky generals".
I've often wondered about this when it comes to sport too. Do we ascribe particular skills and talents to some athletes and teams when in actual fact, they just got lucky? Before you leap to the comments section, I am not suggesting you fluke a win at elite level nor, I stress, suggesting that victories in warfare occur without guts and courage. No, this is not to deny the hard work and skill involved. Instead, what I'm trying to explore is whether luck is a bigger deciding factor that we might currently think. Are our heroes all conquering or do they get a little bit of luck along the way too?

Take last Sunday's Paris-Roubaix. I think this is one of the most random races on the calendar. Crashes, mechanicals and punctures seem more frequent than any other race but we now know Johan Vansummeren rode the best race, strong up front when it mattered and soloing in style. We reinforce this with the observation that team mate Thor Hushovd and the Garmin-Cervélo team were correct not to help Cancellara bridge across. After the line any doubters about Vansummeren are reminded that he has twice finished in the top-10 and that he is an invaluable workhorse, able to lay on the power for hours. It all makes perfect sense.
Only the race result could well have been very different. Tom Boonen's jammed chain the Arenberg forest stands out. The video is painful to watch knowing he is seeing the race slip away. Had this not happened then a myriad of alternative race scenarios opens up, he might well have worked with Cancellara to get to the lead group or Sylvain Chavanel would been involved.
Similarly we can rewind to various points in the race and imagine many other alternatives: what if Ballan rode with Cancellara? What if Maarten Tjallingii got caught by Lars Bak and Gregory Rast and the trio got Vansummeren back? What if Vansummeren's puncture went down faster?
To a large extent these "what ifs" are just speculation, they never happened and thus never will. But that doesn't mean the actual chain events is linked together by moments of luck.
Professionalism
To a large extent being "pro" means stripping out the luck. Teams employ special bikes with sturdy tyres and chain catchers. Sections of road are videoed, ridden and re-ridden to exclude the random. Riders train to ensure they arrive in peak form, to know just how their body will respond. Some of race radio debate is because team owners don't want their valuable "assets", the riders, getting undone by a dropped chain or other unlucky events.
Is it unlucky to puncture?
A tricky topic. I think you can ride in a way to minimise punctures. Riders battle with team mechanics over tyre pressures. They can avoid the gutter and if they spot some glass, it helps to put the hand (with gloves) or even a water bottle on the tyre to clean off anything sticking in the tread. But despite these preventative measures, bad luck can strike.
Superstition
If teams work hard to avoid bad luck, some riders need extra help. Pre-race rituals and routines happen, from always putting, say, the right shoe on first or even saying a quiet prayer. Lucky charms are carried, Fabian Cancellara has a lucky number, seven, and his bikes sport dice showing this number and he doubles this with a small angel in his back pocket and the Swiss rider always turns the number 13 upside down. You can see the Swiss rider's lucky tricks detailed over at the Pedal Dancer blog, plus other things such as the way Italians pass the salt.
Is it bunkum, irrational nonsense? Not necessarily, if these items give a rider an extra support and self-belief then they can work and some research backs this up.
Summary
Sometimes luck is a marginal factor but it can be a deciding one too. You don't get to the front of a race by luck but after 258km of cobbled roads, the first 18 riders in Roubaix were separated by 47 seconds. Some will have thanked their lucky stars to crack the top-20; others will curse the misfortune to have passed by the chance of a podium. Some never made it to the finish because of bad luck; most didn't make it because their legs weren't there.
Indeed this is not particular to Paris-Roubaix, it happens all throughout the year. But I wanted to explore this idea in the light of one of the most random races on the calendar.
I do think it's possible to build a narrative after the race that rationalises the victory, stripping away the "what if" conditionality until it is clear that the outcome of a race was in fact a logical conclusion. I'm not writing this to diminish Vansummeren's win, in fact I celebrate the circumstances that combined to help him win. Few of us can imagine the pain in his legs or the torment in his mind as his back tyre was losing air, to repeat this was no freak result. But run the race 20 times and would he win every edition? Of course not.
If cycling became a pure test of brute force we might as well use stationery ergobikes with pre-programmed courses. The random element is what makes for drama and excitement. As much as riders and teams might want to stamp on it, surely we should embrace it.