French broadcaster France Télévisions will show 132 hours of cycling this year. It might sound like plenty but when you subtract the Tour de France, there's not much left.  For example last weekend's Het Nieuwsblad and Kuurne-Brussel-Kuurne weren't on French TV, not even subscription TV channels Canal+ and Eurosport.
Such a scenario is common for fans all over Europe where local races are screened but only the biggest races from abroad get shown. For example in France, the Giro d'Italia is only on Eurosport, a satellite/cable channel. Obviously it's even harder for fans in countries where the local broadcasters don't show much, if any cycling. What's a fan to do?

Pirates
Well many turn to "feeds", pirated video streamed over the internet. Thanks to sites like Justin.tv, Ustream and many others, cycling fans are able to watch many races from around the world. Never mind the impenetrable Flemish commentary, that only makes it more authentic. Only it's illegal.
Worse, the coverage can be very poor, a tiny window in your browser surrounded by strange graphics. Gone are the HDTV landscapes, in fact your lucky if the feed doesn't drop. Sunday's K-B-K saw coverage stop several times and fans scrambled for internet channels called "Bobo Melody" and "Danish Delight 2" in order to find live video.
How does it work?
It's easy. Some services are marketed as ways to show a child's birthday party online to grandparents in another country, simple for anyone to operate. A very detailed Bloomberg Businessweek article sets it out:
This can be as simple as purchasing a $50 HDTV adapter, which plugs into a computer's USB port and allows the PC to receive live TV. Deploying so-called screencast programs that make copies of everything on the PC screen, a user can then capture a channel carrying a sports event and stream it over a live video site.
As such it only takes a cycling fan in the home country to run a TV signal through their computer and with the screencast software the images can be watched around the world, especially since sites like justin.tv allow massive bandwith.
Illegal broadcasters
These streams are coming under attack from genuine sports broadcasters, as detailed in a detailed piece by Bloomberg Businessweek. It is more a threat for "per per view" events but none the less sites like Justin.tv are the subject of much legal wrangling. It boils down to taking reasonable steps, if justin.tv is notified of an illegal stream then it has a duty to stop it. But can Sporza employ people to scour the internet for the illegal feeds? If notified, how much time is reasonable for a website to act? In a matter of hours the sports event is finished.
If someone is watching Het Nieuwsblad in, say, Australia, are they a thief? They are not necessarily taking something that they could have paid for. But they are viewing an illegal broadcast, so if there's no theft it can be illegal. I should caution here that you do this at your own risk etc.
Get your feed
Cyclingfans is a good source. Scroll down and see the "Shift Gears" link on the right of the page for a permanent link from The Inner Ring to this most useful site. Steephill.tv has similar content and sometimes if you want additional options, see the BVLS site.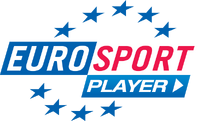 There are legal versions. Eurosport offer the Eurosport Player to Europeans only, they can subscribe and watch a lot of racing from the, much of it excellent with the professional audio commentary in a language to suit, although not every race is covered and some are not live but broadcast hours or days after the race. Not ideal.
There is also cycling.tv, a dedicated website that streams high quality video with proprietary content to subscribers. If your internet connection can stand it, you'll get great pictures. Only again they don't cover every race and personally I've found the service wanting, although that was in the past. Some might also find it expensive given lesser quality video is available via the streams mentioned below.
A vision for the future
Fans around the world are exploiting readily available software and hardware to share the racing. If big pay-per-view broadcasters are struggling to file lawsuits yet alone stop the broadcasts then the likes of Sporza or Eurosport are going to find it near-impossible to stop.
My solution would be some kind of international streaming service involving a modest subscription in return for high quality video. Cycling.tv has high costs partly because it adds its own audio commentary but I can live with Flemish or Italian audio commentary, indeed I love the way I'm improving my language skills thanks to the race coverage.