There are some foods that are particularly European. Maybe people think of fine wine, truffles, baguettes and ravioli. But for cyclists there are some particular foods that stand out. As part of a series about food in Europe for riding, here's the third: stroopwafels.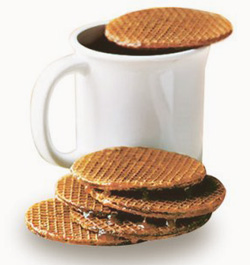 Product description
Stroopwafel means sirop waffel in Dutch. It's two soft biscuity wafel layers that sandwich a thin layer of caramel tasting sirop, sometimes with a bit of a cinnamon taste. You can get the pronunciation here.
Euro Cyclist Use
Pre or post-ride food. Carbs galore, the trick is to make a bit cup of tea and seat the waffel on the cup as a lid. The steam warms the biscuit making it even better whilst the drink also stays warm. Too many and the calories appear, not to mention a sugar rush.
These are very Dutch. I can find similar looking versions in a French supermarket but no way are they the same, they're smaller and lack the rich taste of a real Dutch version. They are originally from the town of Gouda, close to the port city of Rotterdam. Gouda is more famous for its cheese but that's probably less use to a hungry cyclist.
This is part of a series on European foods with links to cycling or simply for fuel:
Part I: Nutella
Part II: Pâte de fruits
Part III: Stroopwafels
Part IV: Coffee
Part V: Frites
Part VI: Pasta
Part VII: French Bakeries
Part VIII: Water
Part IX: Sirop
Part X: Pharmaceuticals
Part XI: Summary
Part XII: Esta Thé
Part XIII: Grated carrots
Part XIV: Speculoos
Part XV: Belgian beer
Part XVI: Oman Coffee
Part XVI: Italian Ice-cream