I was talking to a mountain guide over the weekend. He's been on expeditions to the Himalayas and was saying that as a career it's hard work. Not just because of hypoxia at 8,000 metres, nor falling ice and rock, not even the primitive living conditions. No, his biggest worry was finding money to fund his adventures.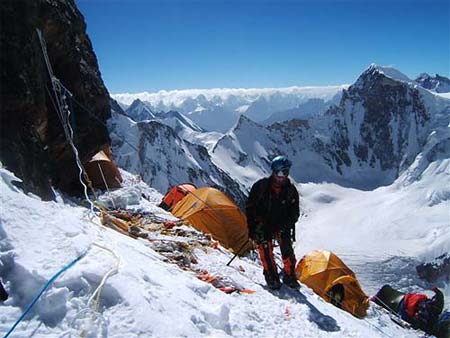 Easier than the boardroom?
Get backing for one expedition and if things go well, his problem was going back to the sponsors. They often don't want to fund a repeat or copycat expedition. After all the supplier of mountaineering equipment or the Swiss watchmaker will have the stock photos and marketing associations from the previous trip. So the only way to lure potential sponsors is to promise something more. It's not enough to climb Everest, maybe you need to cycle to base camp or try to make break the unofficial record for the fastest climb. It's a form of inflation, you need to promise more and more.
I can't help wonder if this isn't the same with the Grand Tours, especially the Giro. Now don't get me wrong, I'm already salivating at the prospect of seven summit finishes and know pretty well that I'll be spending May and July watching the Gazzetta internet broadcast. But what if Zomegnan announces five summit finishes for 2012, will we think the race is softer or more boring? Do race organisers have to keep pushing for more and more in order to keep our interest?
Whilst everyone is praising the Giro and Tour routes for their aggressive routes, I can't but worry for the riders, especially given the transfers involved between stages. A typical team car will cover double the distance of the Tour de France in July because of the transfers and riders struggle to get food and rest. Maybe you don't care for this but even the mountain climbers who will be on preferred terrain are quietly worried about all the travel and the inability to recover. It's certainly a preoccupation of many riders and teams, if the racing is hard then there's not much time to recover.