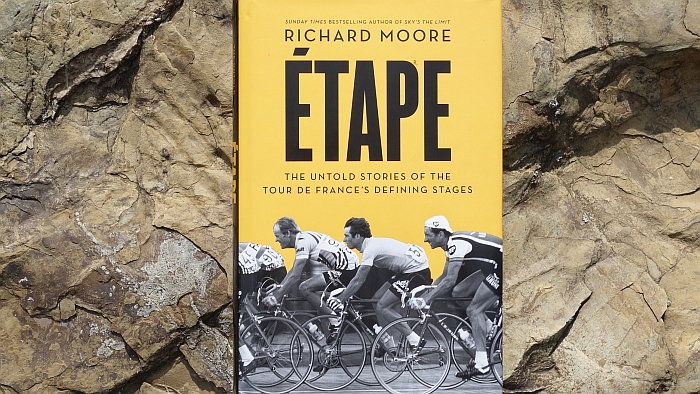 Etape by Richard Moore
The Tour de France brings three weeks of racing but also extensive media attention. But what if there were many untold stories? It's not really a question, the focus on the day's stage winner and the jersey wearers means a lot of blurred edges. Add in some hindsight, a variety of source material and you have the ingredients for Etape, the tale of 20 stages from the Tour de France.
A goal in a football match can be pored over; the build-up can be analysed; its context can be understood by watching the rest of the match with your own eyes. In a road race, despite the probing gaze of television cameras and photographers' lenses, much remains seen and unknown, even to many of the participants. The mystery is a big part of the appeal. It also means that the reports are not always accurate, and that the full truth sometimes does not emerge until later. Years or even decades later. Or not at all.
That's a quote from the book to explain plenty. Take the Tour de France and a mountain stage that's being watched by the world. We'll see the stage winner and the groupe maillot jaune but the cameras rarely dwell much further back. It's possible to crack the top-10 of the Tour while barely being noticed. So what of all the other stories in the Tour de France? In 20 chapters Richard Moore revisits 20 Tour de France stages from the past to tell the story of what happened on that day. In fact he's telling a story from the stage, perhaps a new version of events but still one version of events.
The choice of stages is subjective. There some obvious ones like Greg LeMond's 1989 time trial win on the Champs Elysées to win the Tour by just eight seconds and some seem related to author Richard Moore's other ventures, for example featuring characters from his books LeMond, Bernard Hinault or Andy Hampsten feature in Etape but also Slaying The Badger. Other stages have near-forgotten characters, like the tale of José Viejo, the man with the biggest ever margin of victory during a stage. If some are familiar it's the way Moore finds new angles that make all of them a fresh read.
Each chapter isn't a race report, this is not the tale of how the race was won. Yes events are explained and there are times when it's as if Moore is transcribing a youtube moment but this is brief and for description. We get hindsight and a fresh account of events, a mix of sources primary and secondary explored, sifted, edited. For example if the 1984 Tour de France is remembered for the Fignon-Hinault rivalry, Moore gets the view from Luis Herrera, the Colombian climber who saw events up close. Yet it's not just Herrera's view but the tale of Colombia's attachment to cycling, his success meant the Bogotá Stock Exchange was temporarily closed so everyone could follow the Tour. The last chapter about Greg LeMond's 1989 stage win on the Champs Elysées to win the Tour is an oft-told tale but here it includes quotes from Laurent Fignon's biography, recent thoughts by Greg LeMond as well as small details like LeMond making a late switch to ride the Tour de Trump in the US and getting passed in the time trial stage by Davis Phinney (father of Taylor) who is using tri bars. It's not explored but what if LeMond hadn't done this race or the starting order was different, would he have forsaken the tri bars for the 1989 Tour? You might have read plenty about 1989 but this chapter still finds new information.
Hindsight and the passage of time help. Bobby Julich is recounting the 1998 stage of the Tour de France to Les Deux Alpes won by Marco Pantani. Julich and others can be frank about their EPO use, something you're not going to get in a post-stage press conference. Distance from the events also allows a wider context, the tale of Marc Sergeant and Frans Maassen refusing to work in a breakaway isn't just an outrageous incident but one battle during the war between team managers Peter Post and Jan Raas.
Some stories are really about events beyond the race. An interview with Claudio Chiappucci to discuss his 1992 stage win in Sestriere tells you as much about the Italian today as it did then with an apartment decorated with Chiappucci icons, even embroidered cushions in his image – but you also get the confounding statement that Chiappucci was riding to a plan, he'd recced the stage and on the day paced himself with a heart rate monitor, it wasn't quite the wild move many took it for. There's a short chapter on Urs Zimmerman the Swiss rider and if his tale concerns the rest day it's underpinned by his struggles about depression and anorexia. It's all well-written but this chapter struck me as particularly well-crafted.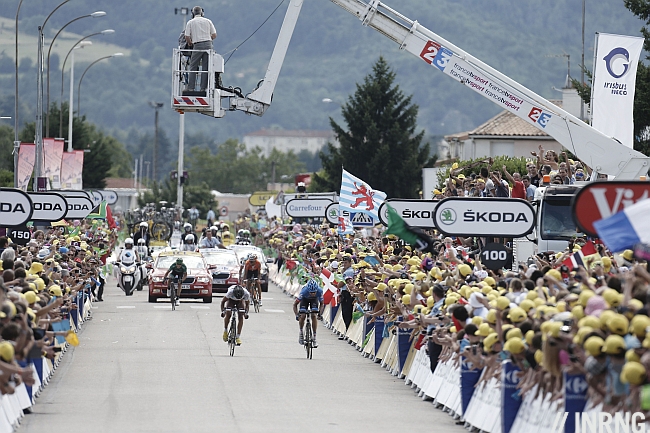 The book opens up fractal possibilities in writing. The book covers 20 stages between 1971 and 2012 but arguably each stage from each year has many stories to tell. Of course some are more interesting than others but 20 seems limited even if it's plenty for a 340 page book. Take the penultimate chapter about David Millar's stage win in Annonay/Davézieux in 2012, we have the story of Millar's redemption but I bet Jean-Christophe Péraud who finished second has plenty to tell, whether his atypical career or just events on the day. Or what of the others in the break? Did something else happen on a day, a sponsorship deal or maybe a mechanic has an anecdote to share. Etape tells 20 stories but there must be hundreds more.
Summary
Another Tour de France book? Yes but Readable, enjoyable and the kind of book to dip in and out of during a summer holiday or during one of those dull sprinters stages, this is a timely reminder that the Tour de France is packed with too many stories to tell rather than a hastily compiled list of "best ever stages". Hindsight and a variety of sources are applied to re-tell some stories that you might know and most you won't. If you like your cycling history this is for you but even if you don't this is just good story-telling rather than merely recounting previous events. But what of all the other stories?
Note: this copy was sent free for review. It is published by Harper Sport and available in print and an ebook.

A list of previews book reviews can be found at inrng.com/books