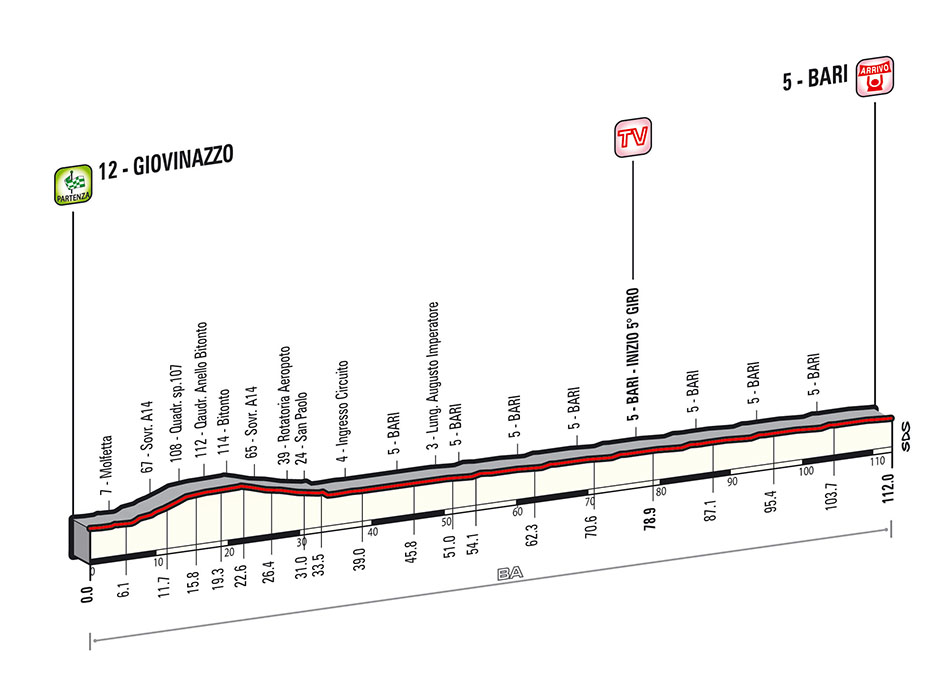 Rest day? Today's stage sees the riders given the morning off and starts well after lunch. At 112km including eight laps around the city of Bari this looks like part group recovery-ride, part exhibition criterium.
The Route: a start on the coast sees the race head through numerous olive groves to Bitonto, once home to the 17th century mathematician Giordano who spent years trying to prove parallel lines are parallel, not as obvious as it sounds. Then to Bari, southern Italy's second city after Napoli but the Giro hasn't visited here since 1990. Overcompensating the race will lap the city centre eight times.

The Finish: flat and with two tight turns but the roads are reasonable. The width varies but with a circuit finish the route won't be a surprise.
The Scenario: a bunch sprint. 100% certain? No but almost as the teams will wind up the pace so high that nobody can get away and there will no hills or junctions to surprise the bunch. This stage is surely the easiest on paper but that doesn't mean cycle tourism. In fact many will be fresh and feisty for the sprint so we should expect plenty of chancers to play hobo with the sprint trains and the crash risk is high with rain forecast.
The Contenders: Marcel Kittel vs the rest? Yes. Two sprints, two wins and each time he's come from a seemingly unwinnable position. His win Dublin was astonishing for the way he came from so far back to beat Ben Swift and Elia Viviani on the line. It's been great to watch on replay but it's a problem because he should be in the right place and finishing clear rather than fighting for every metre. As fast as he is, the result is far from a forgone conclusion so we'll see if Elia Viviani, Nacer Bouhanni and Giacomo Nizzolo can find a way to beat Kittel. As for Ben Swift, he was close but surely tomorrow is his day?
Weather: the race might have left Ireland for the south of Italy but RCS seem to have freighted the weather over from Dublin as rain is forecast. The difference is the thermometer will reach 24°C. No wind is forecast and much of the circuit is sheltered.
TV: the race is on a variety of TV channels according to where you are in the world. Eurosport is covering the race across most of Europe. beIN SPORT has the rights in the US and France. I still haven't seen the promised Gazzetta free stream but leave a comment below if you have to share with others. There's cyclingfans.com and steephill.tv for TV schedules and pirate feeds and more.
The finish is forecast for 5.10pm Euro time. The urban circuit might be risky in the rain but given the probability of a sprint finish and the repetitive circuit, tune in to watch the sprint.
Tjallingii: with a flat stage without any categorised climbs Belkin's Maarten Tjallingii is sure to keep his lead in the mountains competition for today. The Dutchman is one of the few vegetarian pro cyclists. It's an obvious constraint but one that can be balanced by a careful diet, which is exactly what most pro cyclists must live by. He gets a special dish each day from the team chef. His diet's obviously no problem but others find his name a mouthful. Here's how you say it: