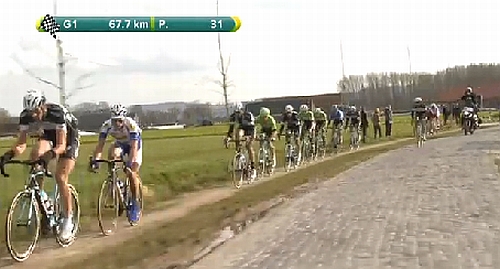 Sunday's Kuurne-Brussels-Kuurne race had a decisive moment when the Belkin and Omega Pharma-Quick Step teams drove the pace on an exposed section. The bunch split in the crosswinds and as the two teams, plus Yves Lampaert (Topsport Vlaanderen), Johan Vansummeren (Garmin-Sharp) and briefly Michael Vingerling (Team 3M) rode away.
Then came a moment when the leaders entered a cobbled road and hopped across to the dirt path beside the road. Some seemed to hesitate, others didn't – perhaps it was hard to find a suitable point to cross from the road to the path? But this switch was in breach of a new UCI rule and the whole group should have been disqualified from the race.

Here's the new rule that was introduced for 2014:
1.2.064 bis It is strictly prohibited to use sidewalks/pavements, paths or cycle paths alongside the roadway that do not form part of the course. Non-respect of this requirement is sanctioned in accordance with Article 12.1.040.14 bis, without prejudice to any other sanctions that may apply.
Article 12.1.040.14 bis states the rider is liable for a cash fine and crucially "elimination". Some riders seem to be aware of the rule, here's André Greipel's launch rocket Marcel Sieberg:
For what we have new rules??? Front group all on the asphalt *bike path* Peloton all on the cobbles. pic.twitter.com/ldoDhtmr4I

— Marcel Sieberg (@MarcelSieberg) March 3, 2014
And now we know why we lost 30sec just on this point. Come on guys….everyone or no one

— Marcel Sieberg (@MarcelSieberg) March 3, 2014
This isn't to say the result would different. The chase behind never looked wholly determined. From television at least, Lotto-Belisol seemed to have fewer riders and were joined by Sky's Ian Stannard whose horsepower was surely diminished given his efforts from the previous day. Not to criticise these two squads, they were the only teams doing anything until Katusha turned up later. Plenty of others were sat on the wheels, either resigned to defeat or hoping for a free ride into Kuurne.
Sieberg's tweets have got a few "sore loser" responses but the point here is not to replay the race, nor to examine the circumstances. A rule should not bend according to the race, even if local hero Tom Boonen wins the race.
The worry with the rule is that having seen it's ok to ignore the rule on Sunday some in the bunch will try it again and perhaps succeed. Until some day riders get disqualified from a big race and a giant polemic kicks off and worse, the UCI gets blamed because riders say "you let so-and-so get away with it".
Déjà Vu
The obvious parallel is the UCI rule on rail crossings where some riders have gone through a red light at a level crossing and been ok either because they weren't spotted or because of a blind eye. Only for others to be disqualified if caught. We saw an example of this in Kuurne-Brussels-Kuurne in 2011 when the breakaway was disqualified and the same rule saw the result of the podium of 2006 Paris-Roubaix changed.
Racecraft
Back to the cobbles, paths and roads. Riders will exploit every piece of the terrain possible, after all the winning move came about because two teams were using the combination of hills, narrow roads and exposed terrain blasted by a crosswind. Hopping onto a smoother path has long been part of the mix, an essential skill. Note Sagan's kerb hop in Oman was legal because both lanes formed part of the course; similarly Romain Bardet's solo win on Sunday's La Drôme Classic was helped when he jumped down one side of the road and his rivals were on the other, briefly separated by road furniture. Racecraft.
One simple solution would be to define the course by marking the edge with some plastic tape. Easier said than done, someone has to go out and mark the course, planting sticks in the ground and then collect everything in the evening after. However this sounds preferable to a Kafka-esque attempt to define what constitutes the road. We'd get stuck in theoretical and legal definitions: is that path beside the road illegal for road traffic? Can we translate weg as a road or a path? We can quickly get sucked into an absurd and boring debate. Or worse, a lawyer-fest that could end up in the Court of Arbitration for Sport complete with a field trip to a Belgian lane – complete with expert surveyors – to determine the where the road goes.
Déjà Vu again
But all this is just the latest example of a UCI rule that's created but never upheld. If you watched Kuurne-Brussels-Kuurne you will have also seen the familiar scene of a mechanic leaning out of a team car to fix one of the Belkin rider's bikes; in this case it looked like a loose bolt on Sep Vanmarkce's seat post. But the details don't matter, the rules are clear (my emphasis):
2.3.030 Whatever the position of a rider in the race, he may receive such assistance and mechanical check (brakes for example) only to the rear of his bunch and when stationary. The greasing of chains from a moving vehicle shall be forbidden.
Yes, any mechanical help has to be done behind the group and when stopped by the side of the road. But this is a widely ignored rule.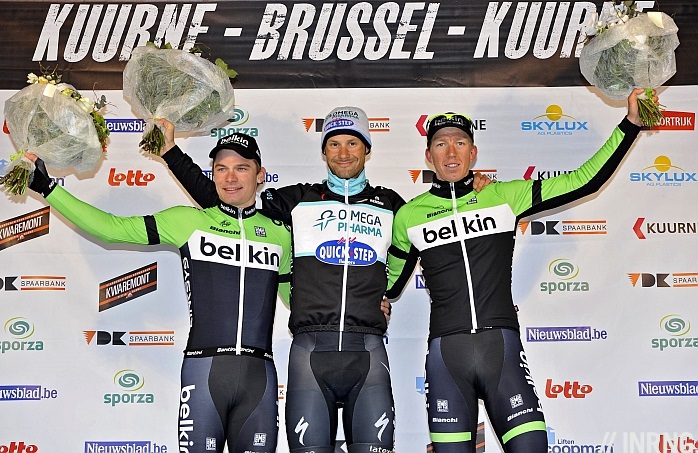 Summary
Sunday's Kuurne-Brussels-Kuurne was an exciting race with two teams exploiting crosswinds to condemn their rivals to certain defeat. Sentimentally I think we saw the strongest and cleverest riders take the lead and win the day and we probably got the "right" result. I'm not saying the result should be overturned…
…no, that's what the UCI rulebook says. The UCI is not supposed to be subjective and sentimental and nor is it supposed to be selective where some rules are adopted but others are brushed aside. No wonder riders ignore a new rule when their teams are allowed to ignore others like mobile mechanicals and more. It's clear the riders crossed from the cobbled road onto a dirt path beside the road and others claim they did not because they knew it was illegal. But this shouldn't be about revising one race, K-B-K is merely an illustration rather than a subject. It's more the spirit of having rules that apply to all races, all year. If the rule can't be enforced or it's badly drafted, should be dropped?