Dan Martin wins Stage 9 of the Tour de France. If you were to scan the results you'd see a chasing group with Froome, Contador, Valverde and Quintana and other names. Only you'd never know what happened.
Instead this was one of the most explosive mountain stages for years, a day when everything was thrown upside down by a relentless start where attack followed attack and Chris Froome found himself without a team mate. In the end things calmed down but it was still a wild stage.
With no stage to preview tomorrow, here's a look back

Earlier Peter Kennaugh's had crashed out. A touch of wheels and he vanished into the roadside vegetation. He climbed out but was left chasing all day, a sign that Froome was without support. Less spectacular but equally significant other Sky riders were being dropped with the sprinters, riders like David Lopez.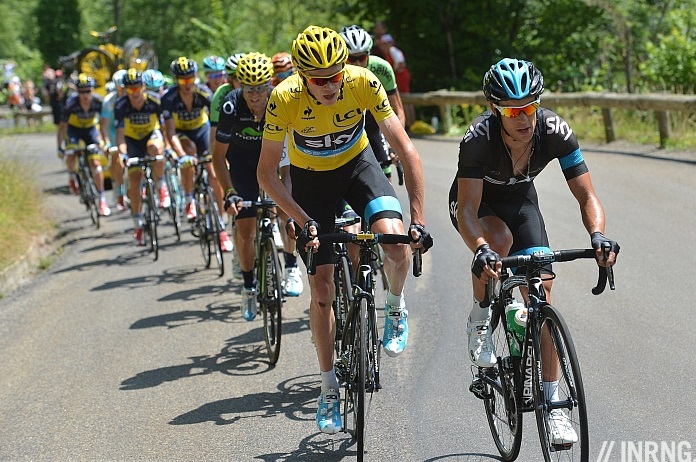 The photo above might look like something from Saturday's stage finish but instead it's from Stage 9 on Sunday and taken in the first hour of the race. The pace has been so fast that several Sky riders have been dropped and the yellow jersey is coming under attack and Richie Porte has to set the pace and help counter the moves.
The pace never let up. Ahead moves were trying to go clear. This wasn't your usual lottery-ticket selection, instead we saw serious names pushing the pace, for example Tejay van Garderen put in a big attack. Each attack was followed by a long chase. Garmin-Sharp a regular presence along with a point-hunting Pierre Rolland but no move was pulling away. Saxo-Tinkoff was driving hard, happy to see Porte distanced and Froome isolated. It continued in the valley section to Bagnères-de-Luchon with Ruben Plaza attacking to pace Alejandro Valverde and Chris Froome joining them. This was almost unknown, almost 100km to go and the yellow jersey was going away in a move with a rival.
Onto the Peyresourde and Pierre Rolland and Ryder Hesjedal had a small lead. Movistar were chasing and pacing. It was like one of those documentaries from the African savannah where a pack of jackals takes on a bigger beast. Movistar didn't want to strike at first but instead tried to fatigue the prey.
The Col de Val Louron-Azet started with its series of steep climbs. Movistar's pacing up the climb suggested some control of events but the pace was not ferocious. The group remained large despite the steep slopes and near the top Sylvain Chavanel got distanced, a clue that riders you don't expect in the front group were still there.
The final climb was the Hourquette d'Ancizan. With all Movistar's work they had to launch moves to get rid of Froome but with all their work launching moves was not easy. As much as Froome had been isolated during the day, he'd still managed to spend most of the time on someone else's move. So when Nairo Quintana started his attacks the yellow jersey stayed seated and bridged across in the rotary frenzy of a low gear.
Movistar's signal strength
There's a phrase in French from the poet La Fontaine that says "la montagne a accouché d'une souris" or "the mountain gave birth to a mouse". It means something big ends up with a small result. After the excitement of the first half of the stage, the finale had to quieten down, legs were tired. But it's better to celebrate the action rather than wish it could have continued right to the end. Sure Movistar couldn't shake Froome but they isolated Team Sky, left Richie Porte trailing, bolstered Quintana's position in the white jersey and consolidated their lead in the team standings. If you predicted this at the start of the day you'd have been laughed at.
Garmin-Sharp's Plan
For a team sponsored by a sat-nav provider Garmin-Sharp took a wild journey in the Pyrenees. Before the race they'd promised chaos but delivering it was something else. An early two man effort saw David Millar and Jack Bauer driving hard to the first climb. Tom Danielson and Ryder Hesjedal took up the pace in the middle of the stage. On the Hourquette d'Ancizan Dan Martin was the most incisive, attacking when others were hesitating. The plan worked like an episode of The A-Team and staff can chomp on their cigars with pride this evening.
Belkin's Stealth
Belkin put three riders in the front group and Bauke Mollema sits in third place overall with the likeable Laurens Ten Dam in fourth place. It's all going well with Robert Gesink seemingly enjoying a less-pressured role.
Sky
Perhaps everything didn't go wrong but plenty did. Kennaugh's crash was just bad luck but it mattered as he was out and only Richie Porte was left at Froome's side and this was just a matter of time. Dropped Porte found help from team mates behind who raced to pace him back but could not make it and now sits 33rd on GC, over 18 minutes down. To finish a bad day Vasili Kiryienka was the only rider to miss the time cut. Sky had shown signs of weakness with dropped riders during the week and yesterday, for all the hype, most of their riders were gone by the final climb. But as long as the other teams ride high tempo Chris Froome can sit tight.
What Next?
A well-deserved rest day. The race flies north this evening with a rest day on Monday. Next week looks duller, Wednesday's time trial matters but the terrain is flat until the weekend and a series of bunch sprints awaits. But there's never a quiet moment in the Tour, there's always a story.
Now we can look to the Alps and predict a range of scenarios. Some were joking this morning that Chris Froome was starting his post-Tour criterium but today's ups and downs suggest the Alps can reverse any fortune, especially as they bring much more climbing and offer day after day of effort as opposed to a simple pair of stages.