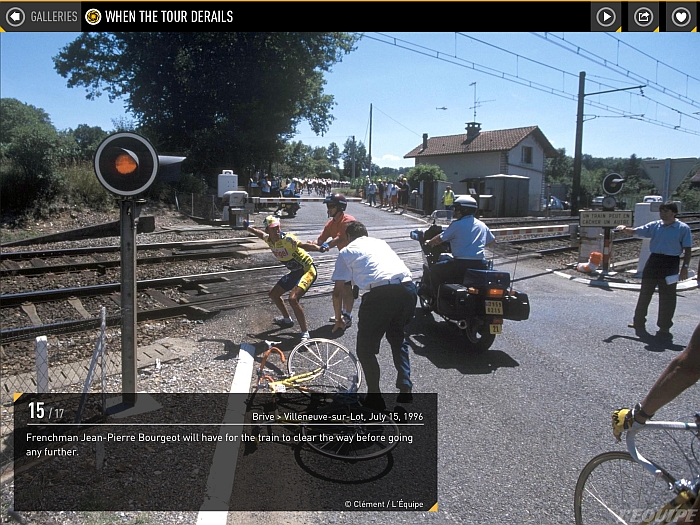 The old and the new. This is a collection of 30 themed Tour de France photo galleries, each with about 20 images. Using new technology the photos of the past become more accessible and involving than a coffee table book. It's also a reminder that the annual contest produces perennial images where the same scenes can be repeated over the years only with different characters.
But this is more than collection of old photos assembled into a slideshow, the themes and images selected make it an entertaining resource, albeit restricted for now to Apple users.
All the photos come from the L'Equipe archive and its sister photo agency Presse Sports. Photography at the first Tour was rare but it didn't take long before the images came flooding in. One of the galleries is about the media coverage of the race and how newspapers would have aircraft to fly the negatives from the stage finish to the newspaper offices so that the best images could appear in the newspaper the next day, vital in an era before TV coverage.
I was hesitant about downloading this. There might be a few photos but maybe they'd be the same ones that emerge every year and besides, how many pictures of the bunch riding past sunflowers or snaking round a hairpin bend do you need to see? But the depth of the L'Equipe archives is impressive and they've picked a good variety. Yes some images are generic and you might have seen others before but most are original and picked for a reason rather to pad out your iPad. If there's an image of the bunch riding past a lavender field or vineyard then it's invariably a good one. But most images are unique and come packed with detail. Take the rail crossing up above where at first you see the rider. Then you notice the barriers are down the warning light is flashing red. Look again and you can see the bunch riding away.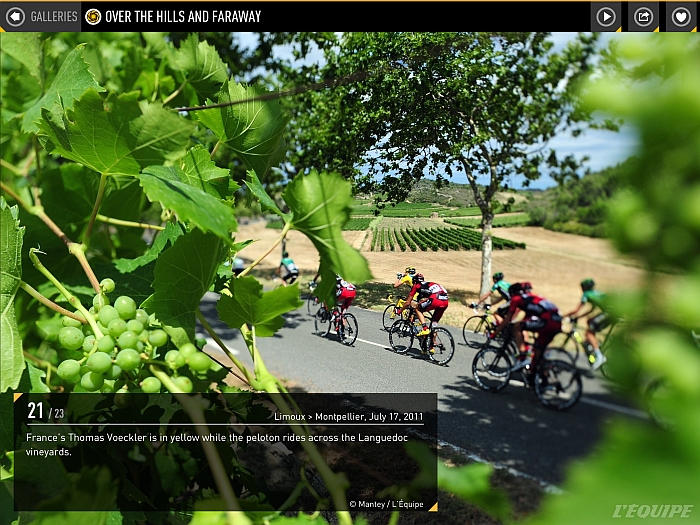 Each theme overlaps a bit, but there's plenty of variation. There's a dedicated gallery for Mont Ventoux, for Paris, for rural images, what riders do on the rest day, the fans, the crashes. So far, so normal but there are others looking at media reporting, a tech gallery, the publicity caravan as well and more. As well as themes, the photos can be sorted by time period although not in full chronological order. Tap the screen and you turn the comments on and off.
It's not perfect, there's a bug which made it crash twice and the English at times has clearly been translated too literally from the French – see the image at the top for an example. Galleries like this seem to work on a tablet, the backlit screen and tactile swiping make looking at images and their attached comments with ease. Certainly the images included here appear better on an iPad than my PC screen.
Another disadvantage is it's exclusive to the iTunes store and for Apple device owners only meaning I had to borrow a friend's tablet to read this. You can take this two ways, either it's frustrating because not everyone can see it, or at least this is a way to see the rich archives normally withheld to those with a Presse Sports account, or perhaps in a book.
Summary
A modern way to look at old images, this app exploits rich archive with a good mix of photos. Even the predictable ones of the peloton in the mountains are good and scenic but it's detail in many that stands out. A priest helping a fallen rider, a line of Dutch riders just sitting around until you notice their orange clogs or Jacques Anquetil spending his rest day fishing, knee deep in a river.
It's also a good introduction into the history of the sport, you don't need to spend €20 on a big book, this digital edition offers plenty via accessible images rather than text. Value for money is a personal question but if I hesitated before buying it now I'm glad I did.
It's available in English, Spanish and French via iTunes (US store) for $4.99 or search for "Images of the Tour – Zoom by L'Équipe" in your local version