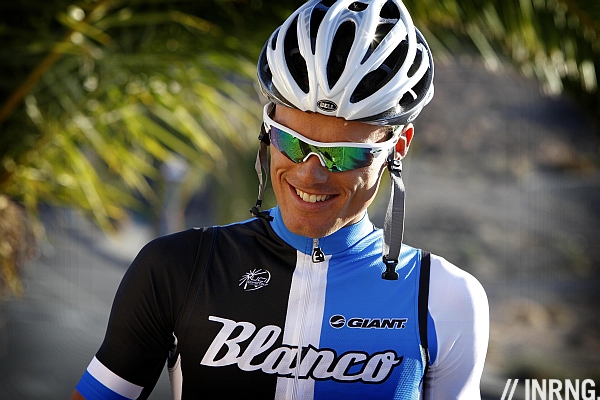 Luis León Sánchez has been on "non-active status" since February after his team started an investigation into media reports he was linked to Dr Fuentes.
Months later and he's taking his Blanco Pro Cycling team to the UCI to try and settle the matter of his informal suspension. The issue goes beyond this rider and shows us how different teams are struggling with ethical issues.
Team Blanco has started an investigation against rider Luis Leon Sanchez after stories in the media about his possible involvement in the case-Fuentes. Until there is clarity about the outcome of the investigation is Luis Leon Sanchez is not included in a selection of Blanco.
– Press Release, 2 February 2013
At first it's easy to salute this precautionary measure. It's the hallmark of many professions that people are suspended from work in the event of questions over their ethics or performance. A surgeon suspected of malpractice is likely to be suspended. The same for an accountant facing charges of fraud or a school teacher accused of hitting a pupil. The precautionary principle can be seen around the world. It can be unfair on the accused as it puts the job ahead of the individual and a suspension can wrongly be seen as guilt pending any investigations or hearings. But it's certainly a strong protective measure.
It's not the first time this has happened. In recent times BMC Racing suspended Mauro Santambrogio and Alessandro Ballan after the media linked them to an investigation – still ongoing – into a pharmacy in Mantova. The pair were stopped from racing in 2010… and then again in 2011. There is a recent precedent with Carlos Barredo. The Spaniard was suspended by the same team last year when under the Rabobank name. Barredo had been suspected of "irregularities" with his UCI blood passport and was suspended from racing. But it was not until mid-October that the prosecution began.
But if the suspension sounds like a good idea, it's questionable too. Yes Sanchez keeps his job and his salary but he can't get kilometres in his legs, nor earn precious UCI points. But for me the problem isn't the suspension, it's the unilateral aspect. Teams might be taking action to protect their image but it can backfire. In simple terms Blanco's suspension is reminding the world of past events and leaves a question mark hanging, like the Sword of Damocles, over Sanchez. Should the thread that holds this sword be made of media reports? There's also the issue of money, he is an expensive rider and tied to the team for two years. It might not be their motivation but if the team can cut him free they can save on cash. Should they find a new sponsor for next year then ejecting Sanchez could free up a reported €800,000.
Next other teams might behave differently. Lampre-Merida have reached a deal with Michele Scarponi. We can say each to their own but suspending a rider is a big deal. They can sit at home on full pay but missing out on races has long term effects on race fitness.
Other teams can find media stories and simply ignore them. The image above is from the USADA files and is apparently a record of money paid to a company linked to Dr Michele Ferrari. If this Blanco stop a rider because of possible links to Doctor Fuentes, have Astana applied the same precaution with manager Alexsander Vinokourov and rider Andrey Kashechkin?
We can imagine another team faced with ethical issues over a rider but who keep quiet and let the rider carry on racing because they're delivering valuable results which help in the search for a new sponsor. You don't need a vivid imagination. In 2005 the UCI had suspicions about Levi Leipheimer and asked Gerolsteiner team boss Hans-Michael Holczer to stop him from racing. But Holczer declined because he was trying to find a new sponsor and feared the scandal would kill his chances.
By now we can see a range of outcomes and even a team honestly investigating is limited by the time and resources it can dedicate to investigations. So we end up with a asymmetric system where a rider might have a questionable past but his present employment status can depend on which team he rides for.
New ethics
Many teams have subscribed to the ethical code of the Mouvement Pour un Cyclisme Crédible (MPCC). This says riders should be suspended in the event of a positive A sample as a precaution but there's nothing about media coverage. The MPCC has been boosted as teams look to import an ethical code above and beyond the UCI rules and the Wade Code.
It's hard to go much further than the MPCC rules. For example can teams agree a policy to suspend a rider in the event of media or courtroom allegations? Probably not, there has to be evidence. Perhaps it could be reasonable to suspend the rider for, say, a month. This gives enough time to weigh evidence and ask questions but doesn't not leave everyone dangling.
Conclusion
Suspending a rider linked to scandal sounds like a good idea. But if Luis León Sánchez was using Doctor Fuentes for doping then like everyone else who's been caught, he needs to be prosecuted and banned. But if there's no evidence he should be cleared to ride. Justice needs to be done rather than delayed.
I can understand Blanco's stance and in many ways welcome it although the incentive to ditch him and his contract can't be ignored. Let's hope this is not the case but the possibilities only highlight the systemic problems within the sport. Ethics are like tactics and up to teams to develop rather than subject to a collective approach and we end up with variable justice by team.
This story goes beyond one rider and one team. The MPCC is one way to group the teams together and raise the ethical standards through a shared approach. Perhaps the UCI needs to incorporate more of these rules, just as it adopted their "No Needles" policy? But going further and agreeing grounds to suspend a rider just because of bad media coverage is tough. Does a story in a newspaper count, is it ok if the newspaper is a tabloid? Surely a formal hearing has to take place instead of trial by media?