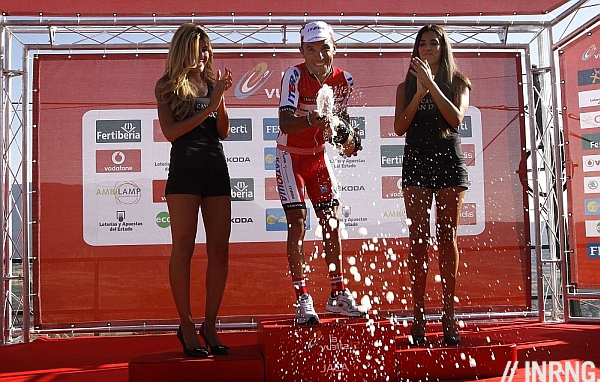 …and where could he go?
With the Katusha team struggling for a licence Joaquim Rodriguez and his agent Angel Edo have been shopping around for a new team. Rodriguez agreed new terms with the Russian team at the end of last season but these were based on the premise of riding in World Tour. He has stated his prime target for 2013 is the Tour de France.
Rider contracts are like collarbones, they're easily broken in the right circumstances. And Katusha not being a registered UCI team can mean a clean break clause. So will Rodriguez go and if so, where can he land?
Now if transfer gossip is too speculative for you then don't be put off as the rest of the text below helps explains the mechanics of any inter-season transfer.
The first question is whether he will change teams ahead of any CAS appeal. The answer according to the Spanish media (eg El Periodico) seems to be a firm sí and he's already lining up a deal to move but is being blocked until Katusha and the UCI agree to his release. Right now Katusha are trying to get a temporary status to ride the Tour de San Luis and he's on standby duty.
It's not a good time to change teams as most squads are full. Team size is capped:
2.15.110 Riders The number of riders in each UCI ProTeam may not be fewer than twenty-three (23). The maximum number of riders per UCI ProTeam which may be registered with the UCI is restricted according to the number of new professionals under contract (within the meaning of article 7 of the joint agreement concluded between the CPA (Cyclistes Professionnels Associés – Associated Professional Cyclists) and the AIGCP (Association Internationale des Groupes Cyclistes Professionnels – International Association of Professional Cycling Teams) in the following manner:

| | |
| --- | --- |
| Number of new professionals under contract to the UCI ProTeam | Maximum number of riders registered with the UCI |
| 0 | 28 |
| 1 | 29 |
| 2-5 | 30 |
So a squad with 2-5 neo pro riders can have 30, whilst a team without a neo-pro is capped at 28. Note that a rider is classed as a "neo" in their first two years.
The choice of a new team is not so obvious. Movistar has 25 riders but no neo-pros meaning it can only accommodate three more riders and Rodriguez reportedly comes as a package with four others: Vicioso, Moreno, Losada and Florencio. But Movistar would be a squeeze given Alejandro Valverde is already the star rider and has competing ambitions for the Tour de France.
A team with more room and the budget is BMC Racing. They have 26 riders but two neos meaning room for four riders. But again Purito wants to race the Tour de France and he'd clash with Cadel Evans and Tejay van Garderen and their stated ambitions, not to mention getting in Philippe Gilbert's way at other times during the year. Maybe Andy Rihs and his Swiss Francs can't solve this one?
What about Omega Pharma-Quickstep? Levi Leipheimer's past collaboration with Michele Ferrari was an open secret but it was only when USADA went public that he lost his job. This means the team needs a grand tour contender but they have only once place left. I'm not sure Mark Cavendish wants to spent July again on a team split between GC and green ambitions. Still, the team has wealthy owners.
Next up is Lampre-Merida. The team announced today that Damiano Cunego will lead in the Tour de France and you can almost hear the sound of groaning and cotton shirts rustling as shoulders shrugged on the Quai de la Bataille de Stalingrad near Paris. The Italian team has 27 riders and room for three… and maybe more if Judge Benedetti scalps Michele Scarponi in the coming weeks. Maybe Merida would be interested in suddenly becoming a bigger force in the sport, they are one of the sport's biggest manufacturers.
That's pretty much it for the World Tour teams. Yes Sky has room on paper and the money but the question is whether they have space for another stage race specialist. Quite a few squads still have space for one rider. But I can't see the others making a move. Famed for bold moves, Vacansoleil-DCM could surprise, they've tried with Riccardo Riccò and Ezequiel Mosquera. Fellow Dutch team Argos-Shimano has denied any deal in public. And surely nobody at Astana will get a bad back?
However this is not the end of the choices. Because there is a team with both money and space: IAM Cycling. The new Swiss team has 23 riders and could recruit five and still comply with the rules. It's also got a wealthy backer with ambitions of riding in the big league. Team owner Michel Thétaz even tried to lure Fabian Cancellara away from Radioshack but the contract was as tightly-pinned as Cancellara's collarbone. So we have a team willing to spend money to get the big names and with space; the only thing we don't have is a World Tour licence. But with Rodriguez on board they'd be impossible to ignore when it came to wildcards.
Transfer Window
A quick mention that riders can't jump teams all time. Without copy-pasting the rulebook again, just note that Rodriguez would have to break his contract with Katusha. Then become a free agent. Then sign with a new team. All this has to be done with consent, including permission from the UCI. But if the requisite break clauses are in place and people are standing by fax machines then this can be done in a day.
However we should note the team in question. Katusha team boss Igor Makarov is a powerful man in the UCI and we can easily spot another potential conflict of interest. Will the UCI be happy to let a break clause apply given this effectively pulls the plug on Katusha's ambitions, leaving them with a rump of Russian riders? Do Turkeys vote for Christmas?
Chang€$
Conflicted incentives don't just belong to certain UCI officials. Don't forget rider agent Edo is motivated by change. Each new contract signed probably means a new arrangement fee for the former sprinter. This isn't to say he can move the Rodriquez Quintet like pieces on a chessboard, just that everything else being equal he's paid to write new contracts. And that's not the only problem:
@inrng just to throw a wrench into all this: Edo is not a licensed agent.

— Jonathan Vaughters (@Vaughters) January 10, 2013
Summary
If Katusha's licences woes are solved then he's got a spot along with his team mates plus a good wage deal so it seems in his interest to stay. The intersection of supply and demand does not look good for him, few teams have room and besides they know he's stuck and could bargain down his wage claims.
Some guesswork but hopefully it explains how a rider can move teams during the season, plus why few teams have the room to recruit a big rider during the season even if they wanted to. Once a team has its riders for the year then it's fixed; unlike other sports where teams often hire star athletes during the course of the season. For example BMC's Alessandro Ballan is likely to be out for much of the season but the team won't buy in another classics player.
But the Catalan risks becoming Spain's version of "Poupou" Poulidor, an eternal second who keeps losing races thanks to mistakes and misfortune. He won plenty last year but he managed to lose both the Giro and Vuelta, although of course Hesjedal and Contador were obviously worthy winners. Now he's on Team Chaos, unable to start a race yet alone win anything. Can he afford to miss out on the Ardennes classics and the Tour de France? Or will this losing habit prompt him to jump teams, to stop being at the mercy of others?