When the French think of "le Yorkshire" most often it is the dog breed that takes its name from the English county so the decision to start the 2014 Tour de France in Yorkshire could help promote a more rugged image.
Yorkshire fought off competition from Scotland, northern France and Italy in part thanks its bid of €14.5 million. Cash isn't everything but it goes a long way to winning the bid. ASO will be pleased to offer its sponsors exposure to the large British market. But it is said host towns quickly recoup the money in promotion, hotel bookings and more
Remember the media circus arrives in town several days before the race starts, a grand départ is more than a weekend. Rotterdam hosted the start in 2010 and claimed 800,000 visitors. A separate study showed the €11 million spent on the grand départ generated over €20 million back although of course the net gain still means winners and losers, for example residents pay taxes whilst, say, a hotel chain gets 100% occupancy. Often these studies depend on assumptions made, the outcomes desired and who is paying for them.
UCI Review
On the subject of risky reports the UCI appears to have more reviews than a Broadway show these days. In the latest exercise accountancy giant KPMG will lead a review into "governance". Such a dull word. But it covers all the things this blog has been cautioning about for some time, from conflicts of interest to decision-making and more. These things matter.
For a live example look no further than the Katusha crisis. Thrown out of the World Tour, the team has the giant benefit of its owner Igor Makarov sitting on the UCI's Management Committee, effectively the executive board. Now Katusha claims the UCI's Management Committee is supporting it. No other team has this representation, if Ag2r or Saxo lost their licence they'd never be able to claim this.
In governance terms if you hire a firm and pay them to give you a report then you, implicitly or explicitly, expect them to offer supportive words. But there are some obvious reforms to the UCI that should be spotted, like upholding their own rules or adopting basic protections against business conflicts of interest and maybe greater transparency. Perhaps the test of reformed governance is whether the report gets published?
New news
Talking of publishing this might be the off-season but things seem to be picking up. The Tour Down Under is just over a month away and slowly teams are holding presentations, launching the new jerseys and giving glimpses of new bikes. It's not exactly filling pages of L'Equipe and La Gazzetta nor hogging hours of airtime on Sporza but I sense more coverage returning after the off-season served up more cold Turkey than the day after Thanksgiving in Alaska.
All normal, the start of the 2012 season is just five weeks away if you measure it by the Tour Down Under and four weeks with the Tropicale Amissa Bongo in Gabon. The early season races were once used as training and indeed a proportion of the peloton will be using these races to build for other races. But the UCI's points system ensures plenty is at stake. Last year several riders left Australia with broken bones.
Remember there's a calendar of all pro races including a downloadable ics/ical file for your electronic diary at inrng.com/calendar.
Rabo go Blanco

Blanco Pro Cycling is the new name for the Rabobank team in 2013. Blanco as in white but as in blank , meaning "your name here" for the team as no title sponsor for now. Hopefully this changes but it's a sign of the dysfunctions in the sport where teams with a guaranteed World Tour licence struggle to attract outside sponsors. We saw Team Highroad where Highroad was a holding name. Subsequent sponsorship from Columbia and HTC arrived but I've written before asking whether these firms really paid the full price or whether the team was kept afloat for years on the settlement money from Deutsche Telekom. The same story with Slipstream, today Garmin-Sharp. We've had Leopard-Trek where the Luxembourg team was launched with a fanfare and ranked as the world number one squad but didn't get a title sponsor and merged with Radioshack just nine months later. And this year we've had Greenedge which became Orica-Greenedge, code for Orica-Please Sponsor Us.
I wish the Dutch team well. As chronicled here the team has been quietly changing. If the team doesn't have a sponsor for now it seems Dutch cycling has plenty to cheer about with three World Tour teams (Vacansoleil-DCM and Argos Shimano). Good for a country of 16 million.
Ag2r's New Look
France has two teams in the top tier with FDJ and Ag2r La Mondiale. The brown short brigade have not had a great couple of seasons and it was painful to watch them wait until May to land their first win this year and in total they won only four races. If this was awkward to follow, imagine how it felt for the team staff?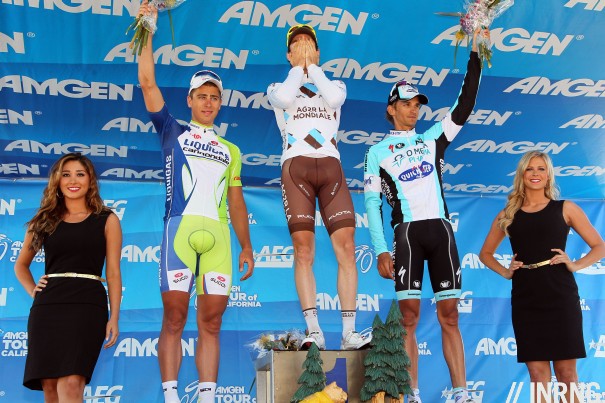 Team boss Vincent Lavenu has made amends by signing exciting riders like Domenico Pozzovivo, Carlos Bettancur whilst Yauhueni Hutarovich should be capable of a four wins all by himself. They've also got a few interesting signings like Gediminas Bagdonas who could impress if used right. The team also get new bikes: Focus bikes with Campagnolo EPS and Fulcrum wheels.
Photo: Ironstring
Iñaki Lejarreta
Finally a goodbye to Iñaki Lejarreta, the 27 year old XC mountain biker died whilst out training on the roads this weekend. I'd noted his name on here before as he's the son of Ismael, a pro road rider from the 1980s and nephew of Marino, one of Spain's most prolific riders in the late 1980s, famous for riding all three grand tours in a year and one of the 82 riders to win stages in all three grand tours. Iñaki had made a name for himself with the Orbea team and rode the 2008 Olympics. Too young to go.