This is a French documentary on the one day race Paris-Roubaix but skip to 1m45s you can see some FDJ riders on a cyclo-cross trainig camp. Team manager Marc Madiot always makes his riders do this so they can improve their handling skills and bond during the off-season and watch whilst manager Martial Gayant is talking and the group approaches. It's Wiggins who wipes out.
Gayant remarks "that's a track rider, he's got everything to learn" whilst Wiggins lies in the mud and demonstrates that he's learned some things already, namely how to swear in French as he exhales "oh putain".
How Much Does a Rider Eat Per Day?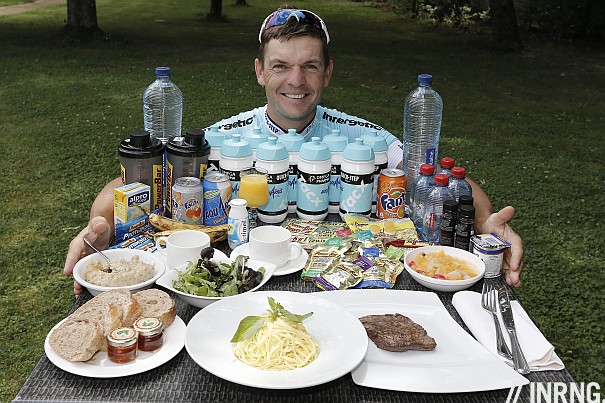 The image is carefully arranged to showcase the team sponsor's products but you get the idea.
Di Gregorio
For all the headlines and drama of police swooping on the race, the tale of Remy Di Gregorio looks rather petty and embarrassing after it was revealed he was linked to a 74 year-old "natureopath", a sort of quack offering "natural" ways to boost his performance. He was arrested by French police on Tuesday and will now be charged… for injecting glucose. Yes, that's right, doping with nothing more than sugar.
Jokes aside, carrying the kit to handle the injection of glucose is banned and a criminal matter in France, this is not just breaking the "no needle" anti-doping policy, as RTL reports. So it's not the product but the method that is the crime, the specific charge translates as "possession of a forbidden medical means without clinical justification" and it seems Di Gregorio will get a fine and a courtroom appearance. It's a sorry story and a pity that the rider felt he had to turn to someone like this. Worse, it means the Tour de France and pro cycling is once again linked to doping, all because of this. I don't care too much for other sports but there does seem to be a bizarre asymmetry where cyclists are rousted for injecting glucose and make the evening TV bulletins for dopage whilst nobody even asks questions about other sports.
Team Prize Explainer
Last week Radioshack had three riders in the top-10 overall yet Sky were leading the team competition and wearing those yellow helmets. How come? Well the prize is awarded daily to the team with the best time for its first three riders on the stage. Then these performances are added up but it means that the times of different riders are added up each day. For example yesterday saw Jens Voigt finish third with Maxime Monfort 21st and Haimar Zubeldia 23rd when Radioshack-Nissan won the team prize. They won again today Frank Schleck, Chris Horner and Andreas Klöden as their first three. So for stage 10 the time take for the stage by each of the best three riders (Voigt, Monfort + Zubeldia) is then added to the time taken by Schleck, Horner and Klöden in Stage 11 and so on.
As for those yellow helmets, debate rages on Twitter but I'm indifferent. There's a rule saying teams have yellow helmets but it is optional and Radioshack-Nissan seem to be one of the two teams not to opt-in.