A 53.5km time trial, a festival of big ring riding.
A prestigious stage in its own right, it will also shape the overall classification for the race. This is also vital test of form ahead of the Tour de France and similar in style to Stage 9 of the Tour, a 41.5km time trial. Plus the results will be scrutinised by national federations who need to pick a rider for the London Olympic Games.
This looks like a three way fight between reigning TT world champion Tony Martin, Cadel Evans and Bradley Wiggins. Tony Martin fell yesterday, scraping skin off his right knee and shoulder. All three are high on the overall classification and leave within minutes of each other, ensuring they face similar weather conditions.
But there are many others who could crack the top-10. Sky come with Chris Froome, Michael Rogers and Richie Porte. Tejay Van Garderen should do well. Jurgen Van Den Broeck should do well, he is a rider capable of the top-5 in the Tour de France but with almost no public profile outside of Belgium. Vincenzo Nibali will look to test himself, more at ease in the mountains we'll learn something more about him today. Is David Millar able to deliver something special, I think the course might be too long for him, he's often faster on shorter courses. Rein Taaramae needs to deliver a result, he's motivated by the prospect of a new team for 2013 and a good performance will increase his market value.
I'm also interested to see how Dennis Menchov gets on. The Katusha rider is a stealthy sort and has been almost invisible so far this year but can't hide today. What about previous winner Janez Brajkovič? The Slovenian surprised in 2010 when he won the time trial stage, putting time into Alberto Contador and perhaps he is aiming for the Tour de France but again he can't afford to be too far off the pace. And what about team mate Andrey Kashechkin, the Kazakh was a surprise third place on Monday: is he back or did he just get lucky the other day? Lieuwe Westra, Bert Grabsch and Luke Durbridge are worth watching too, the latter won the prologue of course and has said he wants this stage too but he's never ridden a TT as long as this.
French hopes rest with Jérôme Coppel who is at the point where he has to jump from being a hope to reality, if not today then in July. The same for Pierre Rolland who has shown he can climb but has he worked on his time trialling? He's been in the wind tunnel but we'll see if he's able to pace himself. The same for Thomas Voeckler, is a serious GC contender these days? Ag2r come with veteran J-C Péraud who would prefer to be racing MTBs but he can pace himself well, we'll see how his Olympic preparation is going if nothing else.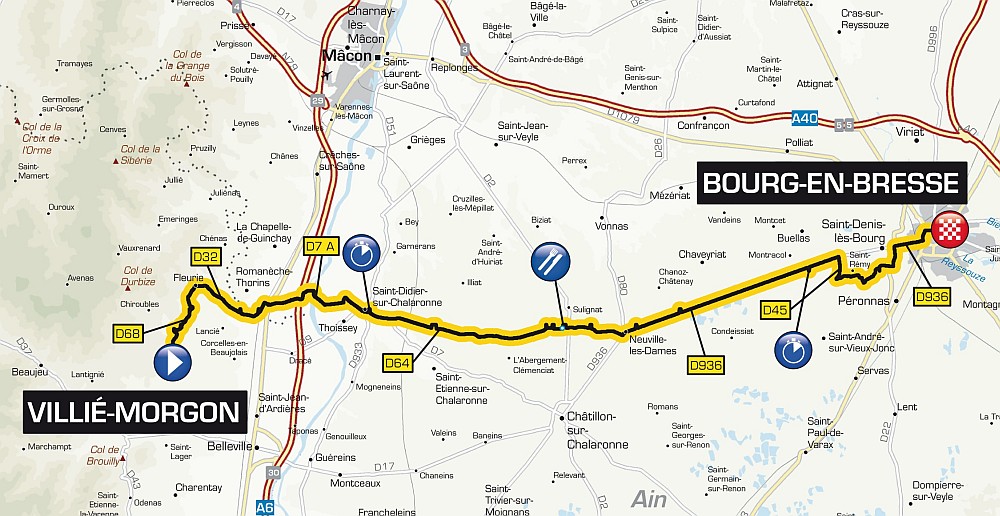 The course is flat. Look at the profile at the top of the page and it looks to be up and down. It is but on a rolling road, the kind where if you were in a car you'd never change gear but on a bike you need to decide whether you can power on or you need to shift gears to keep the cadence perfect. The route avoids the steep roads through the vineyards. Look closely at the map above and you'll spot many lakes around the latter part of the course, a sign of flat terrain. And look at the long straight section of road, riders will be able to see their rivals.
Weather: this could be a factor. The day has started dry but rain showers could be present in the afternoon, some could ride dry, some could be soaked. Temperatures will peak at 25°C (77°F) but will dip once the rain falls. This matters because colder temperatures mean denser air, increased air resistance and therefore slower times. And the rain doesn't just make for slippery roads, it weighs a rider down. Plus the increased humidity makes the air marginally less dense. Ideally you want it to get cold and wet on your competitors and then for the roads to dry out whilst you ride.
In addition riders will face a pesky crosswind from the south at 30km/h which will gust to 55km/h at times. The course itself is exposed in places so wheel choice matters, riders could do well to avoid the deepest section front wheels.
Olympics: if we think the Dauphiné is important for the Tour de France, today is also an unofficial qualification event for the Olympic Games. Selectors need to chose a rider for the time trial event in London and today will give them some good clues.
TV: the last rider is expected to finish around 4.20pm Euro time. This might not make for gripping TV but the diversity of riders I've listed above implies there is plenty to look out for so if you're interested in the relative performances of Brajkovič, Grabsch and Van Garderen, tune in early.
Food: wine lovers should know the name of Villié-Morgon, the Morgon appellation is a label that applies to several famous French wines like Morgon, Juliénas and Brouilly from the Beaujolais area. The cooler climate can make for austere wines but the good ones make for fine wine.
The finish is in Bourg-en Bresse, the home of the Bresse chicken. Many of these are of the Bény breed which have a red crest, white plumage and blue feet, as if dressed in the national colours of France. However they are quickly undressed by hungry French citizens and placed in the oven for despite their premium price, the Bresse chickens sell very well. Various appellation rules govern how the birds are raised and fed as a way to help ensure the quality.
The yellow jersey, Bradley Wiggins, the white jersey Tony Gallopin and yesterday's stage winner Edvald Boasson Hagen will all be presented with a bottle of wine when they sign on at the podium before the stage.