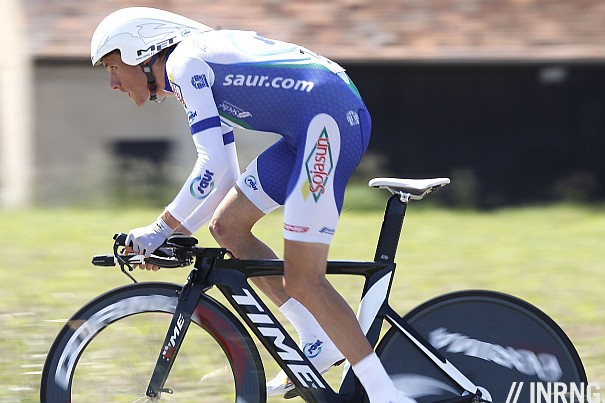 What bike is Jérôme Coppel riding? It says Time on the side so you'd think it is a frame from the French manufacturer… but it looks very much like a Trek Speed Concept 9.0 frame, no?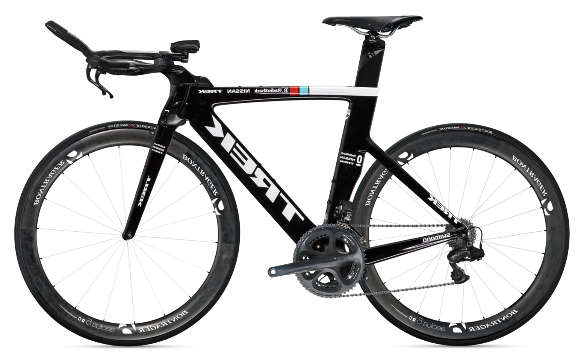 That's what French website Matosvelo thinks and I agree, look at the Trek frame in side profile above, I've flipped the image to match the picture of Coppel above.
Visit Time's website and they don't offer a specific frame for time trials so it's normal the team has had to look elsewhere for a frame. This has been normal. In the past Lance Armstrong rode a Litespeed titanium frame decorated as a Trek.
Tour de Suisse
The Tour of Switzerland starts today. The daily focus on the Dauphiné means I've not given the Swiss race much attention on here but it's a great race with nine stages around the mountainous country. Like the Dauphiné there's a mix of stages and it gives clues ahead of the Tour de France too.
But the race is organised by IMG, the sports management company and the design of the route has a certain commercial logic to it, with large towns winning the rights for stage finishes ahead of more interesting choices and the road seems keen to stick to the widest roads possible. There's an amusing and poignant rant about this over at The Podium Café.
Still there's no hiding from some big passes and the mix of climbing and time trialling will ensure there's little doubt over the winner. I'll be looking at three things in particular:
What are Radioshack-Nissan going to do? The team is getting headlines for the wrong reasons right now but we'll see if they can appear more coherent this week.
Are Rabobank ready? The Dutch squad come with Robert Gesink and Bauke Mollema and ambitions for the Tour de France.
Peter Sagan: he won a mountain stage of this race last year proving he is much more than a classics contender or a sprinter.
Of course there is plenty more and I'll aim to cover the news and stories during the week.
Will Andy Schleck Ride The Tour?
When Johan Bruyneel said only Fabian Cancellara was certain for place in the Radioshack-Nissan team for Tour De France it sounded like provocation. Now with Andy Schleck abandoning the Dauphiné today after injuries it makes you wonder. He started the stage telling French TV the injuries hurt but he could pedal ok, but he started and he was dropped on the first climb, chased to get back and made it, only to stop later. His team have issued a press release. Even if the injuries recover he looks short of form and racing. A battle with Contador in the Vuelta could make the race come alive.
What's Flemish for regret?
One rider you can count on is Peter Sagan. But it's not always been the case. Several years ago the boss of the Omega Pharma Quickstep team, Patrick Lefevere, tried to sign Peter Sagan. Impressed by his podium place in the junior Paris-Roubaix, the Belgian boss invited him to do some VO2 Max tests, according to Belgian newspaper La Dernière Heure.
Patrick Lefevere regrets not following up the exceptional results that the Slovak scored two years ago. "They were very good tests and even more, he turned up without shoes or a bike" said Lefevere. "You know, the problem was that he only spoke Czech and wanted to focus on mountain biking and, above all, he wanted money. But he was only 18 years old…"
Rensburg again
Talking of big prospects, Reinardt Janse Van Rensburg won again. The Ronde Van Seeland is a one day 1.1 rated race in the Netherlands and the South African rider left Rabobank and Lars Boom trailing. He now has 12 wins, meaning that of all the UCI-registered pros he tops the list, with one more win than Greipel and Peter Sagan on nine wins. Obviously he's not been doing the same races but still, he's just 23. Note Reinardt is the first name and Janse Van Rensburg is the family name. He's been gracious about the decision to South African selectors' decision to pick Darryl Impey for the Olympics.
Ok first things first. Dissapointed not to go to Olympics, but congrats to @darylimpey. He is deserved to go, so not upset.

— Reinardt Jv Rensburg (@ReinardtvRnsbrg) June 7, 2012
But he should get his chance at the U-23 Worlds later this year. Beyond this several pro teams are chasing him.