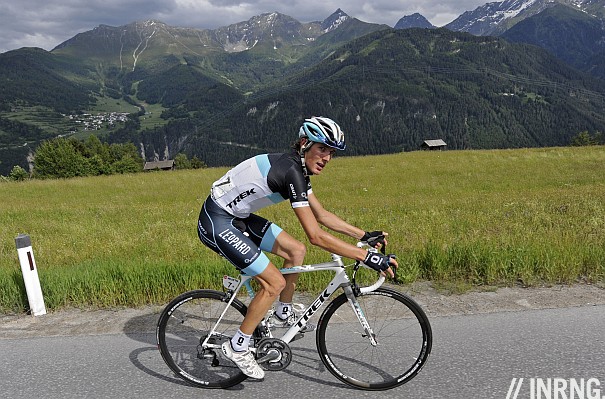 With less than a month to go before the Tour de France Andy Schleck is well off the pace. When there is a climb or a time trial the Luxembourger seems to go backwards. Fans are frustrated, journalists exasperated and management nervous. Is this the 2012 Dauphiné? No, I'm talking about the June 2011 and the Tour of Switzerland.
Here's the breakdown of Andy Schleck's riding in the Swiss race last year listed stage by stage. As you'll see he was struggling with the pace on some climbs only to put on a mountain masterclass on the penultimate day… and then finish second in the Tour de France weeks later.
Stage 1
An opening time trial, Andy Schleck suffered mechanical problems and finished 147th out of 160, 1.18 down on his team mate Fabian Cancellara.
Stage 2
An early summit finish, the stage went to the ski resort of Crans Montana. Normally home terrain for Andy Schleck, he finished 16th, 1.39 down on the day's winner Mauricio Soler who profited from the marking of Damiano Cunego and Fränk Schleck to jump away for the stage win.
Stage 3
Another mountain stage with several big passes this time Andy Schleck went in a large breakaway and tried to help team mate Jacob Fuglsang. In the end he finished 21st, 3.41 down on Peter Sagan and Damiano Cunego who slipped away from Fuglsang on the final descent.
Stage 4
A bunch sprint won by Thor Hushovd. Andy Schleck finished in the pack.
Stage 5
An uphill sprint saw a powerful display by Borut Bozic. Splits appeared in the bunch and Andy Schleck rolled with the group but lost a little bit more time.
Stage 6
A big mountain stage won by Rabobank's Steven Kruijswijk. Andy Schleck was 57th, some 14 minutes down. By this time
Stage 7
Yet more climbing. Andy Schleck missed the break but set off in lone pursuit and joined them on the Flüelapass. On a flat section ahead of the final climb Thomas De Gendt was set up by teammates Sergey Lagutin and Marco Marcato and jumped away, time trialling to build up a solo lead. Andy Schleck turned on the power on the final climb, dragging the entire group in pursuit and then dropping them. He sliced into De Gendt's lead on the climb and even took time out of him on the descent. He finished second, at 35 seconds.
Stage 8
A hilly stage and he was 82nd, two minutes down. But only after some team work. Rabo's Bauke Mollema punctured and the Leopards drilled the pace to ensure the Dutchman dropped down the overall classification. Cruel perhaps but Andy Schleck was part of the team effort and sat up later.
Stage 9
A final time trial. Damiano Cunego started the day in yellow but Levi Leipheimer overhauled him for the overall win. The stage was won by Fabian Cancellara. Meanwhile Andy Schleck was 2.32 down.
Overall + More
Andy Schleck finished the race in 19th place, some 18 minutes down on the overall. He gave up some time on several stages but others fared worse and his mountain efforts on Stage 7 helped him into the top-20. He also took the mountains jersey.
History Repeating?
People were surprised and frustrated by Andy Schleck's erratic riding. Tactical mistakes one day, weak climbing the next, Schleck was copping some flak in the media a year ago but seemed relaxed about all of this. His performance on Stage 7 silenced some but still left an impression of erratic riding. But a month later he would finish second in the Tour de France after consistent performances in the mountains, including a bold long range attack. Could the same happen in four weeks' time?
"History repeats itself, the first as tragedy, then as farce"
Karl Marx, Der 18te Brumaire des Louis Napoleon 1852
It's not often you cite Marx on cycling but certainly there's an element of farce over Andy Schleck's state of form. L'Equipe called it a "soap opera" and if the media – I plead guilty – are focussing on Schleck, his form today will be forgotten if things work out in July.
One big difference is the team and the open war of words between the Schleck brothers and Johan Bruyneel. At times it sounds like mutiny but short of being a fly capable of infiltrating the team bus it's hard to really know what the relationship is between rider and manager.
If many are worried by Andy Schleck's now we will know more on Saturday. He has identified Stage 6 and the Col de Joux Plane as his test. Having lost time in the race so far he has more room to infiltrate a breakaway on the day and to use the tough early ramps to launch a winning attack. Still, you don't need a tailor-made stage for clues and data, yesterday Bruyneel told Sportwereld:
"I saw something special today from Andy, something that gives me hope. On a second category col, the Montivernoux, he started at the back and drove ahead as everybody went over the climb."
But what about his powermeter? The device on his bike measures his efforts and his team should have an exact idea on his level. Assuming Andy shares the file with Bruyneel.
Summary
Perhaps Schleck's form is bad but I wanted to show how he was having a tough time one year ago, yet managed to come good for the Tour de France.
I understand the focus on his mediocre performances, partly in view of the Tour but also because some are wondering what is going on inside the team. He's too big a name to be left alone although we should not forget he's been a pro since 2005 and only won a few races, he's never been operational all year long. Nobody is criticising Alexandr Vinkourov or Dennis Menchov for lacklustre rides in the Dauphiné.
Some fans on twitter and the comments here seem exasperated by him but I hope he comes good as he's an exciting climber in the mountains, one of the few capable of big accelerations that can disturb Cadel Evans and Bradley Wiggins.