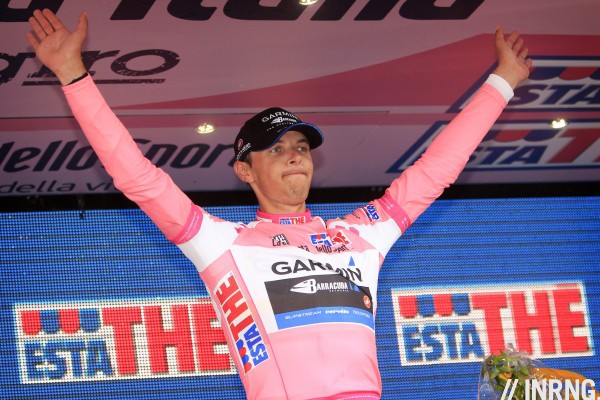 Ramūnas Navardauskas is not yet a familiar name in the sport but I suspect he'll become a lot more recognisable now he's taken the lead in the Giro. He's 24 years old and rides for Garmin-Barracuda and if you haven't spotted his name in the results so far, that's because he's been an invaluable helper for others on his team.
Here's a look at his past and a guide to pronouncing his name.
To start, let's get the pronunciation of Ramūnas Navardauskas right, just say each syllable out loud and you'll get it. Ra-mun-as Nav-ar-dau-skas.
He's from Lithuania, a northern European country on the icy Baltic sea which borders Russia, Belarus, Latvia and Poland. It was the first state to breakaway from the Soviet Union in 1990 and is today inside the European Union. Basketball seems to be the national sport but cycling is surprisingly popular despite the climate, indeed in 2009 multiple track cycling world champion Simona Krupeckaitė was voted the country's top sportstar.
Junior pro
As a first year senior rider in 2006 he joined the UCI's development programme, based out of the HQ in Switzerland and impressed right away, winning the nearby GP de Lausanne as you can see above. This was enough to move to Belgium and ride with the Klaipeda-Splendid team in 2007, a modest outfit on the Continental circuit that recruited several Lithuanians, including Aidis Kruopis, now with Greenedge and Gediminas Bagdonas of An Post. His best result was winning the national championships ahead of Ignatas Konovalovas who has since won a TT stage in the Giro and today rides for Movistar.
A year later and Navardauskas moved to a Kazakh team with Kruopis and Bagdonas, joining up with riders who are today with Astana, like Valentin Iglinskiy and Alexandr Dyachenko. There were no major wins and he finished the season with 23rd place in the U-23 time trial at the world championships. 2009 should have been a better year with a move to an Italian team but Team Piemonte was stopped by the UCI after financial irregularities and Navardauskas went back to the amateur ranks.
But his time in the amateur ranks with French club VC La Pomme proved to be his most successful season. He was fourth in the amateur Ronde van Vlaanderen alongside many top names and then won Liège – Bastogne – Liège Espoirs and then took a stage win in the prestigious Ronde de l'Isard race in the Pyrenees.
This got him a pro contract with Garmin-Cervélo for 2010 where he won the Lithuanian national road championships and in his debut year. He was visible in the Tour de France and finished the race, impressive enough for a neo-pro.
The future?
Strong on the flat, useful in the mountains he's been a workhorse so far but his outright power makes me think he's got the force to win races assuming he can handle the mental aspects of leadership and more.
For now today's success in the Giro is a great reward for all his hard work.