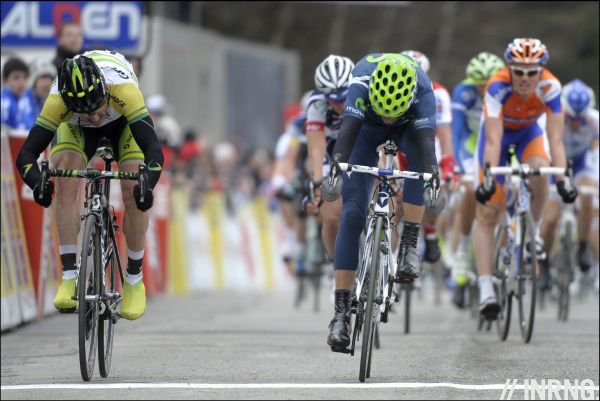 Stage 3 was 194km long and took four hours 36 minutes and 19 seconds. The difference came down to a matter of centimetres and milliseconds. After leg pedalling for hours the race was won thanks to a throw of the arms.
The win in a bike race is determined by the front wheel and both riders here are throwing their bikes. Alejandro Valverde of Movistar on the right of the image manages to straighten his arms more than Greenedge's Simon Gerrrans and perhaps this is what gives him the win.
Throwing the bike is easy, it's the timing that is harder. You need to sprint all the way to the line and then lunge at the last moment. A pedal stroke too early and you give up precious momentum; a pedal stroke too late and you throw your bike over the line as opposed to throwing the bike to the line. Practice makes perfect but after hours of racing clarity of mind and a functioning body can't be taken for granted. Note Valverde above has his right leg extended and is throwing the bike whilst Gerrans is about to lunge.
Today's finish was a small replay from the Willunga Hill stage of the Tour Down Under where Gerrans and Valverde went head to head, or tub to tub if you like. The Spaniard won that time but Gerrans could be pleased with the overall win. This time Valverde needs to sprint for every place possible as there are time bonuses at stake and he can gain time on his rivals for the overall classification.
Third place went to Gianni Meersman of Lotto-Belisol. Almost out of the picture, the Belgian rider was dropped in the Leopard/Radioshack merger but has won a stage of the Volta ao Algarve this year and looks set to play a role in the classics.