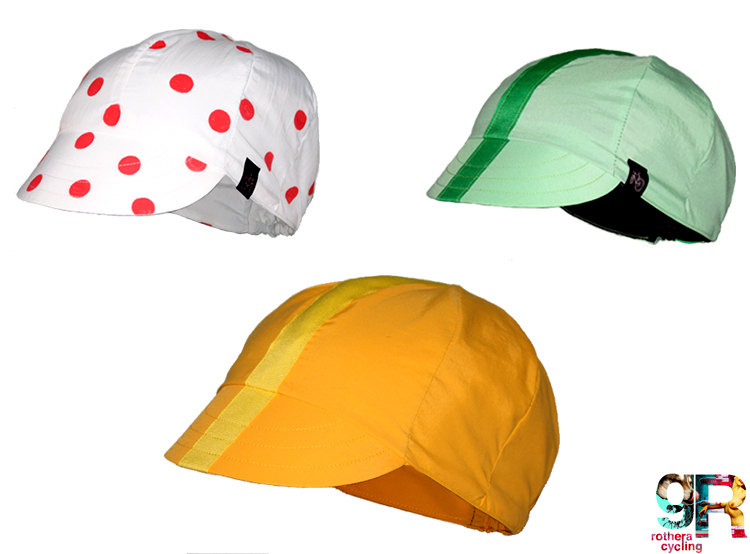 During the Giro I gave away a couple of keyrings and it was a fun competition because it was simple. Winning packages were dispatched to Spain and Poland. Now it's time for a Tour de France giveaway competition.
Enterprising reader Gary Rothera who has a business called Rothera Cycling that specialises in cycling caps.  He contacted me to say the Giro competition was fun and would I be interested in a competition and curiously no more than ten minutes before his email arrived the other evening I was thinking about a competition but had nothing fun to give away. Now I do.
The question
Predict the first French rider to cross the finish line in today's stage from Le Mans to Châteauroux.
Le prix
A cycling cap from Rothera Cycling. It's moisture wicking, water repellent, windproof, fast drying, machine washable and made by hand.
How to enter
Leave your answer in the comments below.
The commissaire bit
All entries must be in before 16.00 Central European Time, the blog's clock is the judge. EDIT: Because the race is running late, entries stay open for another 30 minutes until 17.00 / 5pm CET but any entries received after this get ignored.
Please leave your name and email. Note you can use a pseudonym and the email is confidential, rest assured I'm not going to spam you and nobody reading the blog can get your email, it's just so I can reply if you're the lucky winner.
Please don't email or send answers via Twitter, only comments below are valid as it helps to keep everything in one place. In the event of a tie I'll copy the winning names into a spreadsheet and use a random formula to generate the winner.
The caps are on their way from Philadelphia so I can't post them out today but I hope to send the prize out soon. Stay tuned for more competitions during the race.