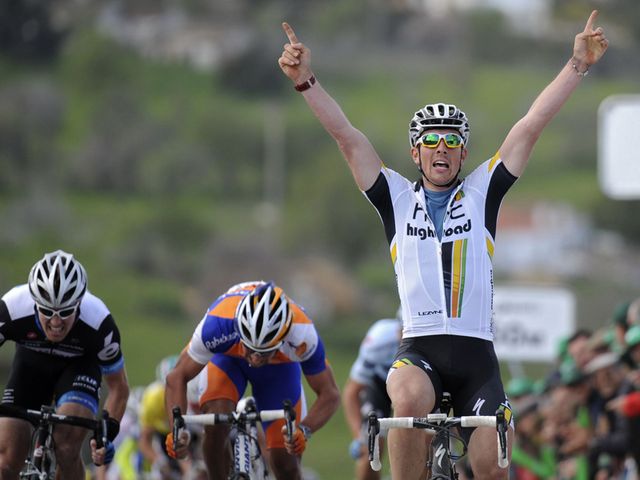 On some measures HTC-Highroad is the most successful professional team going. At the time of writing they have 29 wins this year, the next UCI ProTeam is Rabobank with 17 wins. It was the same story last year, with the team finishing a long way ahead of Liquigas at the end of the season. And that's before you include the wins of the women's team too. Victory wise, this is the equivalent of a solo breakaway, dropping every other team going and finishing far ahead of the pack.
Yet for a team so far ahead of its rivals, it's struggling to find a sponsor. I covered this subject back in March but now want to revisit the idea to explore a couple of new angles.
Background
Note the "Highroad" name, this is the name of the corporate entity behind the team and essentially a giant "insert your name here" call to a sponsor. Indeed, it's not even as if the team is thwarting interest with big demands for money. The team's owner Bob Stapleton isn't looking to make money from the team, besides he's a billonaire and there's precedent too: previous sponsor Columbia got its name on the jersey for an apparent bargain rate. But there's no co-sponsor and, worse, HTC is pulling out at the end of the year.
Surely if there was a sponsor interested in the sport then this squad would be interested? Since the days when T-Mobile fled the sport, a lot of effort has gone into cleaning up the team, cutting links to suspicious doctors and if some team staff have confessed to EPO use in their day, the idea is that this has allowed them to put such practices firmly in the past. Today not a single rider is linked with an investigation.
So we have a winning team with a good reputation yet no sponsor? Some thoughts here:
First up, it's possible there is a replacement and we'll get a proud announcement in July, possibly with the new backer appearing on the team jersey for the Tour de France.
The team could be paying the price for the sport's endless doping scandals. Sponsors don't seem to differentiate between teams, at least not from afar. Perhaps some marketing managers are saying "Cycling? No way" thanks to the endless saga of Contador's positive case and the worsening outlook for Lance Armstrong's image in the US. As such even the safest teams for a sponsor to join up with can suffer.
It's great to boast of so many wins but the sponsor will want to know what they'll get in 2012. Yet the longer the uncertainty goes on about the team, the more the riders will be tempted to leave. I'm near-certain Mark Cavendish will leave, taking some loyal riders with him. Similarly Matthew Goss is going Aussie start-up Greenedge. Tony Martin might well pop up at Rabobank. Anyone looking at the team will ask who is left.
If anything the team is a victim of its own success. As an astute twitter commentator has pointed out before on here, the team brings on young riders but in converting the raw talent into a polished pro, it can add a zero on to a rider's salary. Come the end of their contract and its impossible to hold on to all the riders. An annual exodus and refocus is almost the norm for this team. That's obviously a big plus but it's not without its difficulties too.
Wider picture
But the point to take here isn't the challenges and dilemmas of a successful team in isolation. For me this isn't so much about the choices made by the team, nor whether it's good at marketing itself to potential corporate backers. Instead, this is more about the state of the sport than one team. If Highroad can't get sponsors queuing to join, who can?
One issue is obvious: as much as cycling tries to put doping stories behind it, failures in the past to take a lead mean old stories just keep coming back to scare sponsors and make TV viewers doubt what they see today. This doesn't explain everything but I fear even the better teams suffer from this legacy. There are other factors too, for example I don't think cycling handles corporate VIPs too well, a day in the team car can be punishment and there's little chance for dealmaking and schmoozing on the margins of a bike race, unlike in a box at a soccer game or reserved seats at a tennis match.
Who's your sugardaddy?
Indeed several other teams are hunting for sponsors. Bjarne Riis has his work cut out right now to find a replacement for Saxo Bank, the Danish brokerage agreed to one more year once they heard Contador was joining Riis but they're on their way out. Riis probably has a hard sell to find new backers. Leopard-Trek would probably sell the naming rights to the right bidder and Greenedge too doesn't have sponsorship to cover all its costs, again it relies on a wealthy backer, just like BMC Racing. All told we seem to have several squads functioning thanks to sugardaddies.
Finally, it's important to note that the Highroad team is not winding up any time soon, it's got valuable ProTeam status for 2012 and, to repeat, a billionaire backer.
Summary
The most successful team in the sport, and one with a safe image too, shouldn't have to call itself Highroad. But looking around, I note several teams exist thanks to deep pocketed backers. Now I quite like this, it's fantasy cycling turned real for these wealthy patrons. But the longer a team searches for a sponsor, the more riders begin to head for the exit. In turn new sponsors might back away if stars don't stick around and even team staff will head for the exit. If a team can't line up a sponsor early then a self-fulfilling dynamic starts.
It has to be a concern that many sponsors still don't view the sport as a viable option. Simply put, we see sporting success is not finding its rewards, brands are wary of being linked to all those wins.