The Col du Granon marked the decisive moment in the race when Jonas Vingegaard attacked and Tadej Pogačar cracked. Jumbo-Visma used their collective force to dismantle the UAE team and pressure Pogačar into covering attacks and on the final climb Vingegaard was able to ride away, take time and race lead. This was the moment the race was won.
The race began in a downpour in Copenhagen and we got a surprise winner in Yves Lampaert. The days in Denmark were defined by the crowds roaring on Magnus Cort in his polka-dot quest while a stage win each for Fabio Jakobsen and Dylan Groenewegen supplied stories of redemption, although it seems there's still litigation to come.
Wout van Aert had a Danish run of three second places and with this took the green jersey which he'd keep to Paris. Then he then won in Calais after going solo with a clifftop caper. The moment is worth recalling with our benefit of hindsight because when Jumbo-Visma launched up the final climb few could follow, only Ineos and Jumbo jerseys were visible and one of the last riders to stay with Van Aert was Vingegaard.
The pavé stage to Wallers-Arenberg was always going to be a nervous and dangerous day. The worst crashes actually happened on tarmac roads but the cobbles, and the fear of the cobbles, had made many nervous and tired. The breakaway stayed away for the day with Simon Clarke a surprise winner. Among the eventual top-10 on GC there were no time losses but there were mishaps and this was the day Vingegaard's Tour was saved. He'd had a mechanical and after a comical series of bike changes which looked like an impromptu bike fitting session, Vingegaard gave chase with help from several team mates but others were further back and also helping Primoz Roglič who'd crashed. Huge turns from Van Aert helped Vingegaard twice over. First it got him back to the main group with his GC rivals; second, the Belgian kept on towing because Pogačar had attacked with Jasper Stuyven and at one point had a minute's lead and was close to catching the breakaway but he was closed down. Jack Haig was a DNF and Ben O'Connor's Tour was undone, both might wonder what could have been.
Up until then everything had been so easy for Pogačar. Last year's Tour triumph by five minutes, a win in Lombardia. Untouchable in the UAE Tour at the start of the season. He almost won the Tour of Flanders and then even took to social media to troll about doing Paris-Roubaix. He emerged again at the Tour of Slovenia to win the race while gifting stage wins. He continued like this in the Tour de France, the best GC contender in the Copenhagen TT. His attack on the pavé had him riding away from his rivals, although this didn't gain him any time. Instead he won the next day in Longwy to take the yellow jersey, and then won again the next day atop the Planche des Belles Filles. He kept at it, sprinting to the line in Lausanne only to lose out to van Aert for the stage win; sprinting to the line in Châtel the next day when there was no stage to win because Bob Jungels had won the day after a stage of stunning scenery.
Then on the stage to Megève won by Magnus Cort Pogačar's UAE team chased up the final climb which kept him yellow by 11 seconds, and he was 39 seconds up on Vingegaard, of which 21 seconds came from time bonuses. With hindsight this was all dandy but in a race that would be won by minutes, Pogačar and his team were toiling hard just to get seconds.
Stage 11 was the first big mountain stage and even if it was only 150km had the Télégraphe-Galibier combo and then the mighty Col du Granon, and all in roasting heat which was rumoured to be Pogačar's weak point. Jumbo-Visma turned up the thermostat early when Wout van Aert attacked from the start with Mathieu van der Poel, the latter on a swansong after a disappointing first week.
Once the race reached the Col du Télégraphe Jumbo-Visma activated their plan with Benoot launching Roglič in an attack. Pogačar gave chase and by the Galibier he'd ran out of UAE team mates. Yet the higher they climbed, the more things began to level out with just Pogačar and Vingegaard left to duel until they were rejoined by more on the descent.
Onto the Granon for the first time since 1986, Nairo Quintana made his trademark slow-style attack, riding away only a fraction faster but gradually taking time. Romain Bardet next to move. It was open season. With 5km to go Vingegaard attacked. Rafał Majka gave chase for his leader but crucially Pogačar could not follow. In a flash Majka had vanished, Vingegaard was away and Pogačar losing ground, his yellow jersey flapping in the breeze as Geraint Thomas trundled past. He was soon overhauled by David Gaudu and then Adam Yates, this wasn't a matter of being a few watts short, his lights had gone out. Vingegaard took the stage, the yellow jersey and 2m51 on Pogačar to turn the Tour upside down. After years of playful success, this was a defeat. Unbowed, at the finish line Pogačar vowed to attack the very next day.
The Alpe d'Huez stage saw a win for Tom Pidcock who'd bridged across to the breakaway via a telegenic descent of the Col du Galibier and then rode away in the finish to hold off Louis Meintjes and Chris Froome. Pogačar did attack but couldn't distance Vingegaard and with the two marking each other Geraint Thomas got back.
All the other GC contenders and pretenders were further back and this was the story for more of the mountain stages: Pogačar attacking, Vingegaard matching, then Geraint Thomas and behind them the others in the top-10 doing their best to limit their losses each day but surrendering time in almost every uphill finish.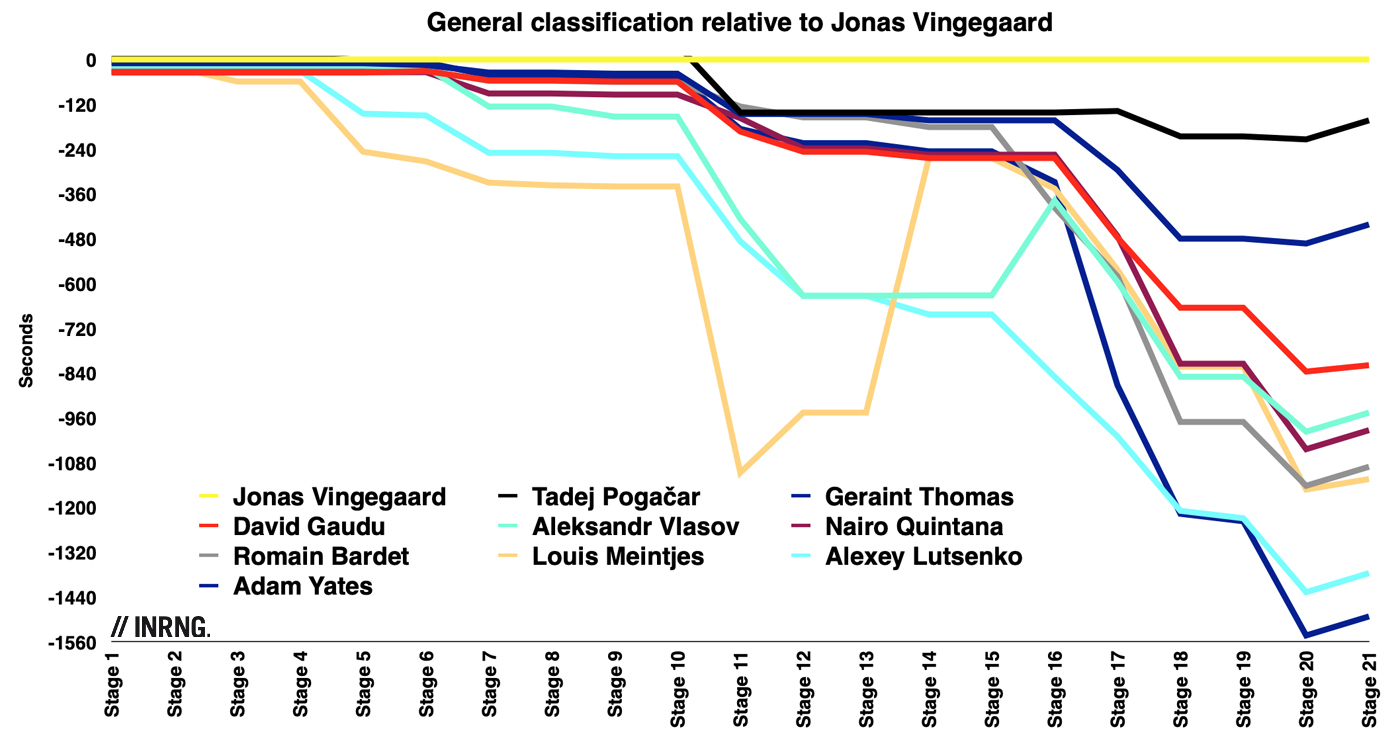 The chart above shows the GC standings of the top-10 relative to Jonas Vingegaard across the three weeks and you can just see Pogačar's black line is superior in the first week but we're talking pixels in the chart, seconds in a race that was going to be decided in minutes and difference between first and tenth is the widest since 1997. You can see how these gaps came around, every summit finish and time trial just exploded the gaps, although you can note the breakaway adventures of Louis Meintjes and Aleksandr Vlasov. The only time Vingegaard lost time was when he sat up to celebrate on the Champs-Elysées.
In third place Thomas was at times a Zelig-like figure, appearing in a variety of scenes during the race. Rarely a protagonist – although he did attack in the Pyrenees – he rode his own race, on his own terms and while many others in the top-10 were like yoyos, he was as steady as a Derny on his way to third place overall. His third place overall feels indisputable: there was no way he could finish higher; nor should he finish lower. David Gaudu wasn't dissimilar, only a touch more volatile on some days when he was dropped and others when he could match Thomas but while Thomas has a Tour win in the bank, Gaudu take experience.
Away from the overall classification, every stage was hard fought. It felt like 21 World Championships where even getting in the breakaway was a win. Teams were deploying dedicated tactics, often an attacking rider needed a leadout to launch them into a move. Trek-Segafredo were exemplary, when Mads Pedersen won in Saint-Etienne it was helped by Quinn Simmons in the breakaway and the American was ever-present windbreak for team mates.
Along with Pedersen, Clarke, Jungels, Cort and Hugo Houle all took fine stage wins and showed there's room for smaller teams to exist although it took tactics and these were wins for established riders, the chances of some plucky outsider from a wildcard team are dwindling given the intensity of the competition.
Michael Matthews took a masterpiece stage win on a day when Pogačar was among the early attackers. Wave after wave of attacks were made in the Forez mountains. Cycling is still "two hundred idiots trying to cross a white line" in the words of Marzio Bruseghin but if the rules are not being rewritten, the manual is. The 2022 Tour was one of the shortest routes, it was the fastest ever and the course often seeks out surprises, a sprint stage has a hill in the finish or another twist. The stages are more intense with a bigger battle to get in the breakaway. Gone are the days when a, say, B&B Hotels rider would have to go up the road to provide animation, a euphemism for allowing the TV production to at least have two scenes to cut between. Live TV can make the early move more rewarding. It's a subject for a fuller blog post but "new" racing is run on a higher octane with riders consuming way more energy mid-stage so they can expend more of it. Above all the Tour de France is so important that every day there's an opportunity few can afford to miss.
As much as teams could try to create opportunities they were often up against Wout van Aert. A spell in yellow, three stage wins, meeting his objective of winning the green jersey, he made more attacks than Bruce Lee film and enlivened the race. It's hard to think of a mistake, the Longwy attack didn't work out but made UAE chase all day; his response in the winners' press conference to a question about doping  when he questioned the question wasn't a communications masterclass. His own prize money haul from the race probably puts him fifth among the Tour de France prize money standings. Each time you expected him to be tired – think of his fruitless raid on the road to Longwy – he'd keep going. Sprints, time trials and mountain stages, nothing would stop him. After Mont Ventoux last year people wondered where the limits where, his ride to Hautacam has got even more people asking whether he should become a stage racer and a grand tour contender. But surely this would spoil everything? He'd have to race with more economy. It's inevitable in cycling that no sooner has someone triumphed today than they're asked they can do tomorrow. The grand tours, in particular the Tour de France, exert a huge financial pull. A classics contender might earn a six figure salary, a grand tour contender will have an extra zero on the end, see Geraint Thomas for a case study. But Van Aert is already in superstar bracket and largely because of what he can do every July. So there's less of an incentive to make the switch, it depends more on what he feels like doing.
Hautacam showed van Aert in a new light and also Jonas Vingegaard. If Pogačar had cracked on the Granon, this time he was just dropped leaving the Dane to take a stage win in the yellow jersey. In 1997 Telekom won the race overall and the points jersey but their leaders rode quite separate races; this year's winners combined together, there were times when van Aert's ambitions seemed like they might clash but the winners get to write history and Vingegaard's win was in part built by the work done by van Aert on the Wallers-Arenberg stage, had he not got Pogačar back things would have been different, at best for Jumbo-Visma a different path to victory.
In a race where the sprinters had a rough time, Jasper Philipsen fared best thanks to two stage wins. He's more than a sprinter, he's won the hilly Tour du Limousin stage race and can handle the cobbled classics and is likely to be the archetypal sprinter for more Tours as the organisers continue to hunt for obstacles to make sure no day is ever just a procession towards a sprint. This is likely to have a structural impact on the sport: with fewer sprint stages, demand for sprinters will drop.
The Verdict
A gripping and enthralling race, there was never a dull day. The yellow jersey was soon reduced to a duel between Pogačar and Vingegaard but their match lasted from the Vosges to the Pyrenees. The pair were scrapping for the stage win atop the Planche des Belles Filles and while Vingegaard won on the Granon, there was always the possibility that Pogačar could turn the tables. Both riders fought directly but only after their teams had gone at each other before. Who needs the promised Netflix documentary when the real thing was so good?
Propelled into team leadership in last summer's Tour following Roglič's crash, he wasn't burdened with expectation on his way to second place. What's intriguing is that his team sent him straight back to the Tour de France. He could have tried leading in the Vuelta or Giro first, especially as the start in Copenhagen just meant extra pressure for a rider who infamously suffered from stress. But no, he was in for the Tour which suggested Jumbo-Visma had big ambitions and were putting their eggs in July's basket. It was in the Dauphiné that he gave us a glimpse of what was to come when he seemed visibly stronger than Roglič on the Solaison climb.
Pogačar was clearly beaten but can hope to win the Tour again and in the meantime seems able to target a multitude of races from the pavé to Paris. Vingegaard meanwhile looks like a pure stage racer. He might be hired for an appearance at the UAE Tour or show up at Tirreno-Adriatico but like a BBQ, rosé wine or a Hawaiian shirt he looks more suited to summer. What makes the 2022 Tour de France so thrilling is the feeling that it hasn't ended, instead it promises the start of a new rivalry with more sport to come.