Some are obvious, some odd, most can't be Googled and a few are fiendish. By all means have a go and there's a Tour de France polka-dot t-shirt prize for the winner… but most will probably find fun in the answers that will appear here next week.
Christmas theme
1. Dressed in red and white, he makes his way in the wintery wonderland. Who is it in the picture above?
2. Who won the last Tour of Turkey?
3. Who was gifted with a race win this year?
That Was The Year That Was
4. Which of the three grand tours had the narrowest winning margin?
5. Which rider raced the greatest number of kilometres?
6. Away from worlds, national and continental championships, what was the longest time trial on the 2020 pro calendar?
7. Who is the third highest-rated Slovenian rider on the UCI rankings?
Viral content
8. Which race did Romain Bardet drop out from at the last minute and had to be replaced by Ag2r teammate Mathias Frank?
9. How high is Mount Everest?
10. Which rider posted a video clip of them taking an axe to their home trainer?
Geography class
11. What was the highest altitude summit finish in pro racing this year?
12. Name three current professional cyclists born on small islands in the Pacific Ocean?
13. Name a race that was held across international borders this year.
History Round
14. Five Four riders have each won the Tour de France five times. Name another race won by all four of these riders.
15. Name another season when many races were cancelled outright for months but not because of war. Hint: it was in one country.
16. What was the only major race that Eddy Merckx didn't win?
Financial times
17. Which World Tour teams publish their accounts making their budgets a matter of public record?
18. Which company has the higher stockmarket valuation, Shimano or Nissan?
19. Does Velon make money for its member teams?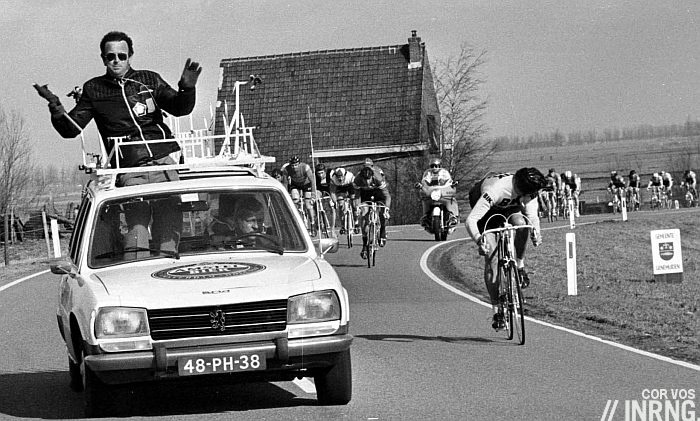 Chief Commissaire
20. You're riding a 200km grand tour stage, when can you get food from the team car or roadside during a race?
21. Outside of the three grand tours, what was the longest stage race when measured by race days this year?
22. How many sponsors can a team cite in their official name?
Language lessons
23. Many bike races have French names like the Tour de Pologne or the Tour de Yorkshire. In English technical terms like rouleur, soigneur, commissaire, echelon and bidon are imported from French too but which one of these five isn't actually used by French cyclists?
24. Campagnolo, SRAM and Shimano all make bike components. What do their names mean?
25. What do Marianne Vos, Guillaume Martin and Pascal Eenkhoorn have in common?
Pet habits
26. Which grand tour winner issued a public appeal to help in the search for his missing dog this year?
27. Name a pro with a pet rabbit.
28. Which pro has a pet with its own Instagram account and thousands of followers?
Nicknames
29. Name the riders nicknamed the Emperor of Herentals, the Eagle of Toledo and the The Trumpeter of Cittiglio.
30. Who is Wawa, Top Gun and The Coathanger?
31. Which active professional rider changed their surname as an adult in order to avoid mockery before becoming famous?
32. Who are Brigitte and Bernadette?
When They Were Young
33. Who is this person seemingly at ease in the saddle from a young age?
34. Which future Tour de France stage winner is among these club mates?
35. Which future pro is among these club mates?
36. Who in this photo is going to give up sea swimming and start racing bikes?
Picture round
37, 38, 39, 40. Name the four pro cyclists from each set of images.
The Prize
This is a genuine quiz rather a phoney "name who won the Tour de France so we can harvest your email address" exercise. If you want to have a go or maybe readers collectively crowdsource their way together, feel free to leave your answers in the comments below and the deadline is midday Euro Time on Wednesday 30 December. As an incentive the winner gets a Tour de France polka-dot t-shirt to help achieve that French roadside look. The most correct answers wins and if there's a tie then a name gets picked at random. Obviously people can copy off each other which spoils the point of it all but if you want to wheelsuck your way to victory by copying someone else's answers and then sprinting past them with a final correct answer… …well that's cycling.
As loyal readers will know the quiz has some hard questions which can't be googled in one go, half the point of the quiz is to take a sideways look at things in the answers which will appear here later this week. Happy holidays…