The Tour de France's route was out and one of the features of the 2019 course was the lack of time trialling, both in the number of stages and the few kilometres on offer. It's part of a trend as the chart above shows. One frequent response in the comments and by email in recent days is that more time trials, whether more stages or just one long time trial, would "balance" the Tour's course and give time trial specialists and others more of a chance against the pure climbers. It's an idea that sounds right… only recent evidence suggests otherwise.
Meet Chris Froome. On his way to his four Tour de France wins he's won summit finishes and, crucially, he's won time trials. In the 2013 Tour de France he was second to Tony Martin in the Mont Saint Michel time trial by just 12 seconds, and crucially put over two minutes into GC contenders like Alejandro Valverde and Alberto Contador and more than three minutes into Nairo Quintana, Thibaut Pinot et al before winning by over four minutes in Paris.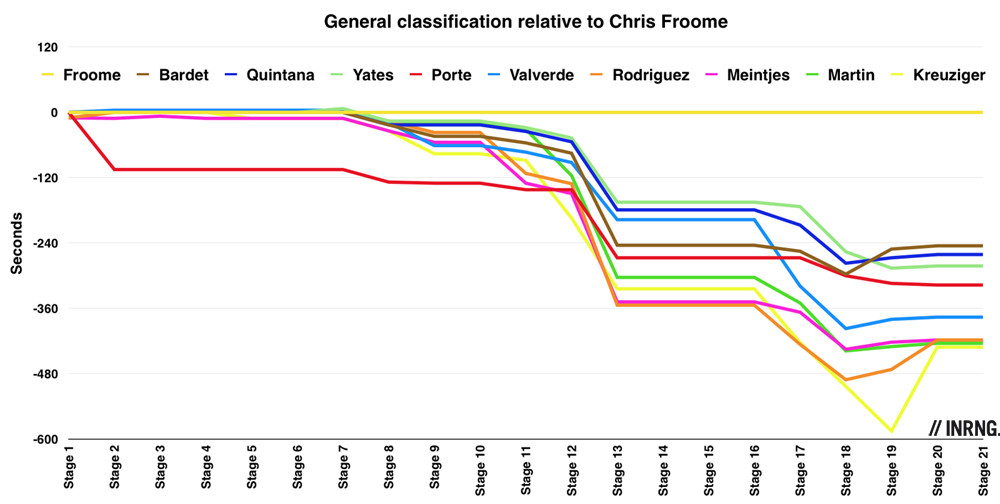 The chart above from the 2016 Tour shows the GC standings, in seconds, relative to Chris Froome. All the riders fell away on Stage 13. This was the TT stage in the Ardèche gorge and as you can see from the chart Froome's rivals tracked him for much of the race but it was Stage 13, and then again Stage 18, the Sallanches-Megève time trial, where Froome put big time into his rivals on his way to winning the race by over four minutes.

Similarly this chart is from the 2017 Tour de France and even two short distance TTs – Stage 1's 14km in Düsseldorf and Stage 20's 22.5km in Marseille – are enough to see Froome putting the best part of a minute into his rivals to begin with and then riding on for the next three weeks with Marseille's TT as an insurance policy tucked in his back pocket and he duly pulled out more time on them.
This scenario isn't just limited to Chris Froome, he's just a handy example. Tom Dumoulin is a similar rider, able to put minutes into the climbers in a time trial stage and then match them in the mountains, arguably he'd have been closer this July if he'd ridden more steadily, eg by not attacking on the descent of the Cormet de Roselend which cost him time on the climb to La Rosière; or by tracking others on the long ascent of the Col du Portet summit finish rather than making some accelerations. We can add Geraint Thomas and Primož Roglič too as prototype riders who can win a time trial stage and then match the climbers in a summit finish, or at least limit their losses to seconds.
All this points to a new exchange rate, for want of a better term, between a time trial stage and a summit finish. It only takes a few time trial kilometres for the likes of Tom Dumoulin or Chris Froome to take a minute on the climbers whereas they need a lot of summit finishes to extract the same time. Indeed the pure climbers aren't the mythical creatures we might take them for, they rarely climb a whole mountain pass faster, they can just accelerate better thanks to their lighter builds and this gives them a shot at the stage win and time bonuses if things fall their way. Was it ever any different?
What if things went the other way, that we reverted to very long time trials, imagine the route of 2006 or 2007 each with 116km and 117km of solo time trials, would this give the likes of Rohan Dennis and Victor Campenaerts a head start? They might get a head start but so would Froome and Dumoulin and all the climbers would lose five minutes with ease, meaning less of a contest. What's possible on paper though is the idea of a duel between Froome and Dumoulin, possibly with Thomas and Roglič too… although this is exactly the contest we had this July too, no?
Another precedent is the Giro this year. Simon Yates and others knew Tom Dumoulin and Chris Froome had the Rovereto time trial stage and so attacked knowing they needed time and time bonuses to hold off Dumoulin. It's true but the Giro had just 44km of solo time trials in total which isn't much either… and in the end Froome won, both he and Dumoulin put five minutes into everyone else… although not quite via the predicted scenario. The year before we saw Dumoulin bolster the hypothesis given he matched Nairo Quintana on the climbs and then used the final TT stage into Milan to win. Later today we'll see the Giro route released with three solo time trial stages totalling 58km and it'll be fascinating to see whether this is enough (perhaps an appearance fee on top) to tempt one of the top riders away from the Tour with Thomas looking the most likely.
It's worth adding that time trials can struggle for TV ratings too. Tour de France directeur Christian Prudhomme comes from a media background, reporting on the Tour since the 1980s, first on radio and then on TV. He knows time trials aren't an audience bonanza. But this only explains things partially, if they're going to have just one time trial then the ratings shouldn't vary much if it's 25km or 40km.
Summary
Would more time trials balance the Tour de France course? It sounds appealing and 100km or more of time trialling could give Tom Dumoulin an advantage on Chris Froome and set up an enticing duel. Only this would come at the price of the near-certainty of eliminating all the pure climbers from the GC contest. Indeed for all of the steeper, backroad climbs of the 2018 route we still saw four riders capable of winning the Espelette time trial stage in the first four places overall on GC before the time trial started happened… which rather suggests they don't even need a time trial stage to win. Add more TTs to the 2019 route – or the 2013, 2015, 2016, 2017 and 2018 and surely Froome or Thomas would still have won, only by an even bigger margin? The lesson is surely that only a few time trial kilometres are needed to make bigger time gaps than many summit finishes.