Marcel Kittel and Fernando Gaviria both finished the season on 14 wins and arguably Kittel had the better season with five stage wins in the Tour de France, perhaps he should given his age and status. Both he and his team mate won over a fifth of the races they started but the most efficient rider of the year was Alejandro Valverde who won 30% of the races he competed in.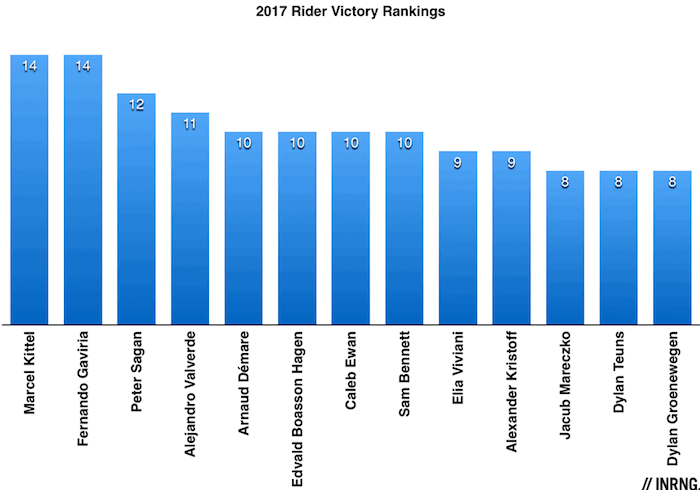 First is the rider victory rankings for 2017 with Marcel Kittel and Fernando Gaviria topping the charts and going down to those on eight wins for the season. But what about efficiency, the rate at which a rider wins? Let's look at the win rates of various riders divided by the number of days they raced this year.
It's an approximate measure and worth remembering that some days a certain rider can't win, like a sprinter on a mountain stage or riders who are on team duty, for example Dylan Teuns took eight wins from 76 days of racing but on many occasions he was riding for others. Still Alejandro Valverde tops this table and by some way with an efficiency score of over 30%, impressive for anyone but more so for a non-sprinter. In his amateur days he was nicknamed el Imbatible, "the invincible one" and today aged 37 he can still use this label. In cycling you lose a lot more often than you win and even a rate of 10% is impressive.
Richie Porte is another non-sprinter won 15% of the races he did. A danger is his 2017 season is defined by his Tour de France exit and his crash down the Mont du Chat when he won the Tour Down Under, the Queen stage of Paris-Nice, the Tour de Romandie and finished second in the Dauphiné, a very fine run. For the stats had he continued in the Tour de France and, say, placed on the podium and won a stage then his percentage rate would have dropped even if his status would have grown.
Caleb Ewan is an interesting prospect and 2018 will be an important year for him as he's on the market, his current contract is up. The question is whether he stays at Greenedge because they're increasingly focussed on the overall classification in grand tours and so providing a sprinter with a lead out train is a big use of team resources both in terms of selecting riders for a race and in the wider sense of goals and tactics. Leaving is one thing but where he goes is another but knowing his win rate is helpful because it suggests a team can commit to him knowing the results should follow.
The chart below shows the efficiency of the most successful rider for year year going back a decade. Kittel's 2017 season is within the average but short of his stellar 2011 season but he'll surely savour 2017 more with five stage wins in the Tour de France compared to one in the Vuelta in 2011 and others from Langkawi to the Herald Sun Tour.
Last and least?
If we've looked at some of the most successful riders of the year who were the flops? Dividing the number of race days by wins would mean Koen de Kort, 94 race days and no wins tops the table but his is a tale of teamwork and riding in the service of John Degenkolb, Jasper Stuyven and Alberto Contador and so this was mission accomplished for the Dutchman. Some riders are held to high expectations so Nairo Quintana's year didn't deliver a big win, too often he was looking stale in stage races but he still delivered six wins and made the podium in the Giro. It was a glass half empty or half full for Geraint Thomas, his GC bid in the Giro came undone when he sustained heavy crash injuries and wore the yellow jersey in the Tour de France but would also crash out but he also won the Tour of the Alps (ex Trentino) and a stage in Tirreno-Adriatico meaning a season with results that many would trade body organs for; yet also with questions about what could have been.
In a bid to quantify a few fallers here's a hand-picked selection of those who have descended the Cycling Quotient rankings:
Diego Ulissi slipped from ninth place to 18th, hardly a big fall but few wins this year
Romain Bardet is the surprise big faller going from eighth to 30th place. He had a great Tour de France but things didn't go to plan at other times, notably his disqualification from Paris-Nice
Gianluca Brambilla (Quick Step) and Mathew Hayman share the biggest falls among the top-500 riders. For Hayman it's reversion to the norm after his Roubaix triumph while Brambilla was all over the 2016 Giro but had a quiet season and is off to Trek-Segafredo
Bryan Coquard started 2017 as the 11th best rider on the rankings and ended it as the 320th. He took five wins and started shopping for a new team and told Direct Energie about this… and effectively got benched for the season, leaving him forlorn at the French championships and turning his legs over in track meets. He's the key rider for the new Vital Concept team
A season to forget for Mark Cavendish as he slipped down the rankings thanks to mononucleosis and once he returned to racing he broke his shoulder in the Tour de France and it meant three wins all from tje Abu Dhabi Tour, his leanest season as a pro
Tony Martin fell 40 places and the concern is this isn't just a bad season but a trend as he's regularly placing in time trials but the wins get rarer